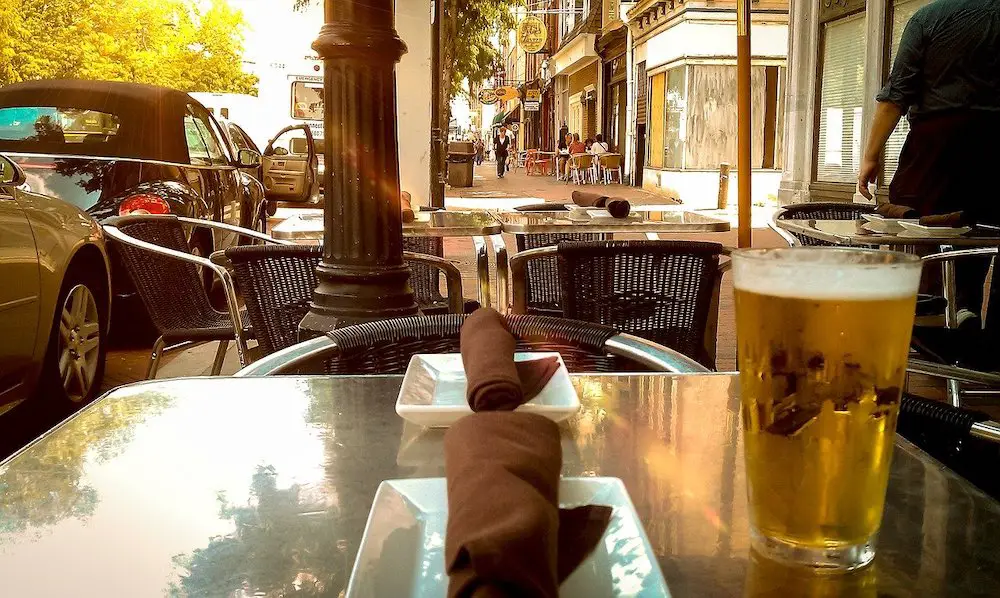 Pub owners and city-based politicians have been toasting an agreement in principle to allow wet bars in the borough to apply for pavement licences.
This comes after a proposal which was put forward by Sinn Féin Councillor Garath Keating at a meeting of Armagh City, Banbridge and Craigavon Borough Council on Monday.
In this Councillor Keating demanded that an exclusion preventing bars, which do not serve food, from applying to council for a café pavement license, be removed from the policy.
With no agreement on the issue on Monday night the matter was listed for further debate during a meeting of the council's Covid Working Group, held behind closed doors on Tuesday evening.
At this meeting the amendment to the policy was agreed in principle with wording of this to be clarified at a leaders' meeting on Wednesday.
Among those welcoming the news as local publican Bernie Rafferty, who owns the Cuchulainn Bar – popularly known just as Raffertys – at Thomas Street in Armagh.
He told Armagh I: "I have had one out there. Now I haven't put it out all the time, this last four or five years, and there has been no bother or complaints from anyone.
"It has worked well with a few people sitting out. I just thought it was a stupid decision by council in the the middle of a pandemic when they want people to sit outside in a controlled environment.
"Irish pubs are know all round the world, yet they seem to be trying to kill them off. When I was growing up there were 43 pubs in this town and now there is probably about 10 or 11 left."
Speaking to Armagh I, Councillor Keating – who first raised the issue – stated: "There are still different considerations for each case.
"There has only been a handful of applicants to the scheme, so I don't expect a massive surge of bars doing so.
"I just believed that it was unfair that they could not even apply. It sent out the wrong message to businesses which are a staple to our evening and night-time economy."
Councillor Keating acknowledged there were legitimate concerns but said that the application process is in place for that reason.
He stated: "It gives the opportunity to bars that it does suit to apply for it. My view is that bar owners and licence holders know their customers and they have as much to lose as anyone else by anti-social behaviour.
"It sends a positive message out to bars and recognises that the contribution of traditional bars to the evening and night-time economy is very much appreciated by council.
"Subject to satisfying other conditions it would be great to see a continental cafe culture near some public house premises."
Ulster Unionist Councillor Sam Nicholson also welcomed the decision saying that "flexibility" was important at this time.
He told Armagh I: "I was someone who was pushing the pavement culture and I believe that our urban environment could be a much better place if that was there.
"In Covid we are in a changed place. The owners of wet bars, many of which are my friends, they are concerned about what it is going to be like when they open."
Councillor Nicholson stated that he saw the move as positive and could be something which could be continued in the future.
He said: "I have looked into it from my younger years, I experienced it when I lived in Dublin and in London. We see it in Europe, some places with a similar climate to ours. It creates an ambience, it feels much more welcoming.
"It is a special circumstance, with Covid, but if it does work who is to say it can't continue? It really could give us a city centre we have all been yearning for.
"It could add to our tourism, it could add to our economy. There is great heritage and history in Armagh which people would love to explore but tourists want a drink or a meal and this is something we need to explore."
Sign Up To Our Newsletter