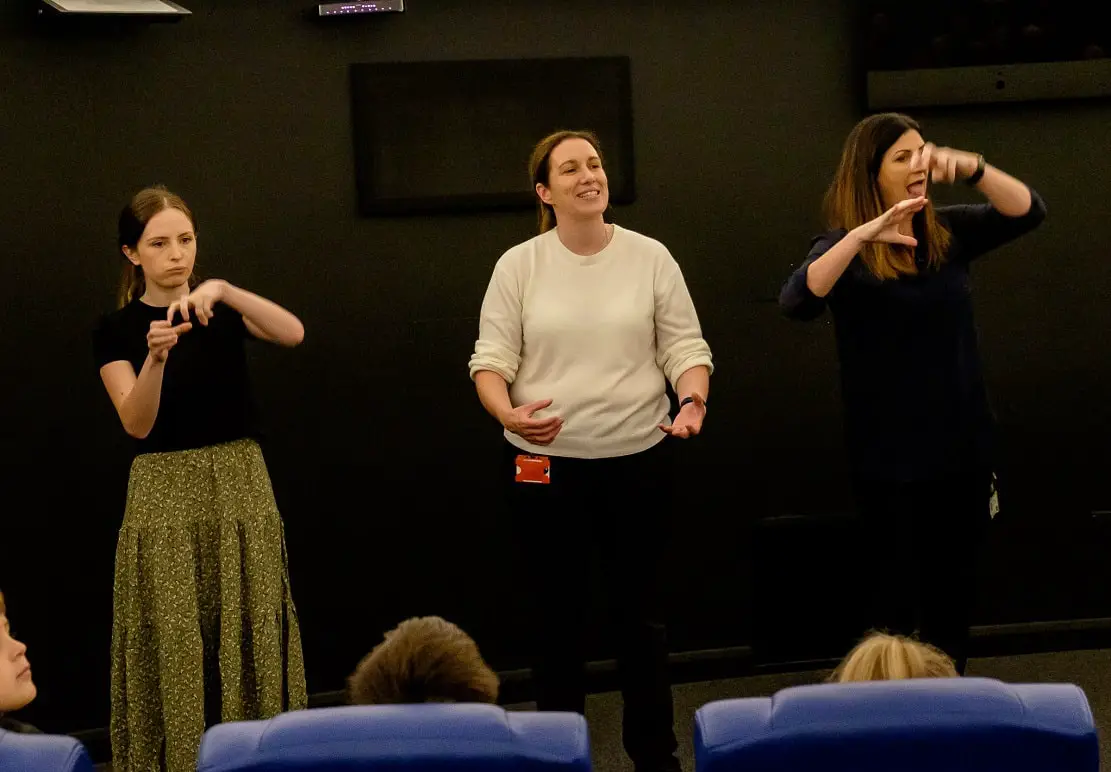 Armagh Observatory and Planetarium (AOP), screened its 'CAPCOM GO! The Apollo Story' dome show in British Sign Language (BSL) and Irish Sign Language (ISL) for the first time in July 2023.
The screenings are part of a wider initiative by AOP to increase the accessibility of its facilities. They follow the launch of the organisation's first Irish language accessibility dome show, 'CAPCOM GO! as Gaeilge' in March 2023.
'CAPCOM GO! The Apollo Story' is an immersive, historical documentary that showcases the achievements of the Apollo programme and the effort involved in putting the first human on the Moon.
AOP hopes that the shows will educate and inspire NI's next generation of STEM leaders.
The shows were developed with the support of the Department for Communities and the National Lottery Heritage Fund via its project 'Wisdom Begins with Wonder.' They were created by National Space Centre, Leicester, and translated by Sign Language Interpreter, Adam McCormick.
John McCord, Director of Culture at the Department for Communities, commented: "DfC Sign Language team were delighted to be involved, support and provide funding towards this project, to improve accessibility for the local deaf community and beyond.
"We firmly believe that providing the Deaf community with services in their own languages (BSL/ISL) is a right and not a privilege and we look forward to working with other public bodies on similar projects."
AOP also plan to launch an Ulster Scots version of the show in the coming months.
Alex Garton, Production Coordinator at NSC Creative, said: "NSC Creative has a long-standing relationship with Armagh Observatory and Planetarium, and we share its vision of communicating science to everyone.
"The new British Sign Language and Irish Sign Language captions for our award-winning planetarium shows will help more people explore the wonders of the Cosmos."
AOP  has numerous inclusive initiatives in place, including its Changing Places facility, improved wheelchair accessibility and a Sensory Room on the ground level of the Planetarium.
The organisation also screens 'Relaxed' and 'Chilled' Digital Theatre Shows for children who find large crowds and loud noise challenging.
Matthew McMahon, Museum Collections Officer at AOP, said: "We are delighted to launch further interpretative versions of our 'CAPCOM GO! The Apollo Story' dome show and it is a pleasure to introduce British Sign Language and Irish Sign Language translations for the first time.
"We would like to thank the National Space Centre and Adam McCormick for their support with translating the show for the deaf community."
He added: "At Armagh Observatory and Planetarium, we aim to inspire Northern Ireland's next generation of STEM leaders and as such, the dome is intended as a space for everyone.
"It is crucial that we make it accessible to as many people as possible and interpretation is an important step along this path."
Sign Up To Our Newsletter