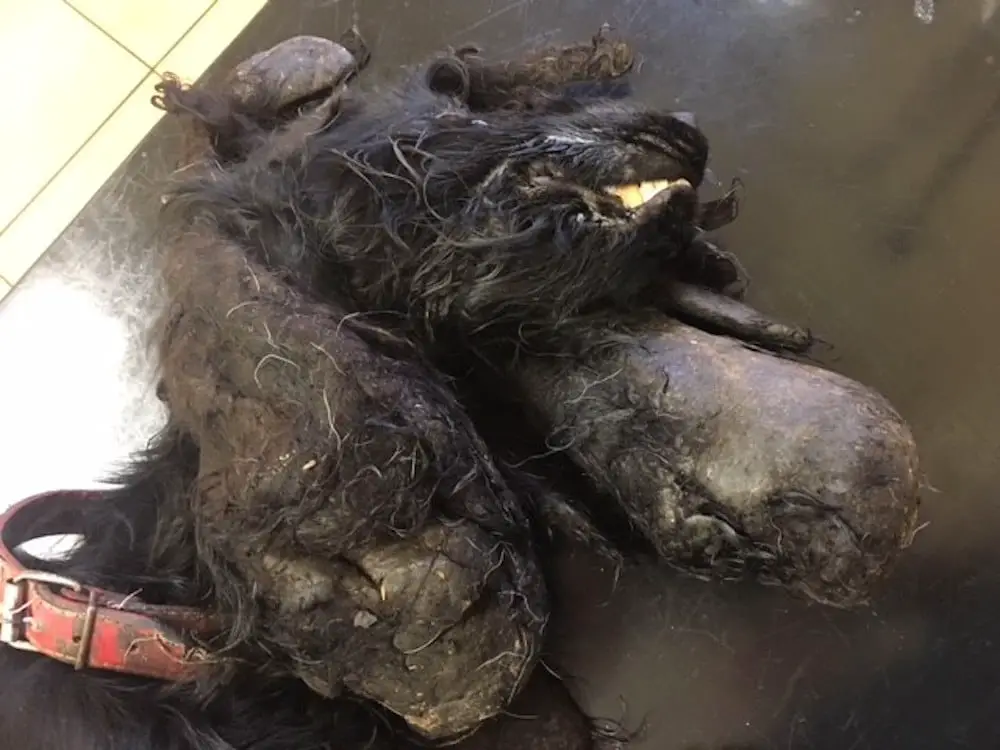 This image shows the graphic extent of the cruelty inflicted on a Jack Russell Terrier by an Armagh mother and son.
Deidre Sheridan of Callan Bridge Park, Armagh, and her son Martin Sheridan, of the same address, were found guilty of animal welfare offences at Armagh Magistrates' Court on Tuesday.
Following their conviction Council today (Monday) released this image to highlight the issue and urge the public to report instances of cruelty.
Deidre Sheridan, 49, of Callanbridge Park, pleaded guilty to causing unnecessary suffering to an animal at the city's Magistrates' Court, sitting at Newry, on Tuesday.
Meanwhile, her son, Martin Sheridan, 24, also of Callanbridge Park, also offered a plea to failing to take reasonable steps to ensure an animal's needs were met.
The case was brought against Mrs Sheridan and Mr Sheridan by Armagh City, Banbridge and Craigavon Borough Council following a complaint received in March 2018 from a local veterinary surgeon concerning a dog which had been taken into their practice for treatment.
The vet informed a council Animal Welfare Officer that following an assessment on a female Cocker Spaniel type dog, due to the severe poor condition of the animal, it had to euthanized.
On receiving this information the Animal Welfare Officer visited the property of the animal owner at Callan Bridge Park accompanied by the contracted vet where both parties acknowledged ownership of the animal.
During this visit the Animal Welfare Officer noticed a Jack Russell Terrier type dog which was assessed by the contracted vet who determined it as being likely to suffer.
The animal was deemed to be in reasonable condition however due to the inability to provide veterinary care for the Cocker Spaniel and poor environmental conditions at the location, the dog was taken into the care of the council.
The actions of both Deirdre and Martin Sheridan failed to ensure the welfare of both dogs and caused the cocker spaniel to suffer by failing to provide proper veterinary attention for the animal when it had become ill.
A council spokesperson commented: "We will continue to investigate all instances of animal welfare concerns brought to our attention and will use all enforcement powers available to us to take action against anyone guilty of causing neglect or cruelty to animals.
"We would also ask the public if they have any concerns regarding the safety or welfare of an animal to report it to the council on T: 028 3751 5800 or email animalwelfare@armaghbanbridgecraigavon.gov.uk"
Sign Up To Our Newsletter