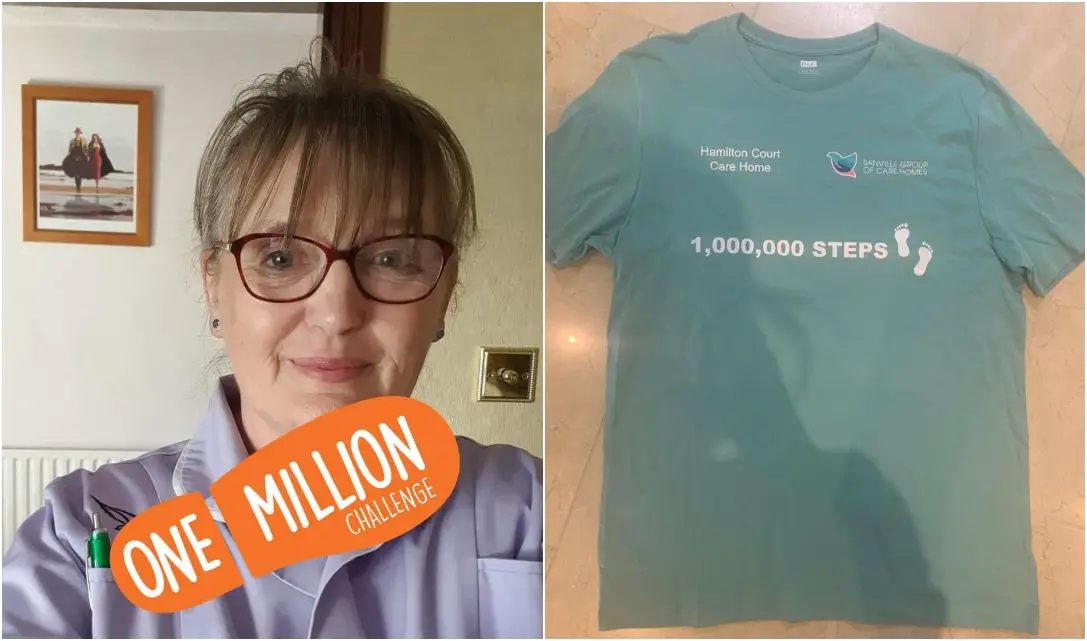 An amazing Armagh care worker will complete a marathon 12-week 'One Million Steps' fundraiser for dementia around the streets of the city on Sunday afternoon.
Glenda McMullan, a senior carer at Hamilton Court Care Home, has taken on the challenge to walk one million steps to help raise money for the residents living with dementia in our local area.
Glenda, wife of George, mother to Jason, and sister of Jacqueline (Glenda's walking partner and biggest fan) is one truly inspirational lady who gets up every day and does her utmost to do something extra positive for the people she cares for.
She made a conscience decision back on April 1, after all the ups and downs experienced during the Covid pandemic, to carry out the huge personal challenge – and she has excelled!
Officially the final leg of her marathon walk, Glenda will begin at St Mark's Church side at the Mall in Armagh at 2.30pm before continuing around Victoria Street, up past Drummad Terrace and finally on the home straight up Kill Hill to Hamilton Court Care Home where she will be greeted by her family, friends and colleagues who will undoubtedly be cheering her on.
Glenda is a hugely respected colleague in a care home with a unique sense of empathy for families living with dementia.
A small family-run business which evolved over 30 years ago by co-founder Mary and Brendan Gervin, who shortly after Mary's own mother was diagnosed with early dementia, decided to open her first Care home in Roughan House Newmills.
Mary's greatest legacy was to continue to provide an environment where residents can live a fulfilling life surrounded by the people they loved.
No doubt Mary Gervin, known as a 'Florence Nightingale' of her day would be immensely proud of Glenda, who not only displays a wonderful soul and great ambition but also uses her unique energy and ability to make a difference to everyone she meets.
Barbara Convery, daughter of the late Mary Gervin, commented: "Covid restrictions undoubtedly made this year a difficult time for all, but staff like Glenda, Danny the manager and our amazing team always make sure that Hamilton Court continued to be an environment where the residents are uplifted and fulfilled.
"By doing this fundraiser we hope to organise future events and activities where families can once again come and enjoy our beautiful home and special occasions.
"The Gervin family, the management and staff of Sanville group of care homes, extended colleagues, family and friends would like to wish Glenda all the best in her final steps as she completes her challenge this Sunday."
Good luck Glenda!
Sign Up To Our Newsletter