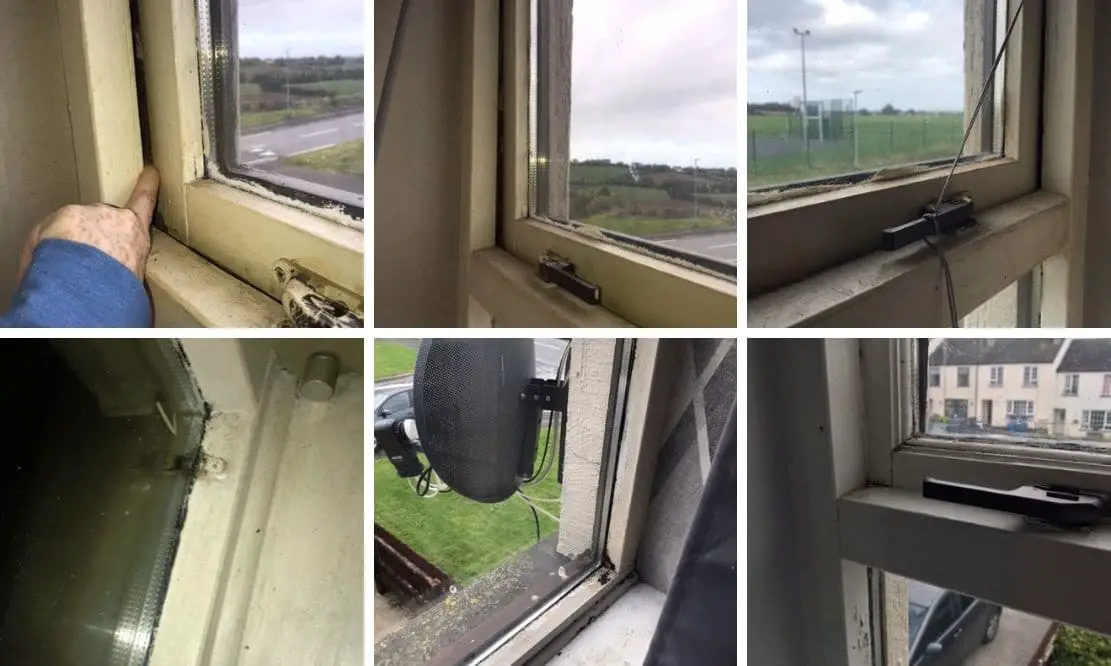 An Armagh woman has told of her despair and sleepless nights coming into the winter as her rotting wooden window frames fail to keep the cold out, all while, a long awaited Housing Executive window scheme continues to be delayed.
Laura Donnelly, of Mullacreevie Park, has said she has reached a point of "pure desperation" as her health conditions and uphill financial struggle during the cost-of-living crisis have been exacerbated by Housing Executive inaction over essential maintenance.
Laura, who suffers from a rare condition known as Sheehan's Syndrome, says that her health means that she requires draft-proof windows, something which she says she has been fighting for since 2010.
She says that her condition is triggered by stress, which can leave her bed-ridden for days or weeks, alongside affecting her body temperature and causing pain. Her son also has severe asthma which makes maintaining heat in the home all the more important in the winter time.
Speaking to Armagh I, Laura told of the situation she is facing.
"My home had new windows put in 30 years ago which were wooden framed, and over the years they have gradually rotted, making it harder to heat my home," she said.
"I had been reporting repairs to the Housing Executive from 2010 and we were supposed to have them replaced with PVC double-glazing in 2015 or 2016, but that date was put on hold to 2020.
"By that stage, COVID had an effect on the work that was supposed to be done and the housing repair scheme was put on hold yet again. This had an effect on me mentally and physically as every winter keeping heat in my home has got harder and harder."
Laura added that during heavy rain, the rotting wooden frames allow water into the house (see video below), which makes the situation and the temperature even worse.
She reached out to local councillors and her NIHE maintenance manager, who visited her home and listened to her story and called a meeting with members of the NIHE to push for new windows and other repairs. Laura says that they were given a date for windows to be replaced, with the scheme to commence in July 2022.
Laura said she was optimistic at first that the work would be done, which would make the property warmer and save the family money on heating bills. However, when July came around, NIHE contractors arrived, but only to perform outside maintenance to houses in the area.
She feels this was a "distraction technique", putting money into the area whilst ignoring the rotting windows, an issue which has also been affecting other families in the area, who have also contacted the Housing Executive appealing for a resolution.
Laura said: "I contacted the Housing Executive again in August and was told that work would start at the end of August or the beginning of September, but again, this date has come and gone.
"I'm literally losing sleep with worry and was recently admitted to hospital with an angina attack, all due to worry and stress.
"I am going from room to room and some need decorated badly due to rain water coming through the wooden window frame and destroying the wallpaper, but it can't be done because it would only get damaged again," said Laura.
"My latest repair took place on Monday, October 4 because of rain coming through the windows and a contractor was sent out and he squeezed silicone gel around the gaps.
"I, amongst several of my neighbours, have had their front windows nailed shut by the Housing Executive as a temporary fix but we don't know how much more we can endure."
Laura's story comes only days after another Mullacreevie resident told Armagh I that their home in the area was not "fit for winter" and that they, like Laura, had experienced a number of issues over the years, with little to no action from the Housing Executive.
A spokesperson for the Housing Executive said: "We can confirm this home is included in a window replacement scheme which we anticipate will take place this financial year.
"Some interim repairs to the windows have been carried out whilst awaiting the window replacement scheme, we apologise for the delay in getting this scheme on-site."
Sign Up To Our Newsletter