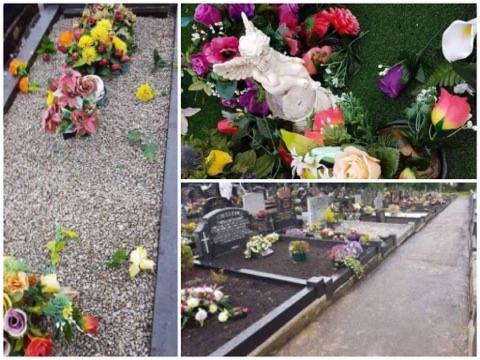 Despicable vandals have heaped heartbreak on relatives visiting the graves of loved ones in Armagh.
Twice in recent weeks St Patrick's Cemetery has witnessed such a sickening attack.
The desecration has caused families great hurt and distress.
One man visiting his father's grave this afternoon discovered that it had been targeted again.
Damage was also caused to it and many others just 10 days ago, on Thursday, June 29.
The man, who did not wish to be named, contacted Armagh I this afternoon after seeing once again what had been done.
He said: "My father's grave has been vandalised twice as well as a dozen others.
"Flowers have been taken from the graves and scattered around the place, false grass and stones have been lifted off other graves."
Both he and the relatives of others' whose graves were targeted have raised the incidents with the Parish.
He has called on people visiting the cemetery to remain vigilant and report anything out of the ordinary in the hope of putting to an end this type of anti-social behaviour.
"It's very upsetting for family members to see this," he added. "It makes me angry.

"My wife's father has only recently passed, it was very difficult for her to see this occur for the second time in 10 days."
Sign Up To Our Newsletter