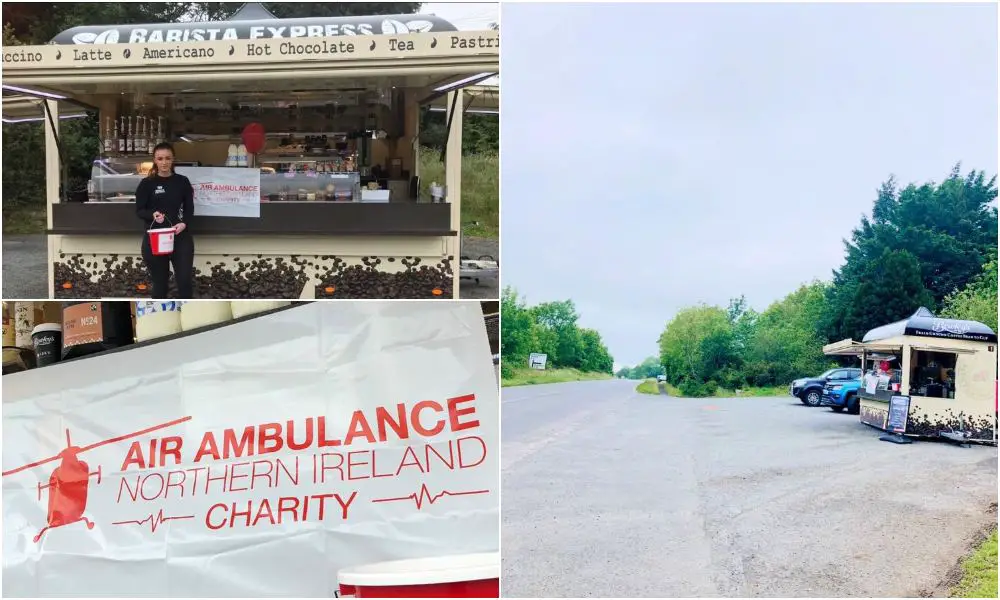 Covid-19 has had a devastating impact on livelihoods up and down the country and one Co. Armagh couple quickly found out they weren't immune.
Karen McLean and partner Kyle Richardson make a living touring trade events in their Barista and Express catering trailer but overnight, that all changed.
Forced to figuratively wake up and smell the coffee, the duo needed to think outside the box – just like many other businesses in a similar position.
For seven years the pair worked on building a business for themselves – they now serve barista coffee on the Mullaghbrack Road next to Gosford Forest Park, making the most of a difficult situation.
Despite trying to navigate the Covid storm together seven days a week, the young couple are donating this coming Sunday's entire takings to the Air Ambulance.
"Without a doubt it has been challenging, with all our events cancelled, but we have had to think on our feet and look at things from a different perspective," Karen told Armagh I.
"We have found new opportunities to keep serving our coffee. Before Covid-19 we traded mostly weekends at large events, festivals and shows throughout Northern Ireland and in the Republic of Ireland. Now we operate locally at our Mullaghbrack location seven days a week."
As for choosing to donate an entire day's profit to the Air Ambulance NI, Karen referenced the 178 call-outs to the ABC Council area since the service started almost three years go.
Said Karen: "This is an amazing life-saving service which needs our support at this challenging time when so many charities need help.
"We never know when we might need it, and with continued support we can help medics fly and continue to provide specialist critical care at scene that can be the difference between life and death."
Karen says the support she has received from the local community has been "fantastic" and that she hopes to "have their continued support to raise essential funds for Air Ambulance NI on Sunday".
Bewleys have donated coffee, while Cake to Bakes' Josie Chapman is donating special Air Ambulance cupcakes, with Draynes Farm in Lisburn donating milk.
Pop along this Sunday for your coffee fix. You'll find them pitched near the back castle entrance of Gosford on the Mullaghbrack Road.
Sign Up To Our Newsletter