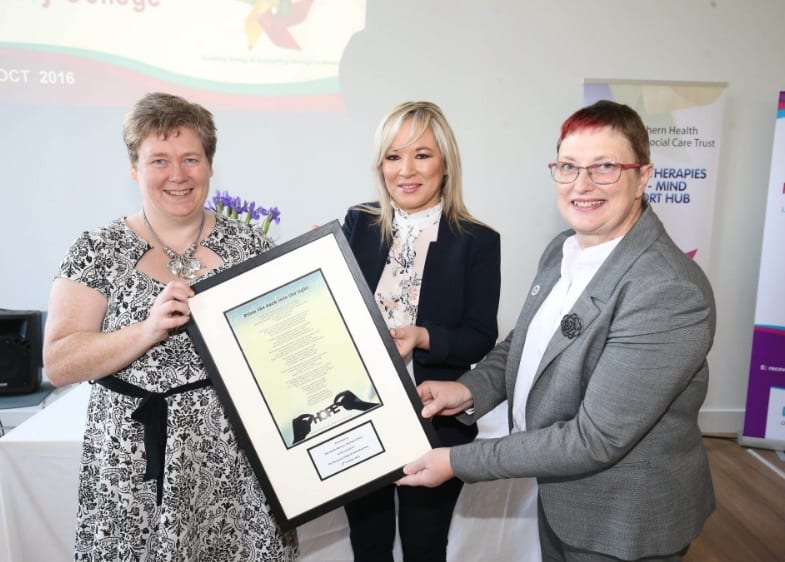 Health Minister Michelle O'Neill has welcomed two new services in the Armagh and Dungannon areas to help people with mental health issues through their recovery process.
The Wellmind Hub and Recovery College have been launched by the Southern Trust to mark Mental Health Awareness Week.
Speaking at the launch event at The Junction in Dungannon, the Minister said: "I am delighted to see that a further major step has been taken on the road to fully modernised mental health services in the North of Ireland. The Hubs and the College offer a fresh approach to developing and sustaining mental health recovery, and this is at the heart of my plans to champion mental health."
Co-produced by service users, carers and staff, the Recovery College programme aims to provide educational courses for people with mental health difficulties.
The Wellmind Hubs offer a range of support options for people with common mental health conditions for example, anxiety, stress or low mood. Care is offered by a range of independent sector providers, community groups or from within the Hub, depending on the needs of the person.
Reinforcing her commitment to making mental health one of her key priorities, the Minister continued: "Underpinning the Programme for Government will be my personal commitment to move towards parity of esteem for mental health. This means that mental health would, in time, receive the allocation of attention, effort and resources on a basis which fully meets local needs.
"This will be a very long-term goal considering the challenging financial position faced by the Executive and the competing priorities right across the Health and Social Care service, but it is the aspiration I have chosen to work towards as a first step in the next phase of improvement in mental health provision."
The Recovery College offers courses at a variety of venues across the Southern Trust area. The Wellmind Hubs have been initially set up in the Armagh and Dungannon areas and plans are now underway to extend them into the Craigavon/Banbridge and Newry/Mourne localities.
Welcoming the two new initiatives, Francis Rice, Chief Executive (Interim) of the Southern Health and Social Care Trust said: "In the Southern area we are committed to taking a recovery approach in addressing mental health issues – helping people to find ways of leading meaningful lives, with or without the symptoms of their condition.
"We are delighted to offer these two new services which have been very much developed in partnership with people who have experienced mental health issues, along with our voluntary and community partners.
"We hope that the Wellmind Hubs and Recovery College will help more people to recognise and address their symptoms at a very early stage and support them on their recovery journey with a much better quality of life."
Read more news:
Teenage boys, 17 and 14, arrested on suspicion of 'multiple burglaries'
Exciting new neon 'glow in the dark' charity walk coming to Co Armagh!
Armagh mum with rare cancer-causing gene hosting Pink Party charity fundraiser
Alderman calls for increased policing after sickening raid on farm near Hamiltonsbawn
New one-way traffic system to ease congestion at Tandragee 'due by March 2017'
Heavy wind and rain affecting local events with weather warning in place
Mini retail 'hub' hope with four new shops planned at axed B&Q store
Traffic chaos as car flips on its roof following single vehicle collision
Armagh family to share their story of hope and horror in Congo
Shocking state of car park and Ogle Street entry leaves residents sick to their stomachs!
Sign Up To Our Newsletter