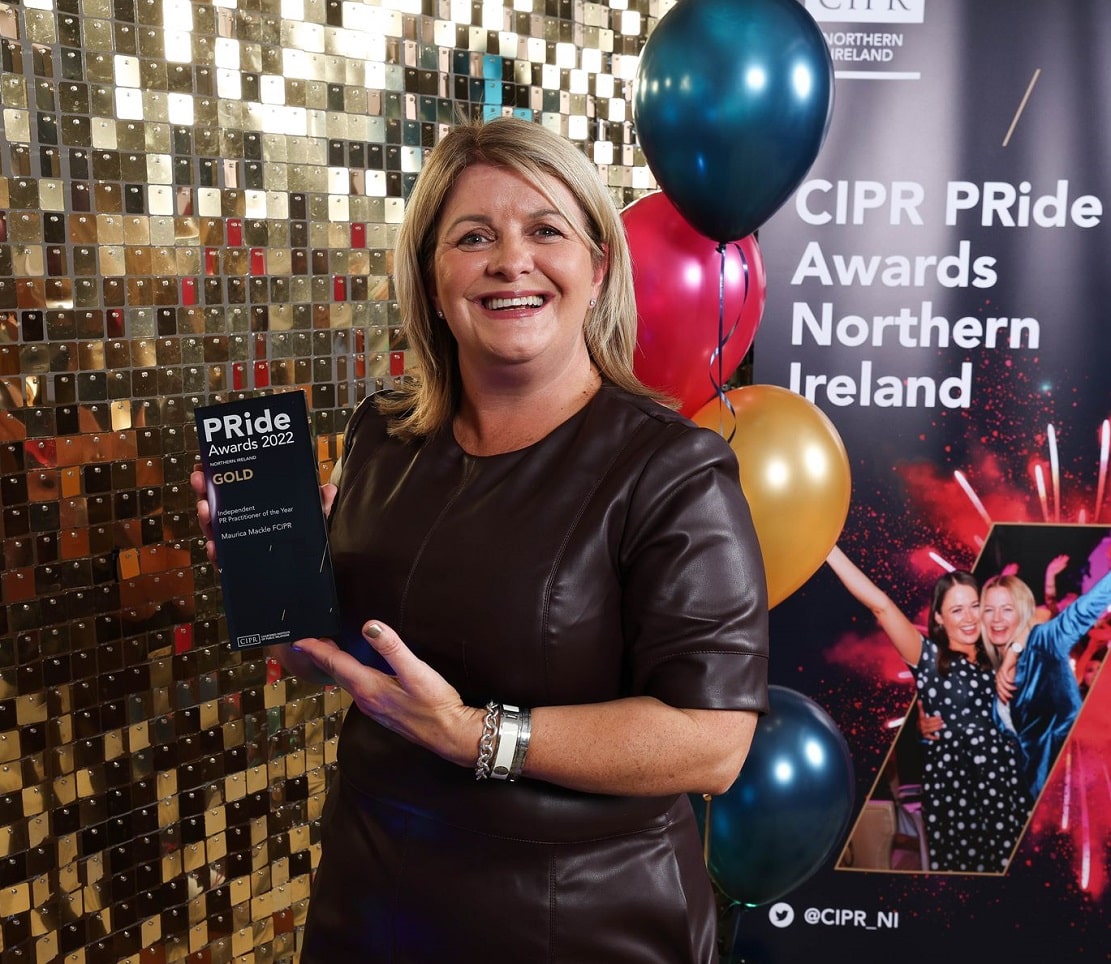 A public relations consultancy has been awarded gold in a nationwide awards scheme.
Mackle Communications, which is based in Moy, took the accolade at the Chartered Institute of Public Relations' PRide Awards.
The awards, held recently at the Merchant Hotel in Belfast, recognise excellence in public relations and communications across Northern Ireland, Scotland, Wales and six English regions.
This is the fifth time Maurica Mackle, owner of Mackle Communications and a chartered practitioner and Fellow of the Chartered Institute of Public Relations (CIPR), has received the Gold Award, making her the most awarded PR professional in the independent category across the UK.
Mackle Communications was created in 2015, and Maurica, who has a background in communications and marketing, has spent over 20 years working in policy, public affairs and strategic planning.
The judges said Mackle Communications demonstrated "clear and measurable business objectives with impressive growth coupled with a strong undertaking to give back to the industry through mentoring and developing young people".
Judges were impressed with the amount of charity work undertaken by Mackle Communications, who provide 10 per cent of their charity work without charge annually to charity clients.
Maurica said she was "thrilled" to receive the award.
"When I started the business six years ago I wanted to provide excellence, and the clients we work with and the associates within the team are all winners of this award," she said.
"It's a fantastic affirmation of our professional standards and the services we provide across communications, public relations and branding, as well as other core services to clients across Ireland and the UK."
Maurica used Covid-19 and lockdown as an opportunity to broaden her business approach, mentoring new associates and becoming a mentor for CIPR.
Maurica has mentored degree students, graduates and volunteered to organise and host events within Northern Ireland as well as mentoring employers with clients into CIPR.
Earlier this month, she was guest speaker for the Canada Public Relations Association, Ottawa Chapter.
CIPR president Rachel Roberts said it had been wonderful to see the hard work of those working across the PR industry recognised through the awards.
"Whilst I applaud all campaigns, organisations, and people who achieved gold and silver PRide Award accolades, as a PR professional I know that there's an awful lot of exceptional PR practice that happens as part of the everyday doing of the job, which in its own right shouldn't go unrecognised," she said.
"So as well as celebrating all finalists and winners, I hope the PRide Awards also acted as a beacon in each of our nine PRide communities to shine the spotlight on all PR professionals who take pride in their own work to maintain high standards, ethical communications practice and commitment to professional development."
Sign Up To Our Newsletter