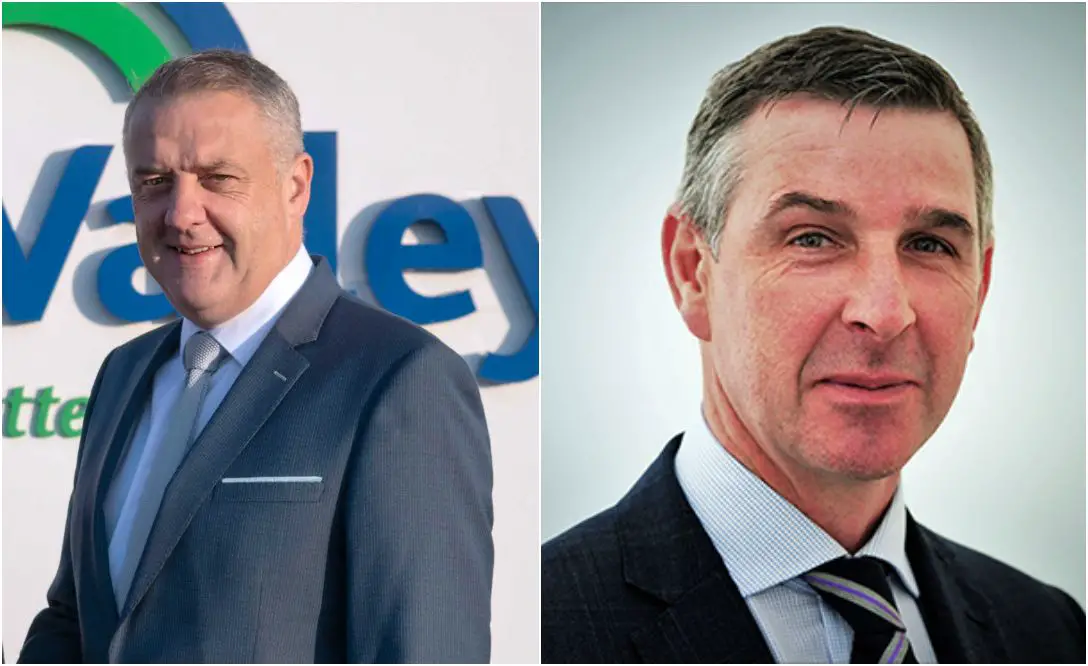 Markethill is celebrating incredible good 'Four-tune' after a New Year's Honours windfall from the Queen.
No less than four gongs have been awarded to locals for their work in the Co Armagh town and within the wider Northern Ireland community.
And the awards cover all fields of life.
For Mrs Ruth Anne Caddell, she will receive a British Empire Medal.
It is bestowed upon the 55-year-old for Services to Education and to the Community in Markethill.
Mrs Caddell is a director of Markethill District Enterprises Ltd, which has been a great driver of economic growth in the town since the mid-1990s.
Mrs Caddell's BEM is one of a healthy handful of awards – four at a cursory count – which will be bestowed on the good folk either living in or connected with the town at a future date with Royalty.
There is an OBE for Ian Marshall, who is recognised for his Public and Political Service.
Mr Marshall, a farmer from Markethill, is a former president of the Ulster Farmers' Union.
A past pupil of Newry Model School, Markethill Primary and the Royal School Armagh, Mr Marshall has also represented the unionist voice in the Irish Senate, elected in 2018 but losing his seat two years later.
Currently a business development manager with Queen's University Belfast's Institute for Global Food Security, Mr Marshall was recently selected as the Ulster Unionist Party's hopeful to clinch a seat for the party to represent Fermanagh and South Tyrone in the Northern Ireland Assembly elections in May.
Meanwhile, Hilary Ann Margaret Singleton, a solicitor from Markethill, also receives an OBE.
The citation indicates that Mrs Singleton is a member of the board of the International Award for Ireland – and chairs its Audit Committee – and she is honoured too for her Services to the Community Sector.
She is a director of the Mid-Armagh Community Network, which is based in the town, and has been deputy chair of the Health and Safety Executive NI and a member of the Local Government Staff Commission.
Mrs Singleton was also formerly the chair of the Southern Zone Steering Group of the Social Investment Fund, where she led a multi-disciplinary team in the development of an £8.5 million strategic area plan to tackle social and economic deprivation.
She previously served as a board member of the Ulster-Scots Agency, chairing both its Education Committee and Audit and Risk Committee.
Some key figures in local industry were also recognised for their efforts, the awards coming after two very difficult years across all sectors.
This has seen another Markethill man, Trevor James Lockhart, also being honoured.
The chief executive of the Fane Valley Co-Op Society Ltd, which is headquartered at Moira, will be made an MBE.
The 50-year-old – who is also the chairman of the board of governors at Markethill High School – will be presented with his gong for Services to the Agri-Food Industry and the Economy in Northern Ireland.
Mr Lockart had, until recently, been the chair of CBI NI, an influential body providing a voice to businesses across all sectors in Northern Ireland, having previously served as its vice-chair.
He graduated from Queen's University in Belfast with a Bachelor of Agriculture degree and began his working life with Masstock International in Atlanta, USA, accumulating important global experience.
Mr Lockhart later returned home to Northern Ireland to work with the Ulster Farmers' Union.
He joined Fane Valley Co-operative Society in 2004 and was promoted to Group Chief Executive in 2007 and has witnessed continued growth both at home and abroad during the intervening years.
Most recently – just earlier this month – Mr Lockhart visited Armagh for the official opening of yet another development, Fane Valley Stores, a 2,500 sq ft retail space offering for sale an expansive range of agricultural, animal health, companion animal and garden products.
Also recognised in the Queen's New Year Honours is Mairead Mackle, from Armagh, who has been awarded an MBE for Services to Economic Development in Northern Ireland.
She is the founder and chief executive officer of Tarasis Enterprises Ltd, according to the citation.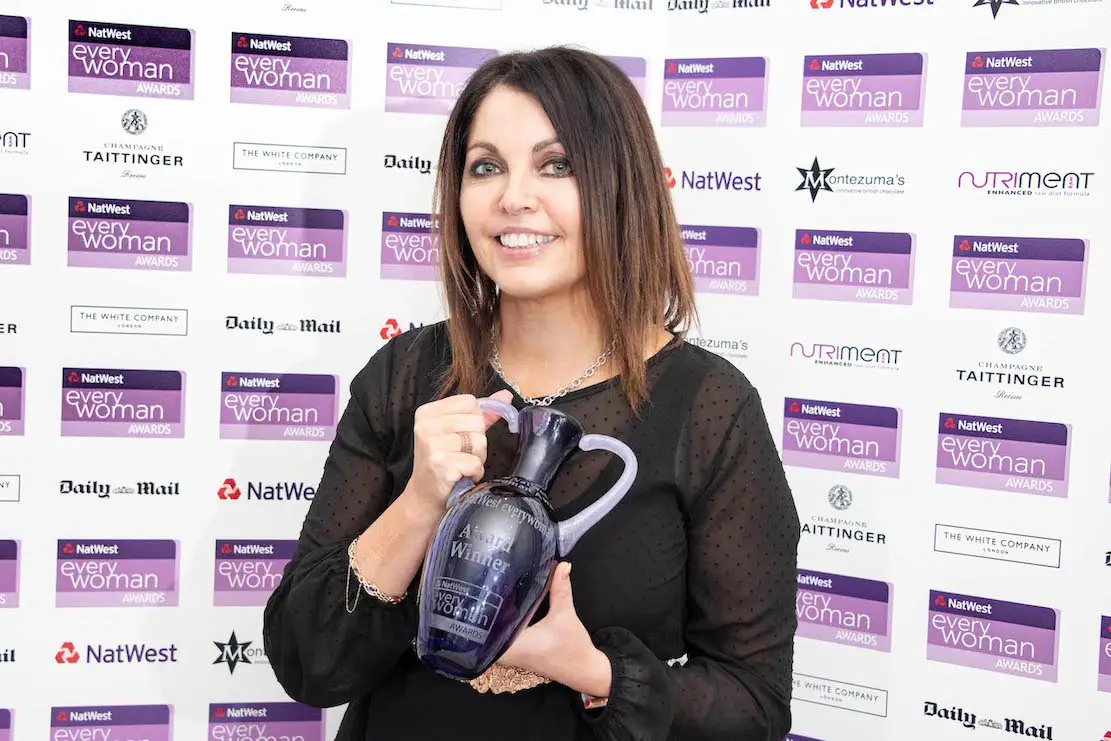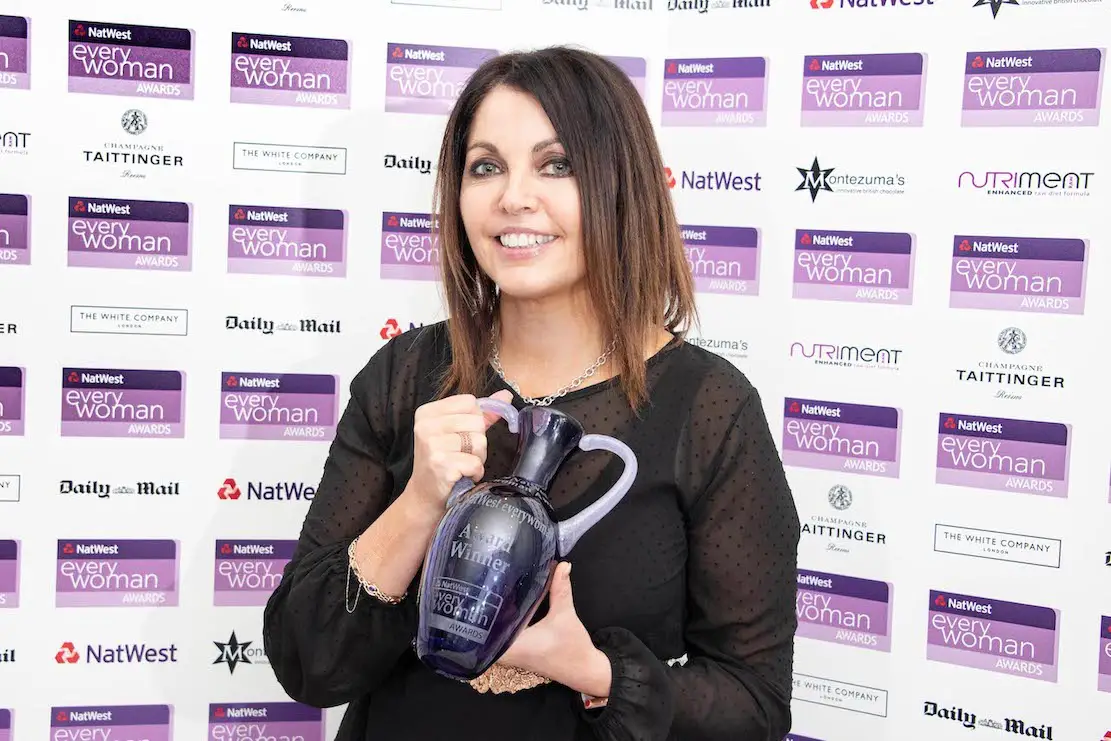 Mrs Mackle has won many awards for her entrepreneurialism and leadership including the NatWest Everywoman of the Year title and the award for Irish Tatler Entrepreneur of the Year.
In 2018, she received a National Special Recognition Award in London for her commitment to family business and impact on the local community.
Renowned too for her charitable endeavours, she owns and operates a diverse suite of progressive businesses across several industries including care, support, housing solutions, renewables and construction.
Meanwhile, there was an OBE for Mrs Evelyn Margaret Cosgrove, lately principal of St Mary's High School in Newry, for Services to Education.
Ray Hutchinson, from Dromore, is made an OBE for Services to the Construction Industry and to Diversity and Inclusion.
It's a double December celebration for Mr Hutchinson, who is the managing director of the Belfast-based Gilbert-Ash Ltd, as it comes in a month when he celebrated his milestone 50th birthday.
Kenneth Donaldson, who is originally from Crossmaglen, receives an MBE for Services to the Community in Northern Ireland. Involved for many years in the victims' sector, the County Armagh native is currently director of services of the South East Fermanagh Foundation.
There is a BEM for Mrs Gladys Kerr, for her Services to the Boys' Brigade in the Craigavon community.
And Newry bus driver and driver mentor Bronagh McDonnell is awarded a BEM too, this time for Services to Public Transport and to Community Engagement in Northern Ireland.
A full list of the New Year's Honours 2021 recipients is as follows: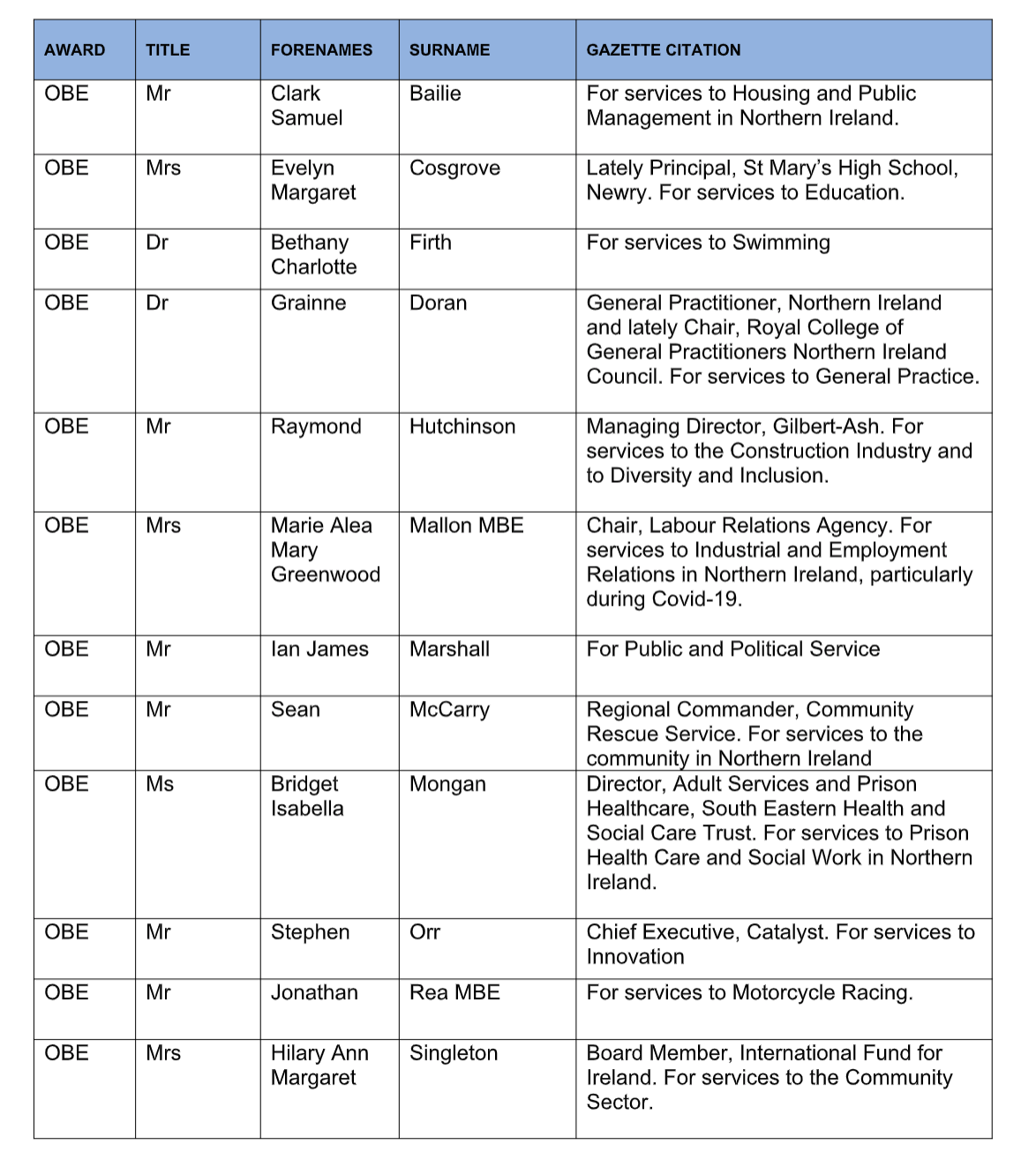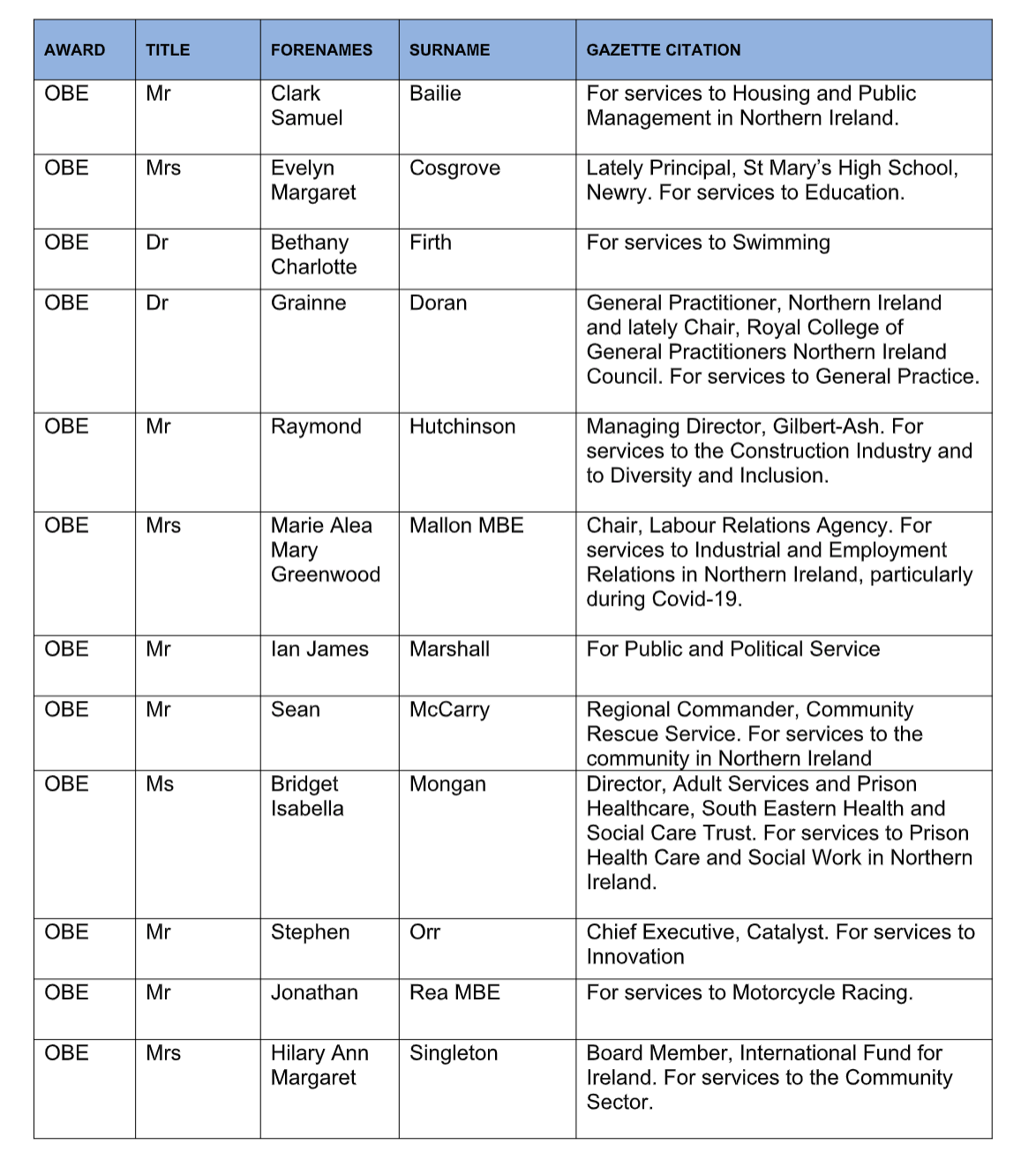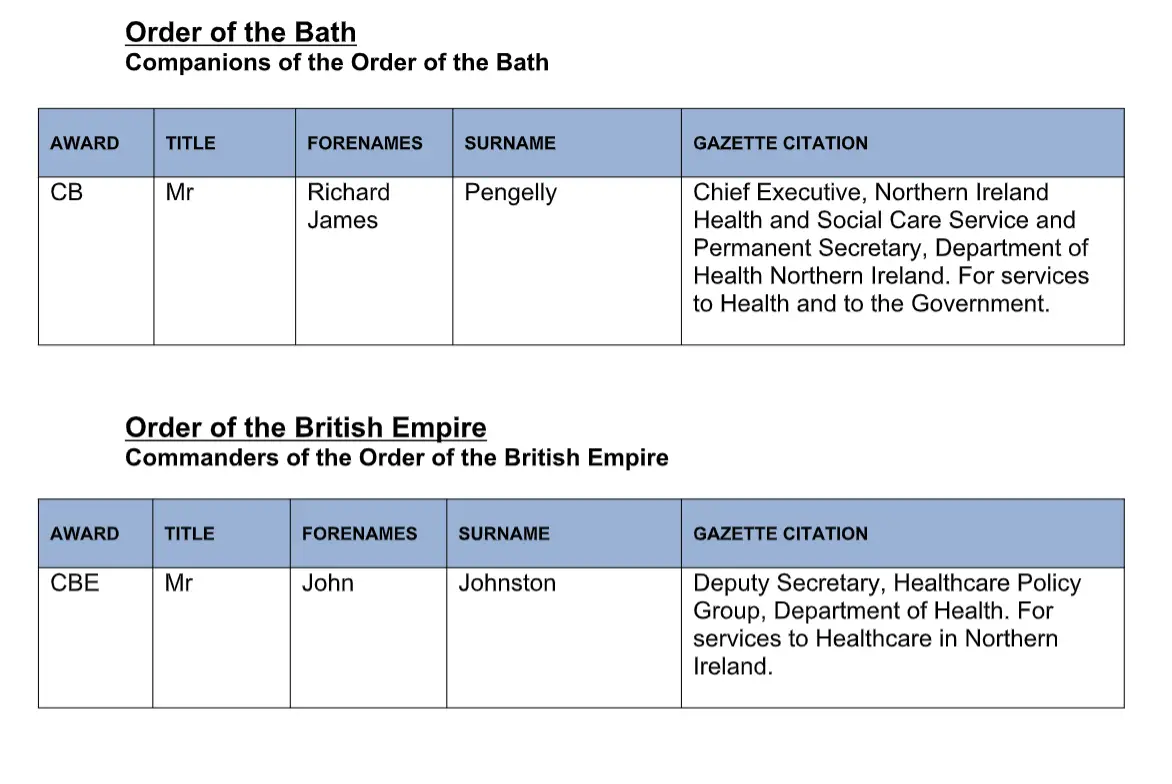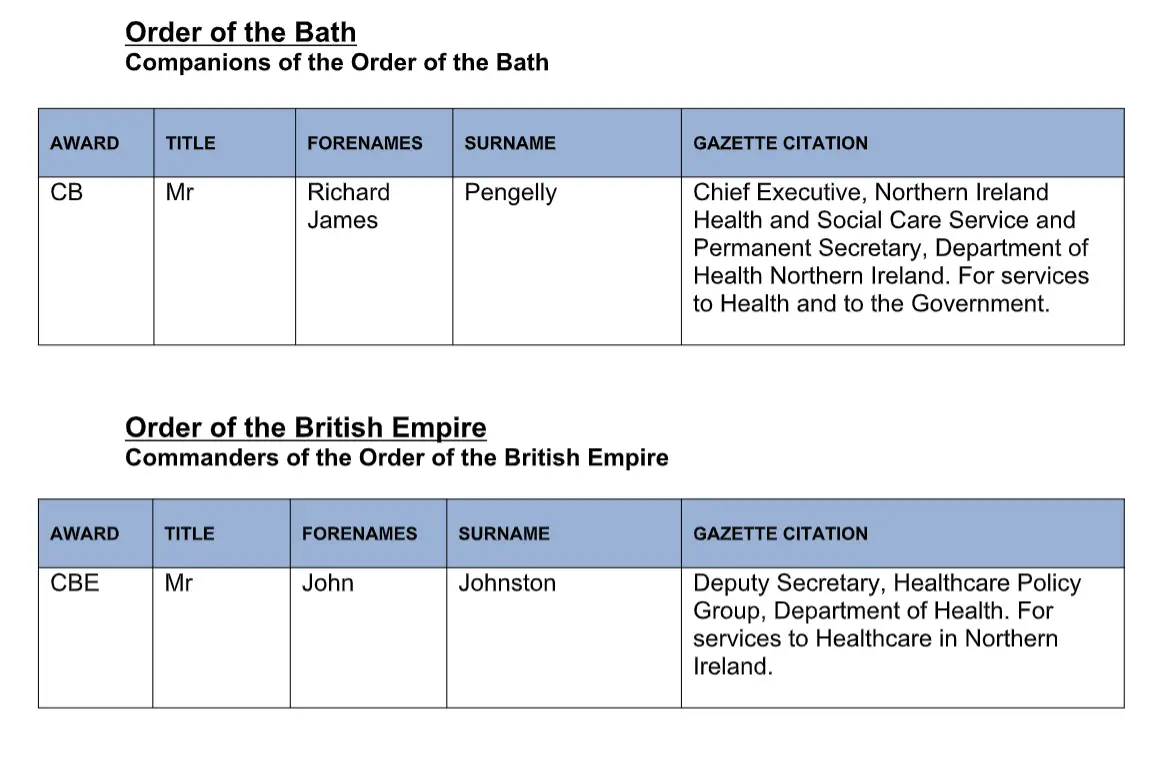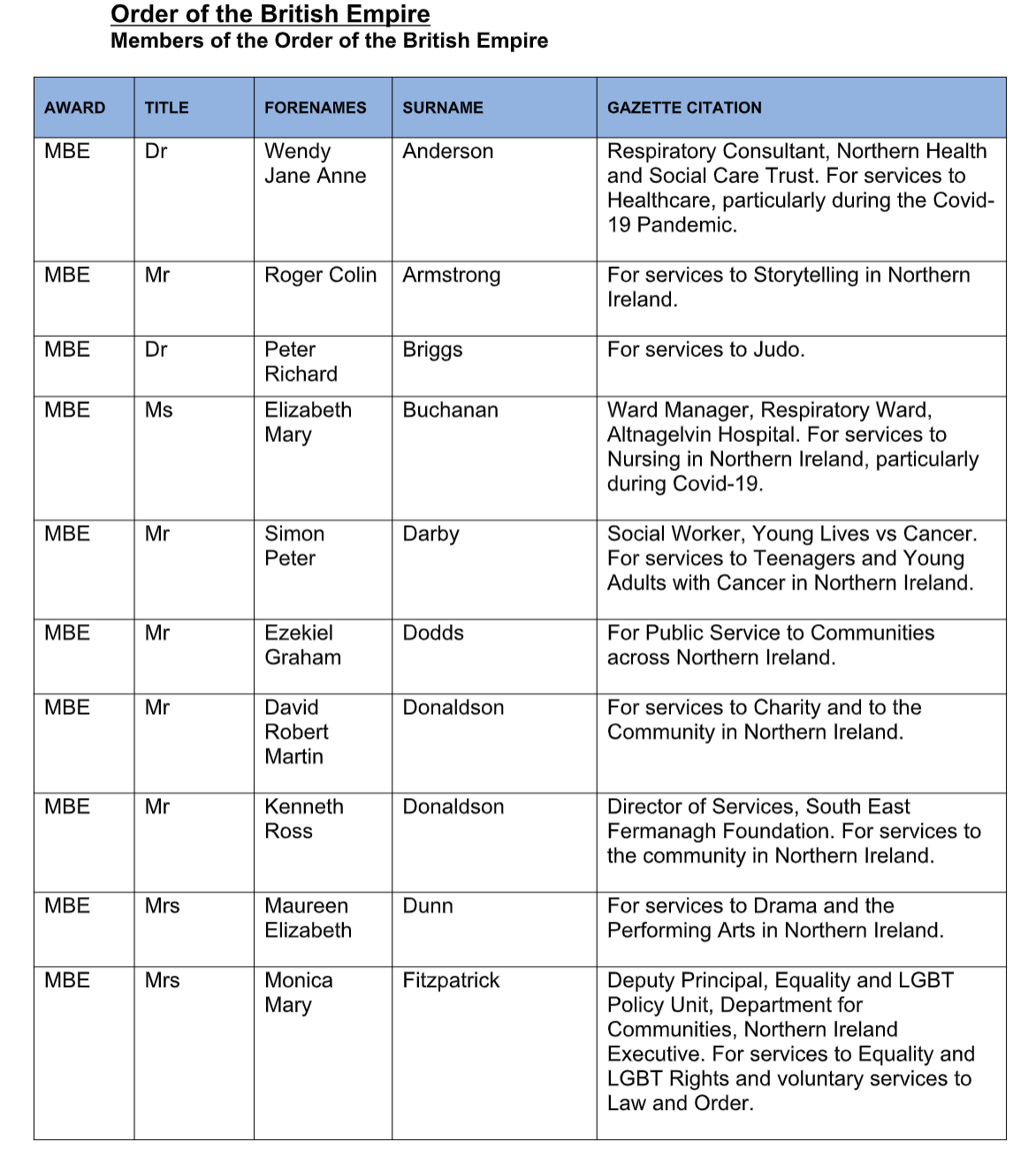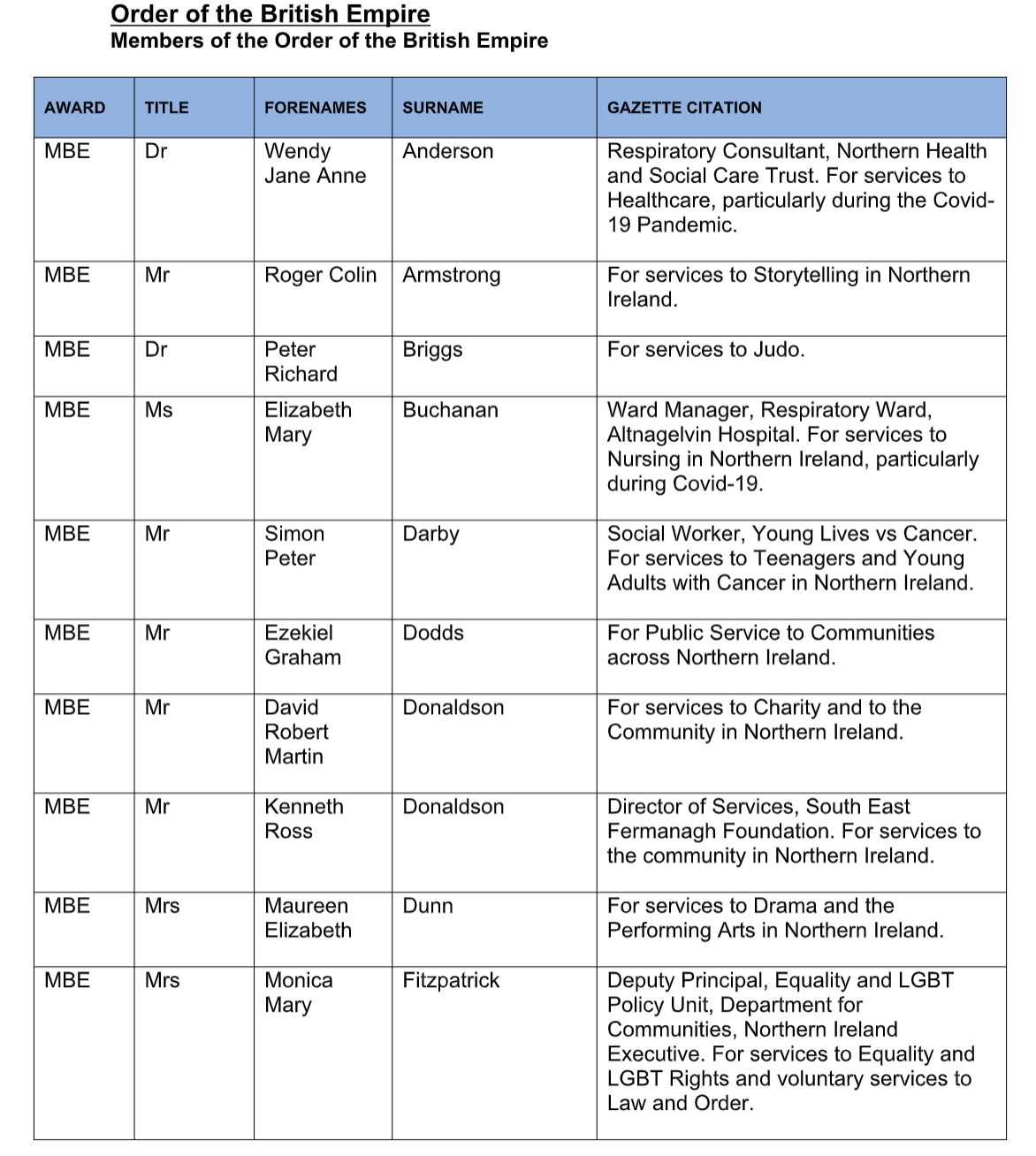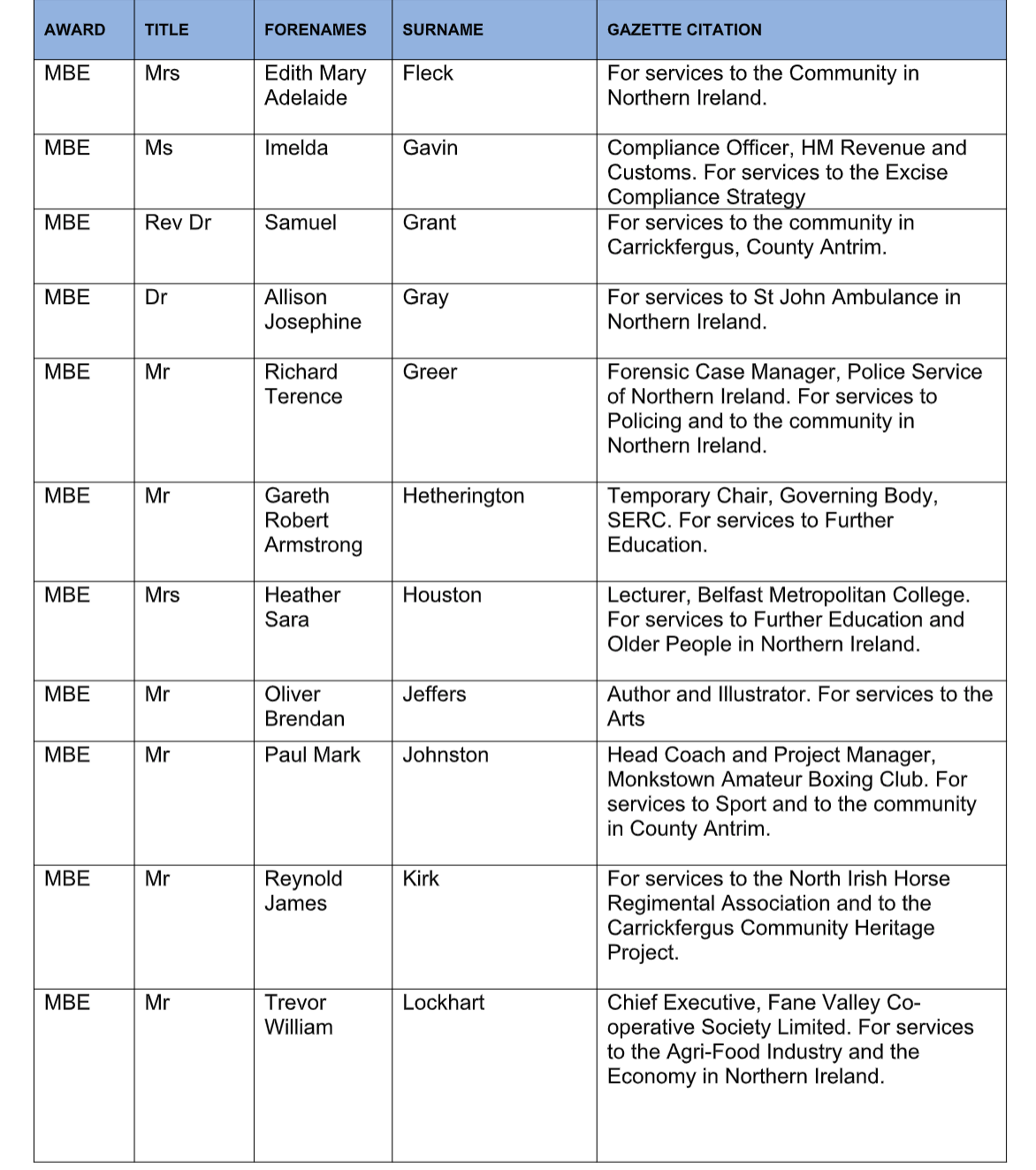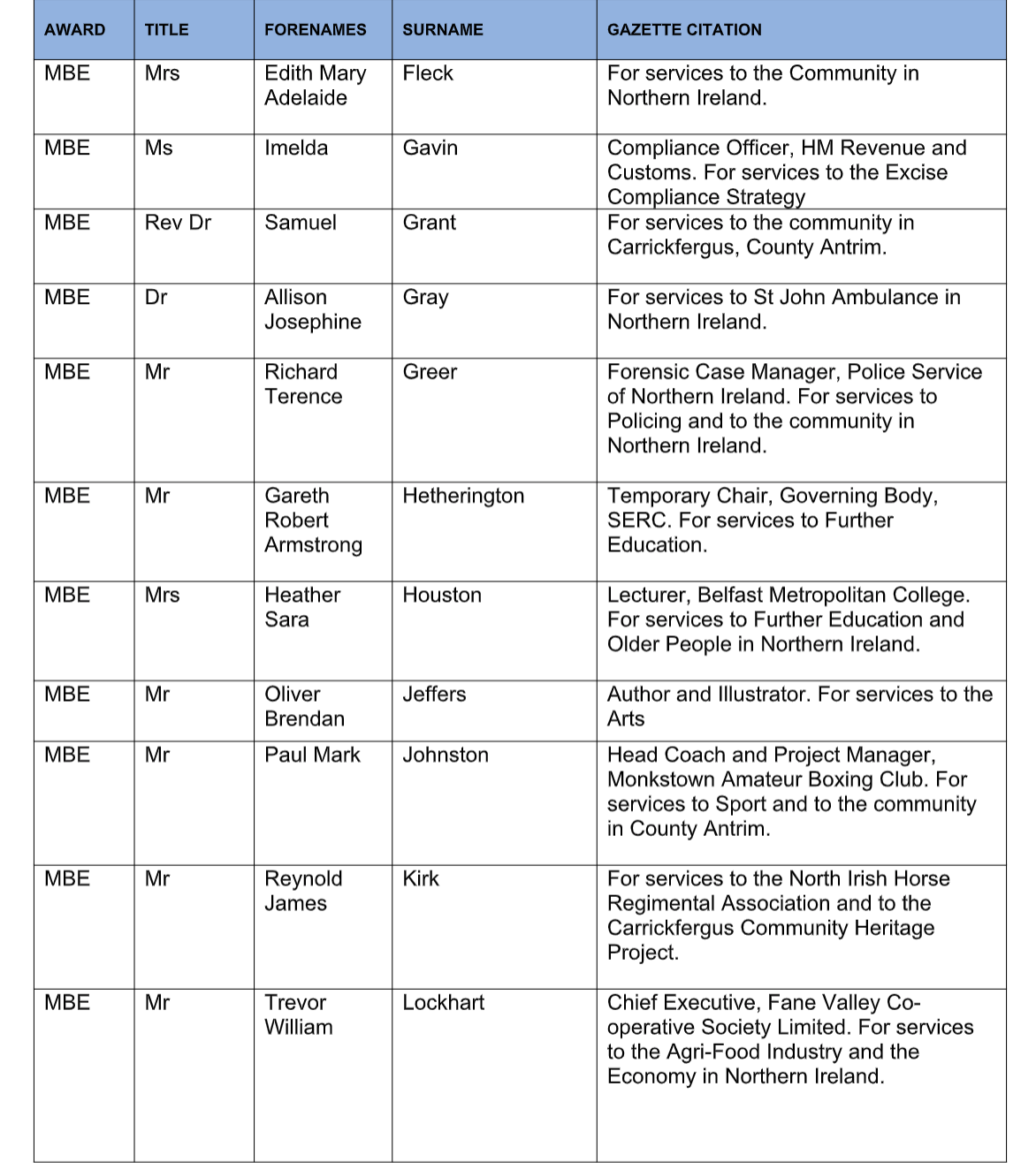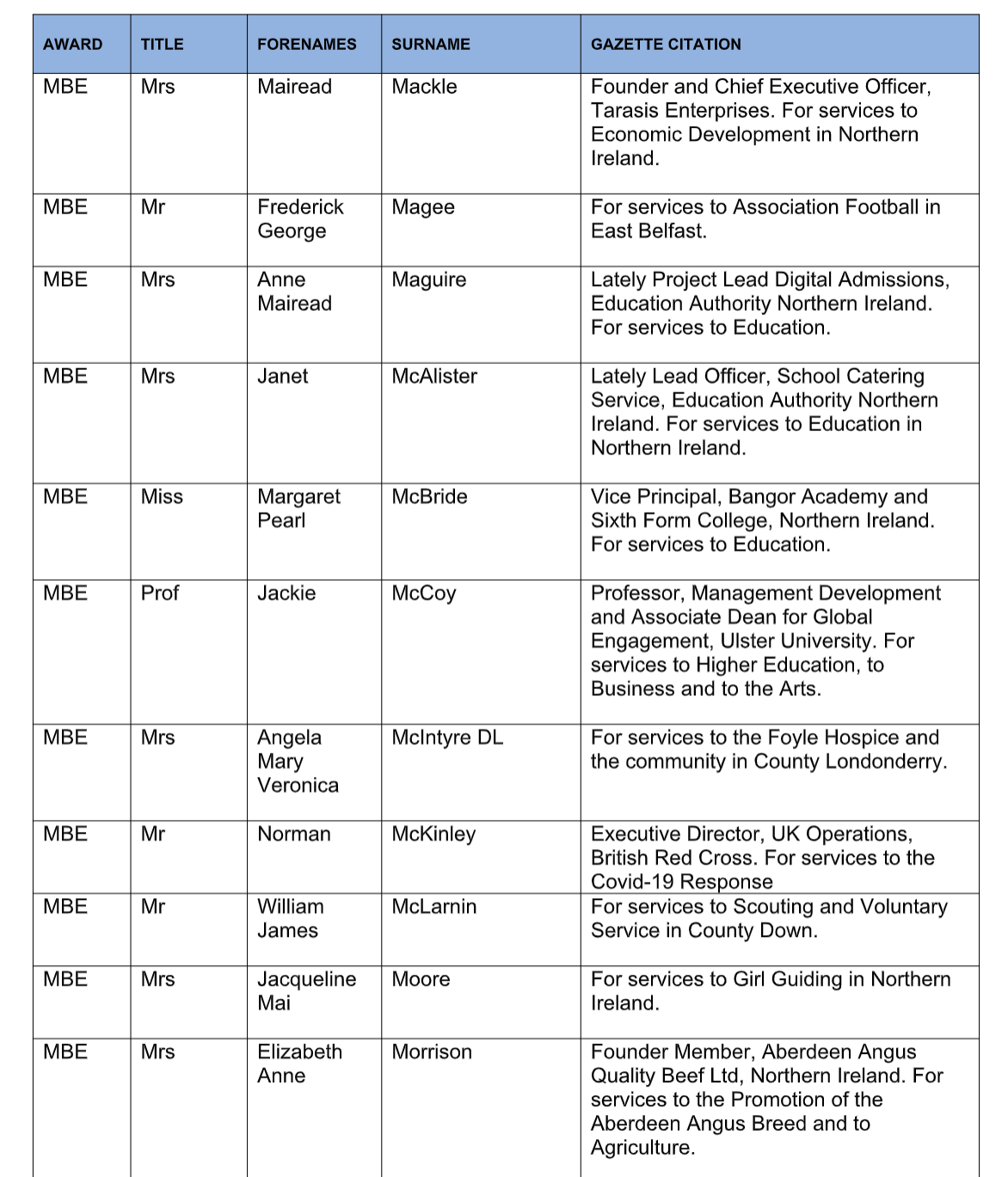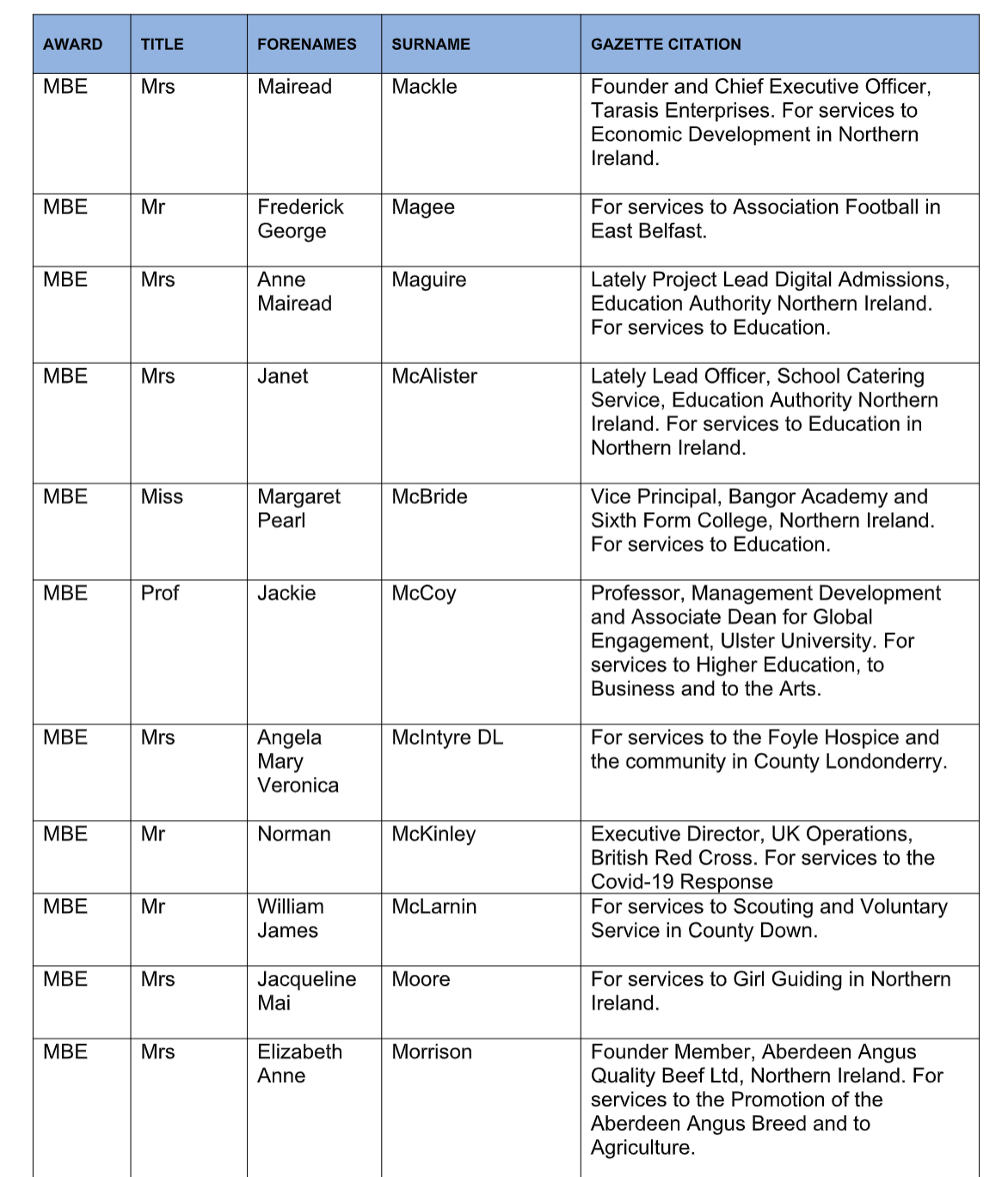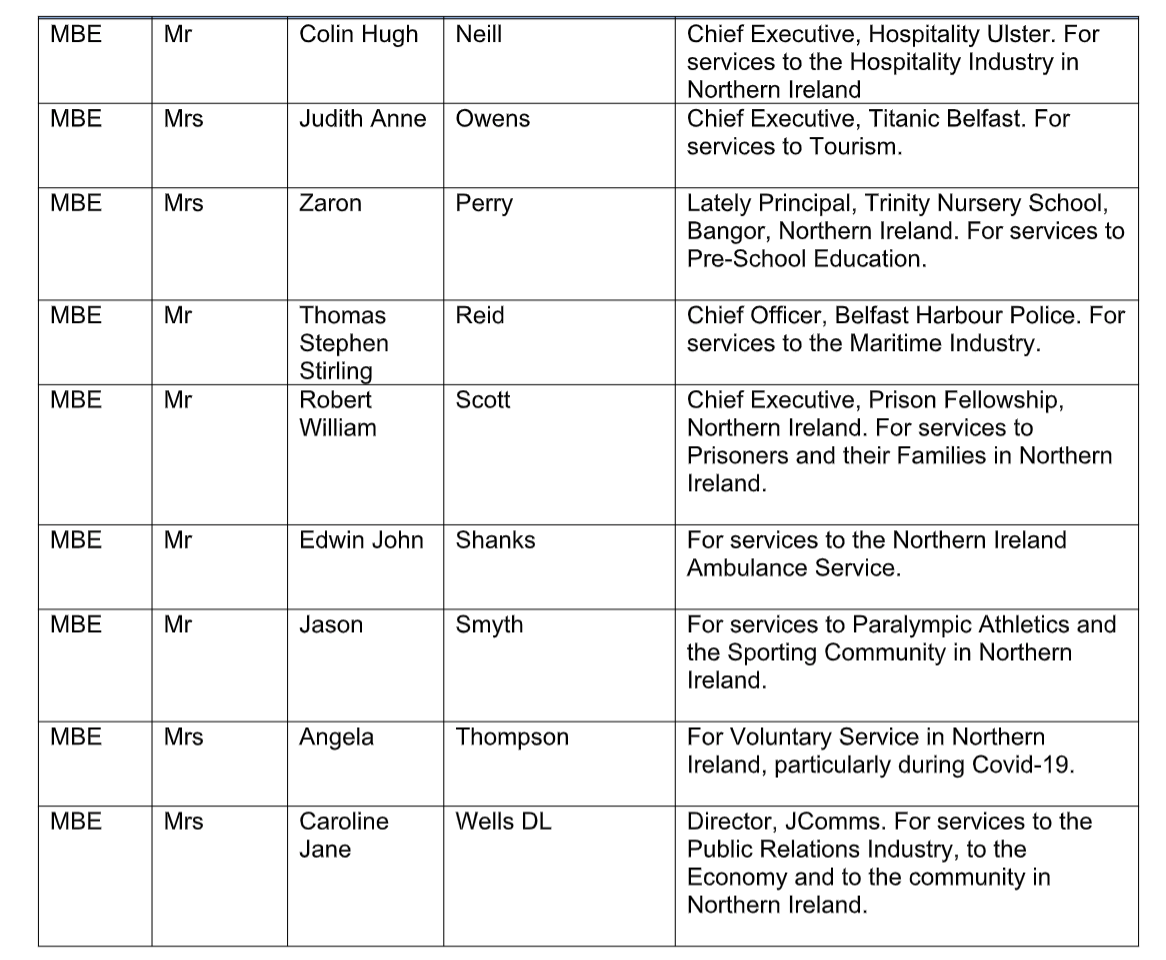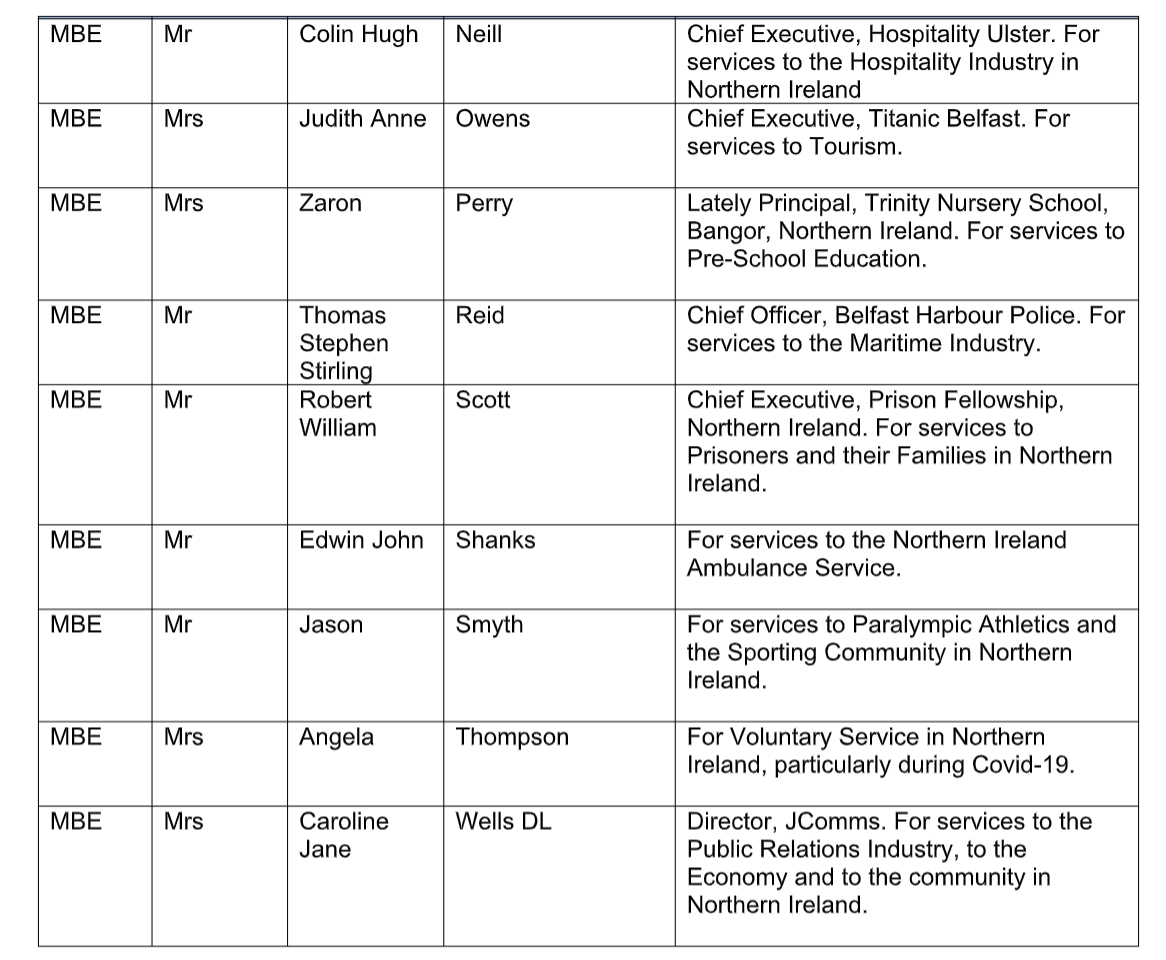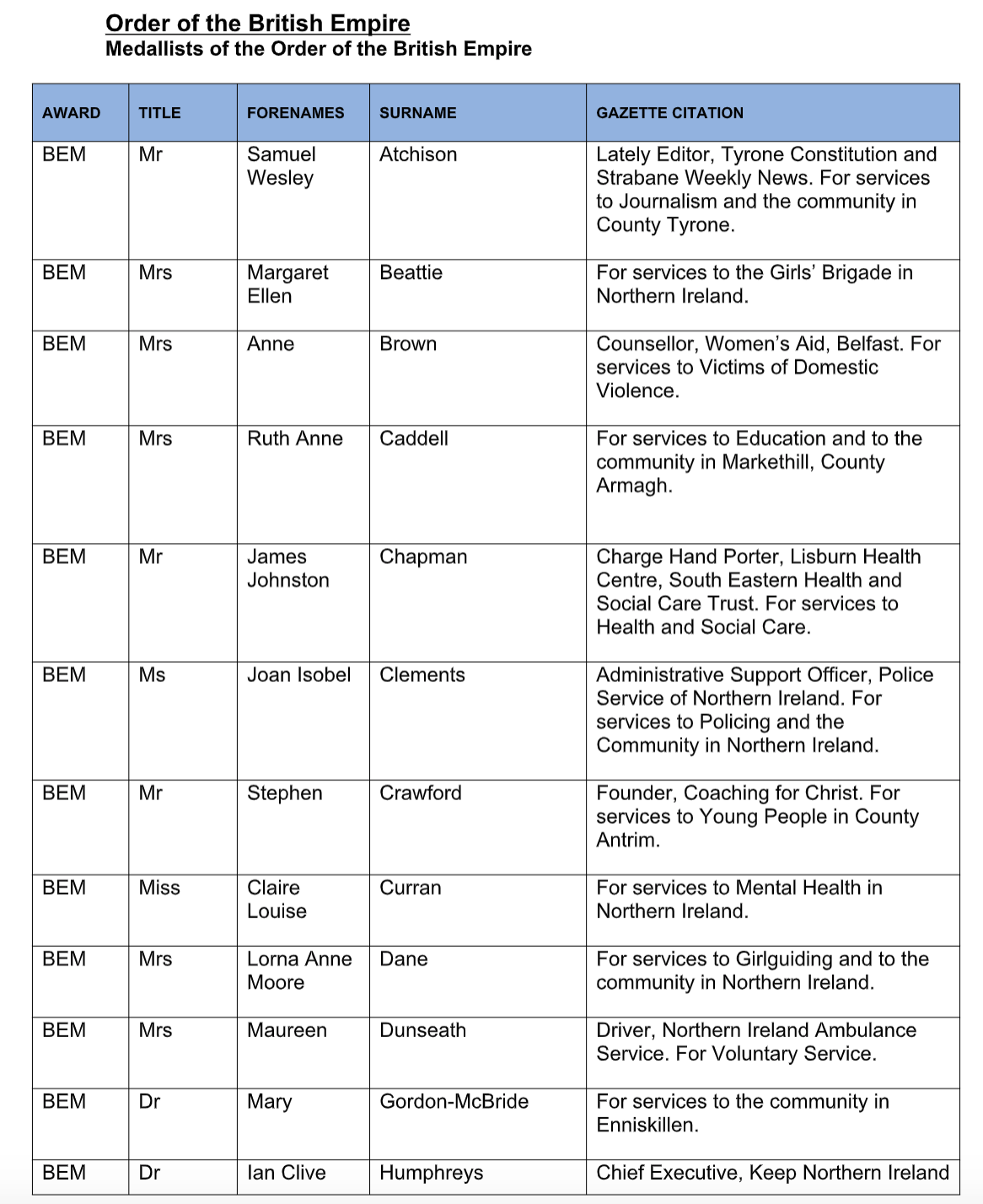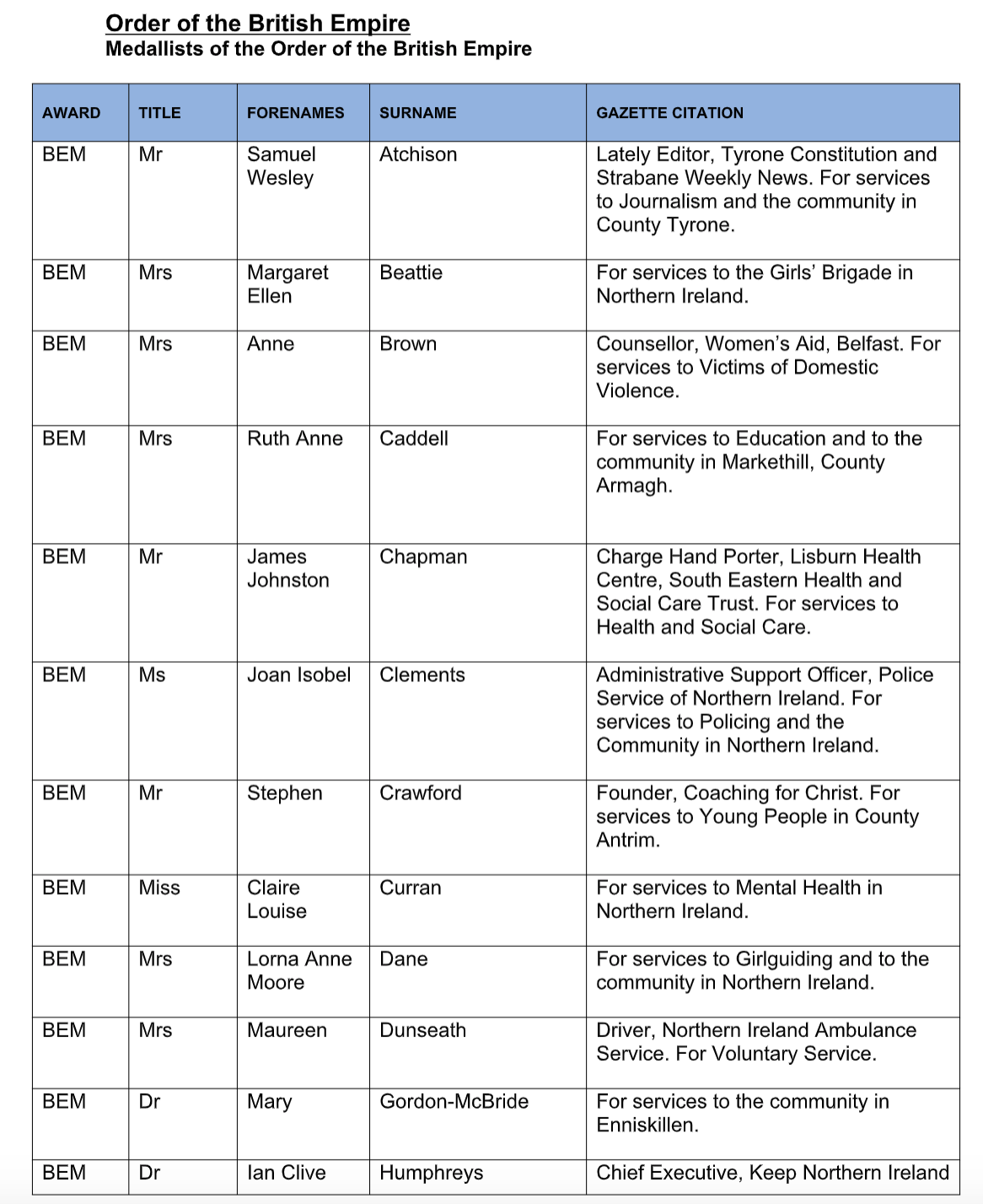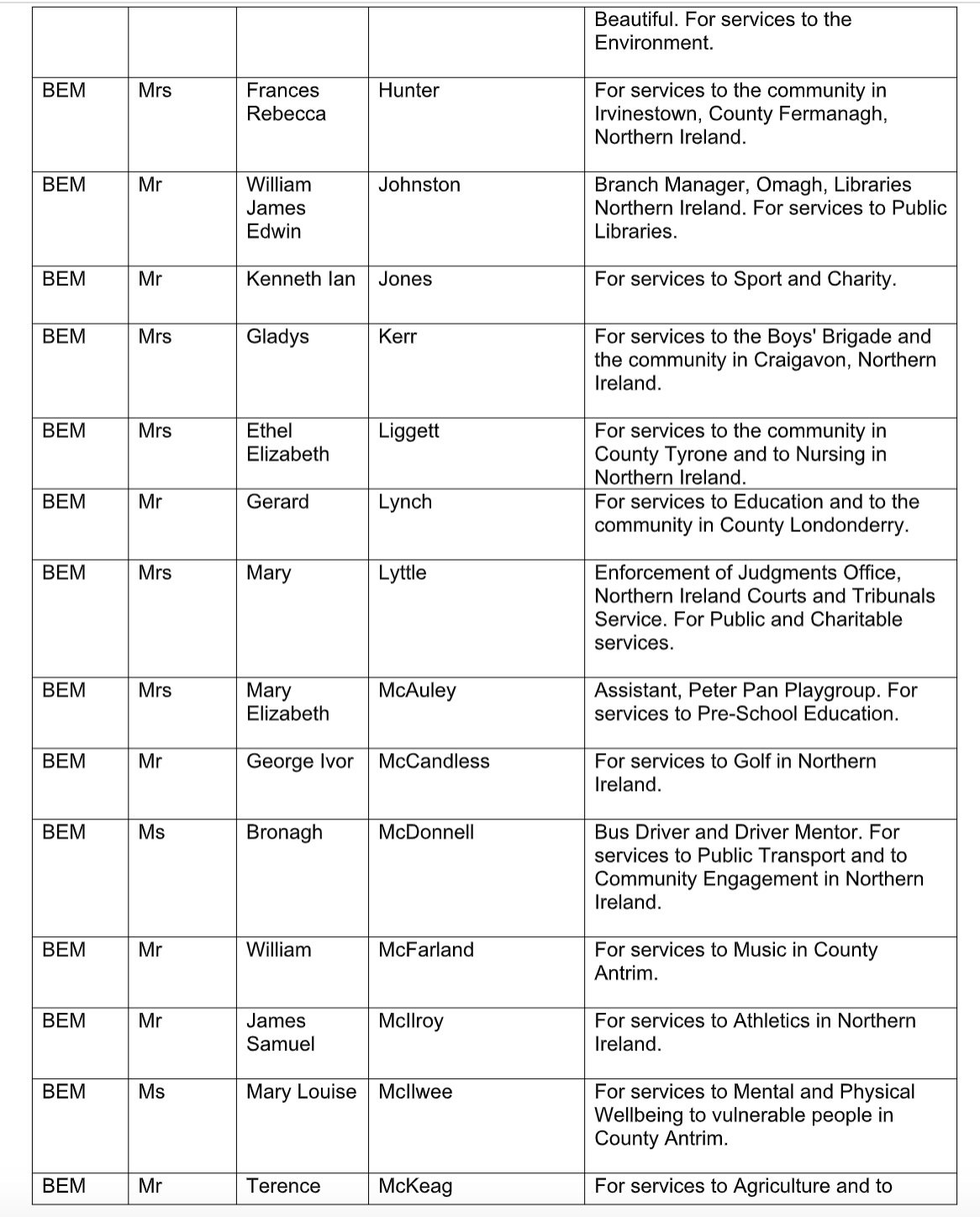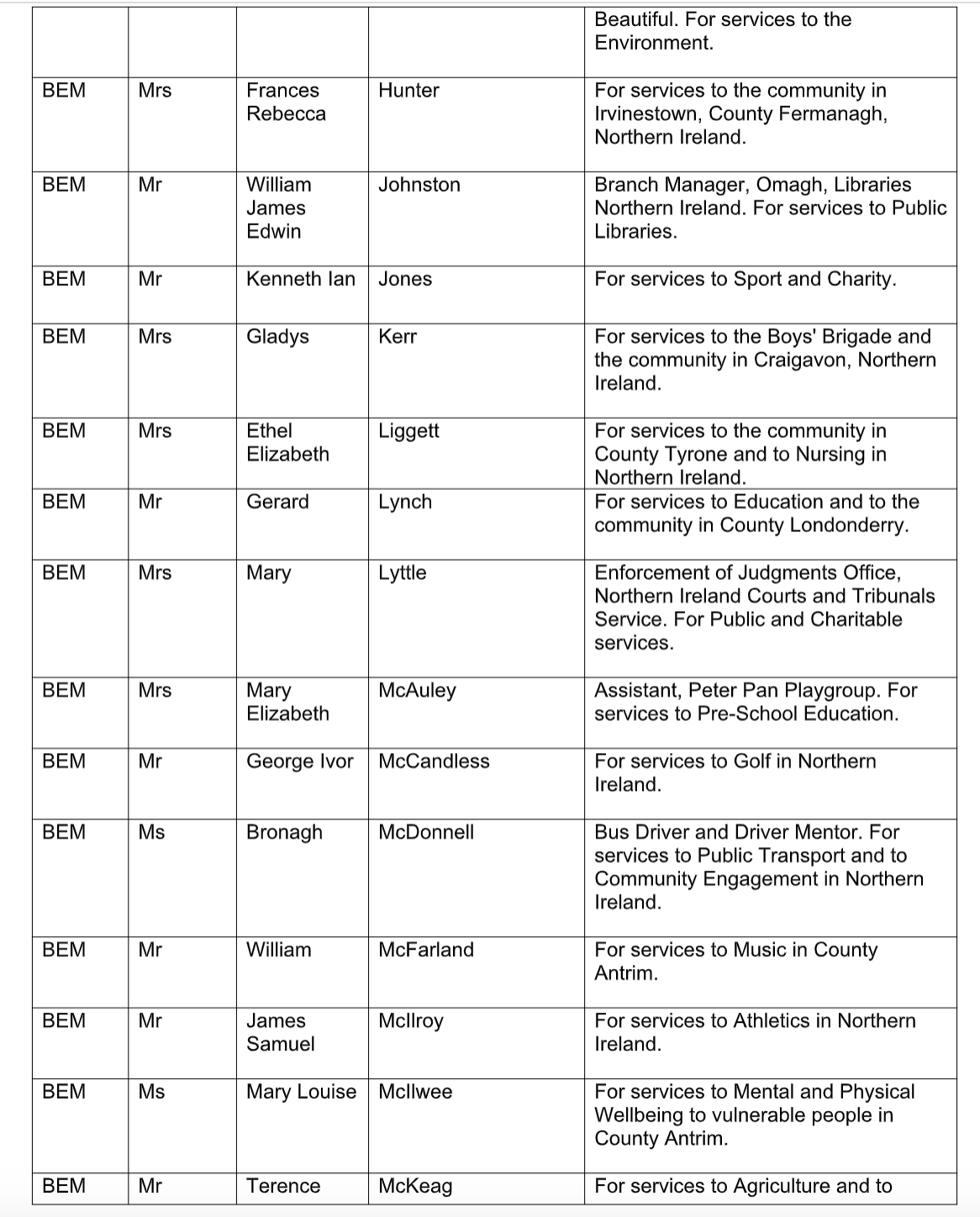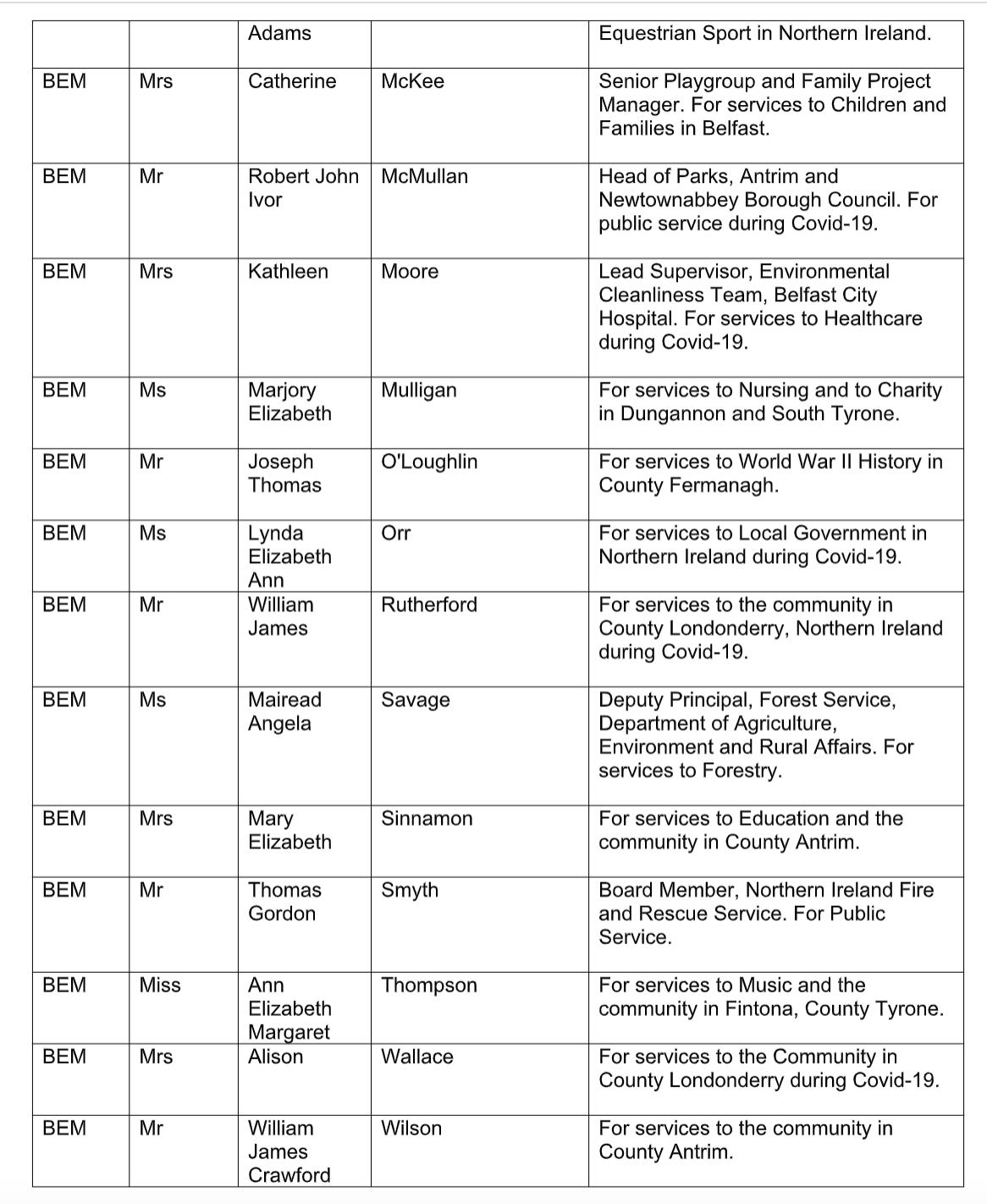 Sign Up To Our Newsletter