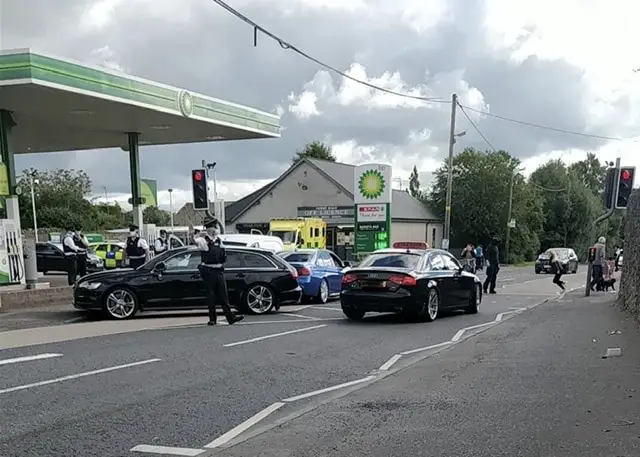 A man allegedly caught with £200,000 worth of suspected cocaine in an animal feed bag after failing to stop for police in Armagh has been refused bail.
A detective constable told Enniskillen Magistrates' Court that upon being detained by officers the 24-year-old remarked: "Oh f***, oh f***, my life is over."
Dean McReynolds, of Coagh Road in Stewartstown, appeared in court on Monday from custody via videolink facing nine charges in total.
The 24-year-old is charged with being concerned in the supply of Class A, importing Class A, dangerous driving, possession of Class A, possession of Class A with intent to supply, fraudulently altering vehicle registration marks, failing to stop for police and using a vehicle without insurance.
McReynolds, who appeared in court with one previous entry on his record for possession of Class B, confirmed that he understood the charges and was connected to these by a detective constable.
Defence barrister Craig Patton made no question to this connection and stated that a bail application would be made on behalf of the defendant.
The detective constable outlined that on September 6, at around 1pm, police on the Markethill Road in Armagh signalled for a vehicle to stop after receiving information that it contained suspected drugs.
The driver allegedly failed to stop which resulted in a collision between two police and one civilian vehicle.
After a short distance, the vehicle, which police were pursuing, stopped as it was jammed between a car and a set of traffic lights.
The driver, who was identified as the defendant, allegedly then exited the vehicle and attempted to run off holding an animal feed bag.
McReynolds was detained by police who said he remarked: "Oh f***, oh f***, my life is over."
Officers believed that the bag contained suspected cocaine, which resulted in the defendant's arrest.
Whilst in custody, a search was conducted on McReynolds and during this police allegedly located a small amount of white powder on his person.
The detective constable told court that this had been tested on Monday morning and had come back as positive for cocaine.
Subsequent to his arrest, police conducted searches of the defendant's home and his vehicles, during which officers allegedly found several phones along with £1,700 in Euros and Sterling.
It was also outlined that checks of the vehicle, which McReynolds is alleged to have been driving on the day, showed that the chassis number did not match the registration mark displayed.
When interviewed, the defendant made no comment to all questions but did give an account for the money, which had been found in his home, stating he had earned it from his engineering skills.
Explaining the importation charge, the detective constable said it was believed that McReynolds had driven from the Republic of Ireland.
He also stated that the animal feed bag was believed to contain between 2.5 and three kilograms of suspected cocaine with a street value of around £200,000.
However, he stated that forensics, including DNA and fingerprinting, remained to be completed on this item.
Outlining objections to bail, the detective constable said that police believed there was a likelihood of re-offending as a means to recoup the losses.
He added that there was also an ongoing investigation into the origins of this substance and that there was a fear that the defendant would warn others, who were believed to have been involved.
Mr Patton commented that his instructing solicitor had been told at the police station that the value of the suspected drugs was £1,200 but he accepted it was "a serious amount of drugs" and that there were "other aggravating features".
Addressing the dangerous driving, the barrister stated that McReynolds had instructed that he had seen the vehicle beside him pointing a gun and that there had been no sirens or lights.
He added that the defendant had been detained a very short distance away from the initial police involvement
Explaining the inconsistent plates, Mr Patton said that the plates displayed were from another car owned by McReynolds and that "the suggestion that this was any attempt to disguise the owner of the vehicle would be ridiculous".
He added: "With respect to the money, he works as an engineer and also makes things such as washing lines. This was money that he had saved and the Euros belonged to his girlfriend; money not used from a holiday."
Mr Patton commented on the objection, saying: "I am yet to see someone on bail for a large value drugs case be rearrested for trying to recoup the money lost."
He concluded by saying that he believed bail could be granted with stringent conditions, adding that the defendant's girlfriend was prepared to sign as a surety.
District Judge Steven Keown stated: "This is an extremely serious case at an early stage. This was a very high value of drugs which would appear to have crossed the border and it would appear there are more players involved in this.
"On the facts, it seems to point to someone who was trusted as part of this operation."
Bail was refused on risk of re offending and the possible interference with ongoing police investigations.
McReynolds was remanded in custody as the case was adjourned until September 30 at Dungannon Magistrates' Court.
Sign Up To Our Newsletter