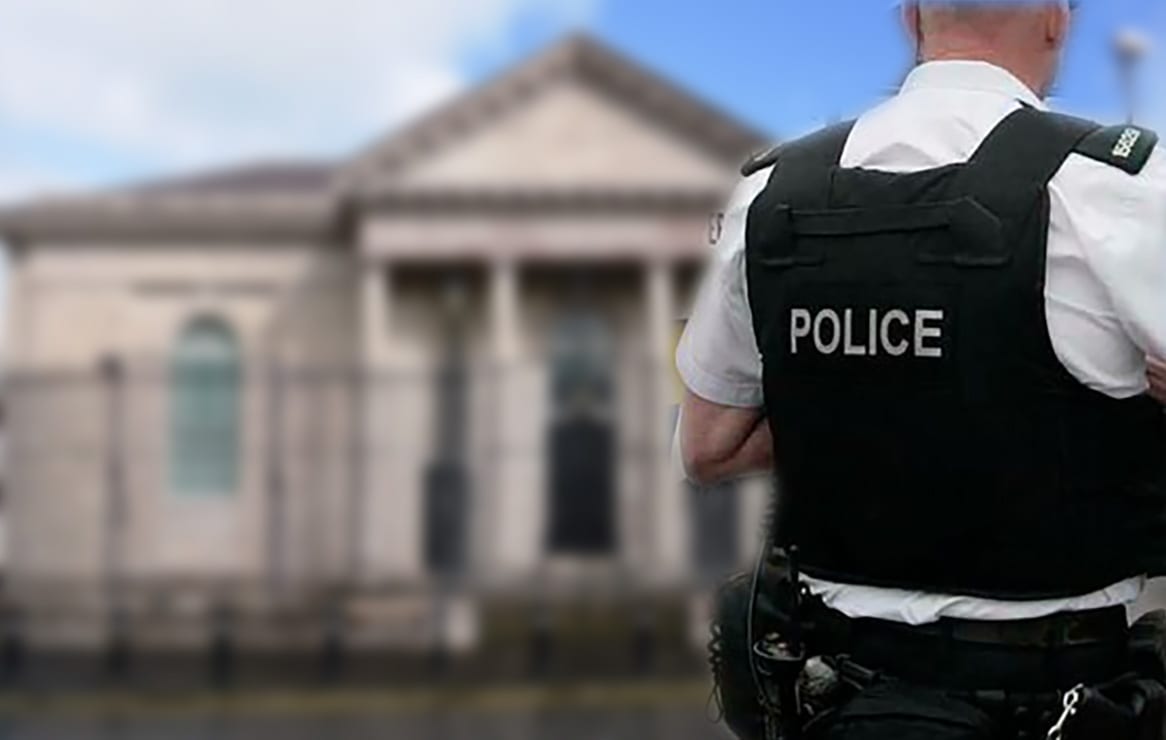 A man accused of posting a sympathy card through an ex-partner's letter box threatening her to withdraw a complaint against him has been refused bail.
Lee Daniel Brown, with an address of Felt Street, Belfast, appeared before Armagh Magistrates' Court charged with sending a sympathy card with the intention of causing intimidation, knowing she was assisting in an investigation with the intent for the course of justice to be obstructed, perverted or interfered with.
The 32-year-old is accused of carrying out the offence between August 2-6. the second and sixth of August
A Detective Constable, who believed he could connect Brown to the charges, told the court that the alleged injured party contacted place after finding a sympathy card, addressed to her, lying in her hallway.
It read: "This is your final warning. Drop the charges or I can't say what I will do to you. Last warning; drop or else. I still love you."
The alleged injured party then opened up an old email address which she hadn't used for some time and found 11 messages from Brown demanding that she drop the charges.
The messages were "threatening, abusive and derogatory".
The detective also informed the court that Brown had been granted High Court bail on August 1 and that the latest alleged intimidation occurred the following day. He also stated that the accused has 50 previous convictions on record and has had three bench warrants issued against his name.
Brown has also been assessed as a high risk domestic violence perpetrator.
Brown's defence solicitor told the court that during police interview, his client denied all charges against him and offered whatever devices he had up for forensic examination.
His mobile phone was also seized and Brown voluntarily provided the PIN for police to obtain access.
During his police interview, Brown, claimed the injured party would have had access to the email account in question – which is one 10 addresses he owns.
Brown's defence solicitor said his client denies "any suggestion of intimidation" and noted that despite his record, High Court bail was granted previously, added that stringent conditions, including an exclusion zone, would be adhered to.
"These allegations are disputed," the solicitor continued.
"My client believes it was the injured party who sent these to herself. [Brown] put up a number of posts containing images of him with his current girlfriend which may have caused an issue with the injured party, leading her to fabricate these allegations.
He told District Judge Anne Marshall that any conditions would be abided by including the imposition of an electronic tag.
However, Judge Marshall, in refusing bail, referenced the fact that Brown is currently under a suspended sentence.
"He's only just released and he's in front of me for intimidation, which the court takes very seriously indeed."
Brown, who was remanded in custody at Maghaberry Prison, will appear again by video link at Lisburn Courthouse on September 5.
Sign Up To Our Newsletter