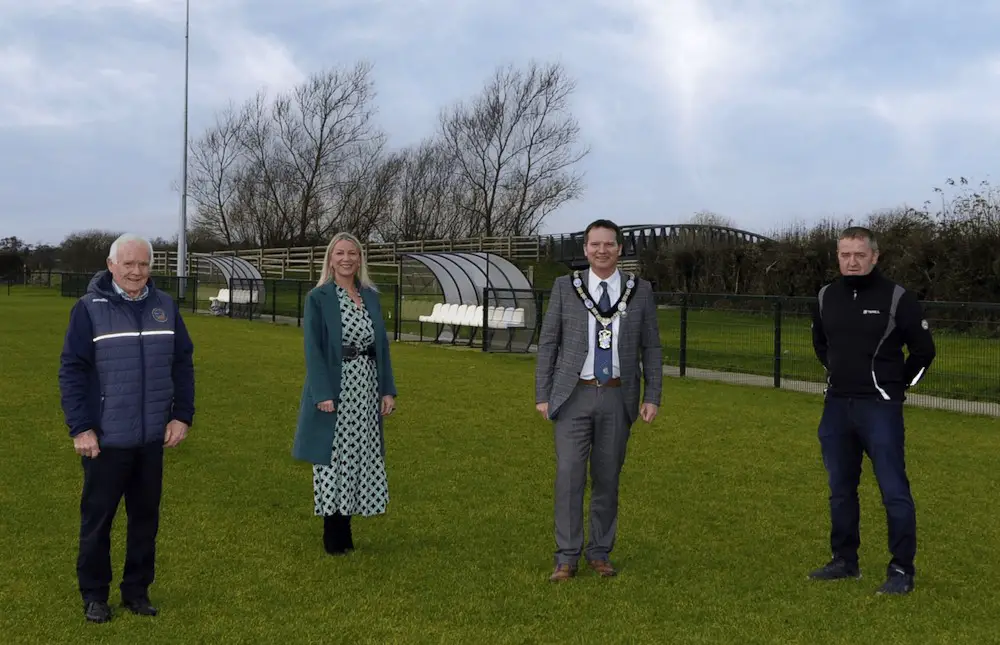 Two rural communities in County Armagh have benefited from more than £360,000 grant funding from the Basic Services Scheme of the NI Rural Development Programme 2014-2020 – funded by Department of Agriculture, Environment and Rural Affairs (DAERA) and European Union (EU), and delivered by Southern Organisation for Action in Rural Areas (SOAR ABC).
SOAR ABC works with local communities to deliver the LEADER element of the NI Rural Development Programme 2014-2020, on behalf of DAERA, supporting and broadening rural development across the borough of Armagh City, Banbridge and Craigavon.
Maghery GAA Club were awarded grant aid of around £168,000 and subsequently were able to realise their ambitions to develop a multi-purpose recreational green space and floodlit perimeter walking track.
At a total cost of nearly £225,000, the project encourages and enables safe physical activity and social recreation, providing opportunities for increased community cohesion, club development, female specific sports engagement and inter-generational initiatives.
With an ethos of promoting rural life, the new facilities will act as a key resource for everyone from schoolchildren and older residents to local groups and neighbouring communities.
Meanwhile, Cormeen Social and Economic Regeneration Partnership Ltd in Armagh received a funding injection of close to £200,000 for their community hall renovation project. At a final cost of over £265,000, the project saw an extension to their existing hall and the redevelopment of their car park.
Cormeen local residents can now enjoy an enhanced and modernised community hall with a dedicated training and education suite, new electrical and heating systems as well as 47 additional car parking spaces.
Supporting all age groups in Cormeen, the new hub will help combat rural isolation and provide a range of leisure and recreational services within the community. The project also includes the creation of a part-time caretaker / centre co-ordinator role for the hub.
Lord Mayor of Armagh City, Banbridge and Craigavon, Alderman Glenn Barr commented: "After many months of hard work, it is absolutely brilliant to see these fantastic projects in the Maghery and Cormeen areas finally reach their realisation!
"No doubt, instilling a lot of pride within the local areas, these modernised community facilities not only provide residents with a safe meeting space to enjoy a wealth of activities and services, but they also help promote local health and wellbeing, and alleviate rural isolation.
 "Very well done to everyone involved!"
DAERA Minister, Edwin Poots MLA said: "I am delighted that these projects were able to avail of funding from my Department's Rural Development Programme to provide much need facilities in these rural areas. Despite the many challenges brought about by the Covid-19 crisis, these projects, like many others throughout the SOAR area, have successfully completed.  I want to thank all those involved for their hard work and dedication in bringing these to fruition."
Chair of SOAR ABC, Roisin McAliskey commented: "It's great to see the works are now complete on site after many months of planning. These projects supported under the Basic Services measure provide great community facilities in rural areas, which will act as a focus for people to come together to improve both physical and mental wellbeing."
Launched in 2015, SOAR ABC has awarded grants of over £1.3 million to 14 community and voluntary groups from the Basic Services Scheme of the NI Rural Development Programme, helping address social isolation and improve much needed local services across the borough's rural communities.
To learn more about SOAR ABC, visit https://www.soarni.org/.
Sign Up To Our Newsletter