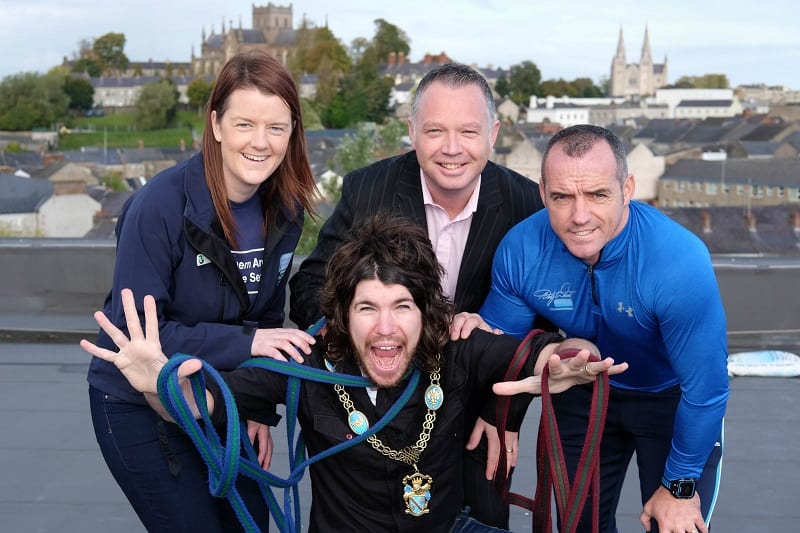 The Lord Mayor will quite literally take the plunge as he abseils down the Armagh City Hotel on December 4.
Councillor Garath Keating will be joined by Barry Donaghy, General Manager of the Armagh City Hotel and Tommy Stevenson of Andy Ward Health and Fitness Studio.
They are calling on local people to join them as they take on the Southern Area Hospice Services Christmas Abseil.
They were the first three to sign up for this first time fundraising event for Southern Area Hospice Services and are encouraging as many people as possible to get in on the action and register to join them in supporting their local Hospice this Christmas.
It will also be the first ever abseil at the Armagh City Hotel so don't miss your chance to be a part of it!
Speaking at the launch of the event, Lord Mayor Garath Keating said: "I am really excited to be taking part in the Southern Area Hospice Christmas Abseil.
"The Hospice provides invaluable care and support to people in our local community at very difficult times in their lives and so I would call on as many people as possible to sign up and join me at the abseil to help support their work. It's sure to be a great day!"
All the money raised through the Christmas Abseil will help Southern Area Hospice to continue their work in the local area, providing care and support to people who are living with Cancer and other life-limiting illnesses, such as Multiple Sclerosis and Motor Neurone Disease.
Southern Area Hospice Services provide care and support through a number of services including a 12 bedded in-patient unit in Newry, Day Hospice Units in Newry and South Tyrone Hospital, outpatient clinics in South Tyrone, Daisy Hill and Craigavon Area Hospitals, counselling and bereavement services in The Donaldson Centre, Newry and in the Hospice Resource Centre, Dungannon.
Care is provided to patients and their families throughout the Southern Health Trust Area and all of the care is provided free of charge. In order to maintain the level of care currently available, Southern Area Hospice must fundraise £2.42 million in 2016 alone.
So why not sign up for the abseil and help them towards that target this Christmas time?
To register for the Abseil participants are asked to pay a registration fee of £35 and commit to fundraising a further £65 in sponsorship for Southern Area Hospice Services.
Participants must be 14 years old or over. For an information pack or to register contact Anne in the Hospice Fundraising Office on 028 30251333 or email macoscara@southernareahospiceservices.org.
You can also register online at www.eventbrite.co.uk.
Read more news:
Calls to reinstate bus services five years on from attacks and hijackings
Exciting plans to replace 80-year-old hall with state-of-the-art cross-community venue
Co Armagh 'house of horrors' couple admit sex crimes against mentally disabled victim
Police uncover drugs in search into dissident republican activity
'Killer clown' craze hits Armagh after reports of disturbances at city housing estate
Armagh students wow tourists with song at the top of Eiffel Tower
County Armagh takeaway facing hefty fine with illegal worker deported
Road closed following two vehicle crash near Tandragee
Sign Up To Our Newsletter