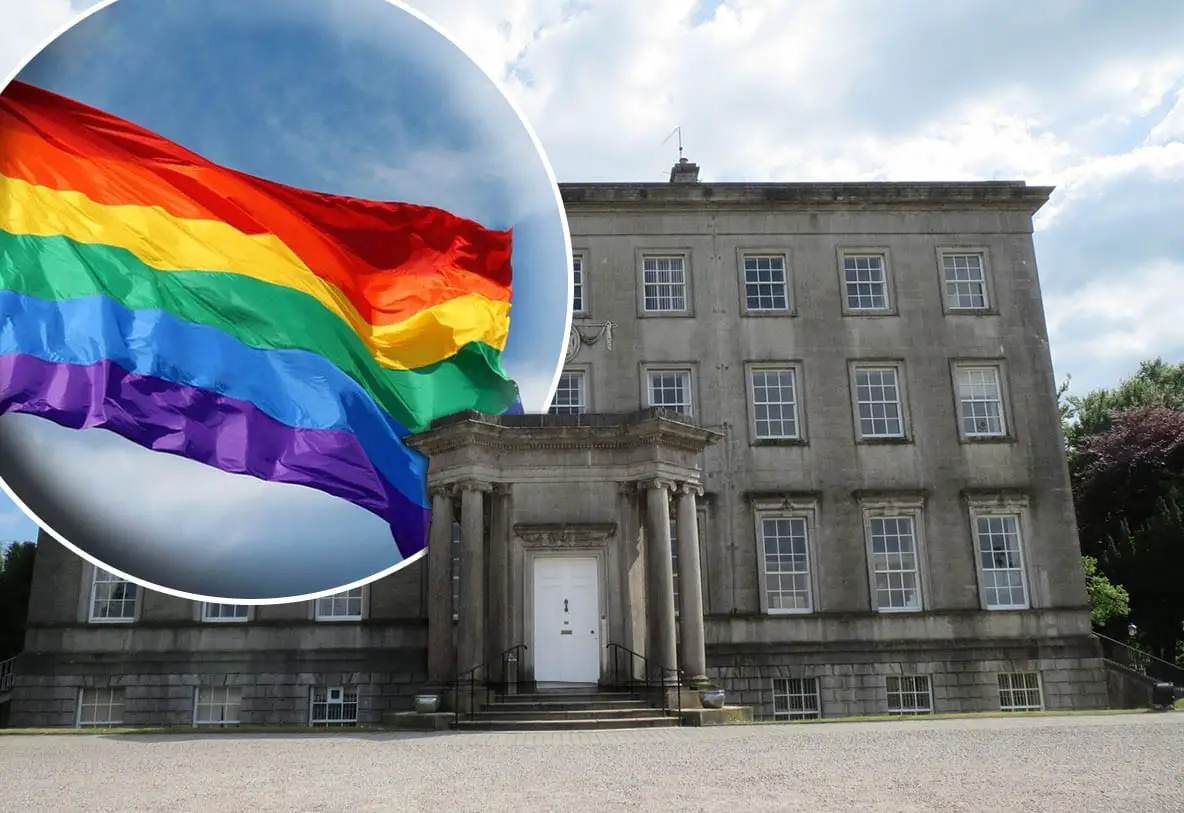 The DUP has confirmed that it is considering taking legal advice over a decision to fly the rainbow flag on civic buildings in the borough.
They could use what is known as the 'call in' process, which would see them seek legal advice through the chief executive's office after this week's decision.
A notice of motion by Sinn Fein was passed at Monday's meeting of Armagh City, Banbridge and Craigavon Borough Council.
The motion – brought in the name of councillor Darren McNally and seconded by Liam Mackle – urged all councillors to recognise the role of LGBTQ+ people living within the borough.
It read – and was approved – that: "This Council commends the recent statements by the main Party Leaders at Stormont on behalf of their parties supporting the value of and acceptance LGBTQ+ citizens.
"Therefore, this council recognises and values the contribution LGBTQ+ citizens make to the Armagh City, Banbridge and Craigavon Borough.
"However, this council is concerned about the recent number of hate incidents within this borough towards our LGBTQ+ citizens which is at odds with our commitments in fostering good relations and a strong united community as part of 'Together: Building a United Community' strategy.
"To show our support and commitment to our LGBTQ+ citizens throughout this borough and to send a clear message that all forms of hate crime towards our LGBTQ+ citizens are unacceptable, this council will support Pride Week 30th July – 5th August and fly the rainbow flag at Craigavon Civic Centre, Banbridge Civic Building and Palace Demesne on Pride Day (4th August)."
The motion was passed after Sinn Fein and SDLP backed it, and the DUP and Independent Unionist Davy Jones voted against, while the Ulster Unionists abstained.
Now the DUP has confirmed it is considering options.
If it does go down the road of the 'call in' process, it will have until 10am next Tuesday to do so.
The party has accused Sinn Fein of bringing forward a "divisive" motion and of "hypocrisy".
In a statement from the party, the DUP said it "outrightly condemns any act of hate or violence against any member of the community".
And it added: "The motion before the Council was divisive as there was a significant element of hypocrisy given that Sinn Fein proposed a motion which focused heavily on hate crime, yet the IRA, which by Sinn Féin's own admission has been inextricably linked to that party, committed some of the most heinous crimes during the troubles for which members of IRA have not been held responsible.
"The families of victims of IRA violence deserve the greatest respect and the ultimate show of remorse for crimes committed against these victims by the IRA would see Sinn Fein ask specifically that those members of the IRA who committed murder and other acts generated by hatred, come forward to face the courts.
"All other attempts at deflection under the so called banner of 'equality' by Sinn Fein will be highlighted by our DUP council grouping.
"The motion appears to have been submitted very late in the day and the implications of such a motion are far reaching.
"Due process hasn't been followed, no call for an equality impact assessment as is custom and practice when displaying flags and emblems and we our going against our policies and procedures.
"We as a party fear that this result will open the floodgates for all groups to suggest flying all types of flags from civic buildings, we would argue very strongly that official local authority flagpoles should only be used to fly the nation's flag or indeed the armed forces flag which incorporates the Union flag.
"These are the reasons we objected in the strongest possible terms to any other flag being flown and are somewhat dismayed and astounded that only the DUP and Independent councillor David Jones voted against such a hap-hazard and unprofessional approach.
"We will on this occasion have to consider taking legal advice and utilising the call in process."
Sinn Fein has hit back at the claims and accused the party of trying to stall the process.
Councillor Darren McNally – who proposed the motion – said: "We in Sinn Fein believe that this is nothing more than a delaying tactic on behalf of the DUP who are obviously hoping that such a move would bring council past the 4th of August, Pride Day, on which the flag is to be flown."
Newsletter
Sign up for our weekly newsletter here.