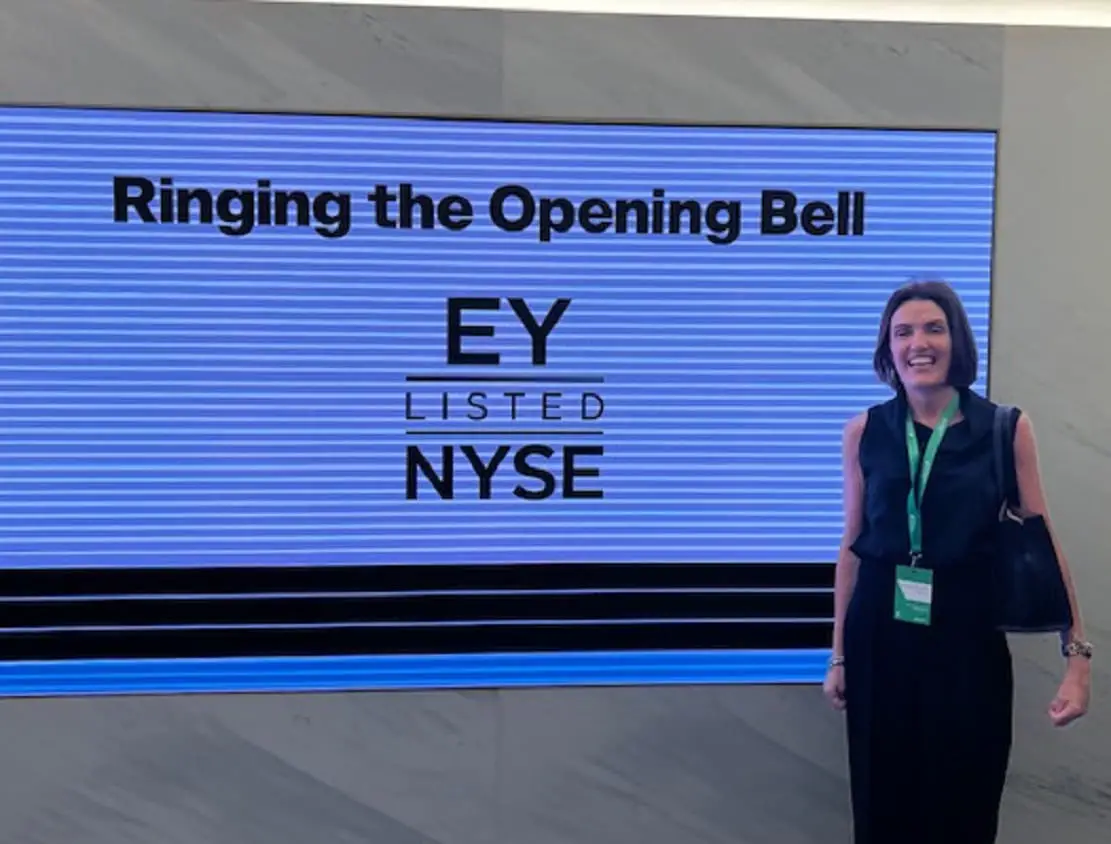 A woman who started a successful family business along with five of her siblings has made it into the history books by ringing the bell on the New York Stock Exchange.
Jacqueline O'Reilly, from KonFloor in Armagh, was in the Big Apple after being selected as one of 25 finalists from across Ireland in the Ernst & Young (EY) Entrepreneur of the Year competition.
Ringing the bell signifies the start of trading in the world's biggest stock exchange and Jacqueline now joins stars like tennis sensation Serena Williams, whose name is recorded as having rung the bell the week before.
"I was chosen at random but it was such a buzz," she said, adding that the whole Irish delegation was cheering.
More than 100 entrepreneurs – finalists and alumni – from across Ireland spent a week in Texas and New York where they took part in sessions with the leaders of some of America's most successful businesses.
The Keady woman said the whole experience of being chosen as a finalist had been the highlight of her professional life and had opened the doors not just to fantastic opportunities but to some of the most influential people in the world.
On their final night, the finalists also met champion tennis player John McEnroe for a fireside chat which Jacqueline described as "really exhilarating".
Jacqueline, along with brothers Kevin, Brendan, Siadhal and Philip and sister Ciara (Elmore) founded the company in 2005. With offices in Armagh and Monaghan, it now employs 70 people and has in excess of a £20 million annual turnover.
To make it onto the competition, Jacqueline was interviewed by a panel of 13 'big hitters' in the Irish business world, including  Denis O'Brien, billionaire businessman and the founder and owner of Digicel.
She said: "I think EY really liked our story. It is unusual. They really were intrigued that we were six siblings, that we had started this business and that we are now working all across Europe.
"I have a degree in business and a Master's in Computing and Information Systems while the rest of them were working in construction.
"We wanted a business that we could all put our different skills into and it was Kevin and Brendan who came up with the idea of an industrial concrete flooring business."
KonFloor has been nominated for the international section of the competition, reflecting the company's worldwide reach. To date, it has built flooring in countries including Sweden, Finland, Belgium, Germany, Denmark and the Netherlands as well as for the Irish and UK domestic markets.
Because of confidentiality, Jacqueline cannot say who their clients are, but they represent a who's who of the big tech and data centre industry.
She added: "We have had to be really innovative in overcoming challenges. For instance, in Sweden we have had to develop the ability to build floors without using sand.
"Being chosen is very much based on your entrepreneurial spirit, and for us it was not only our core business of KonFloor but also the fact we are opening a new facial and beauty aesthetics clinic in Armagh."
Alora Rejuvenation, which uses cutting-edge, machine-led technology, will open in Russell Street next month.
Meanwhile, the EY Entrepreneur of the Year winners will be chosen in November from the three categories with an overall winner representing Ireland at the global awards in Monaco.
Said Jacqueline: "I am just delighted that I was in the US to represent Konfloor and my siblings. It surpassed all my expectations. It was mind-blowing.
"They say just to make it as a finalist means you already a winner and that's true – the access we have got to contacts is unbelievable."
Sign Up To Our Newsletter