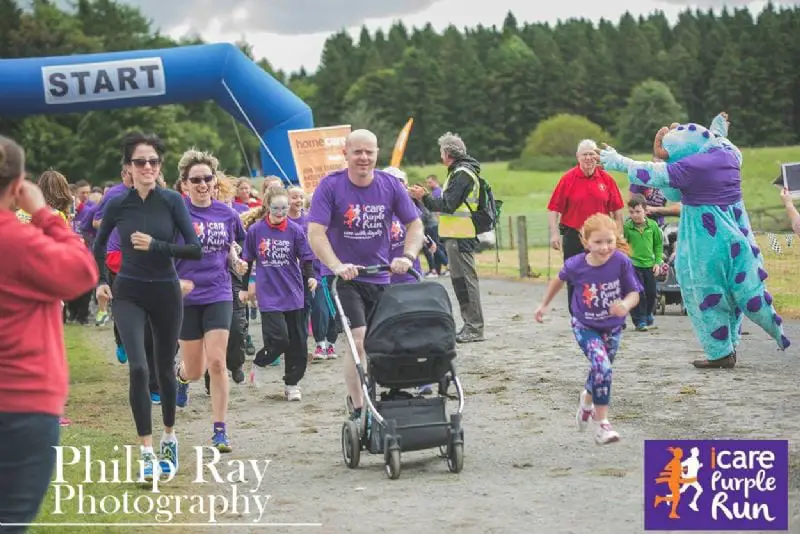 The annual iCare Purple Run returns to Gosford Park in Markethill in aid of three wonderful charities on Saturday, August 12.
The four events which begin at 11am, include the 3k family fun run/walk (pets welcome), the 5k, 5k team relay and the 10k.
All proceeds go towards Fight for Alfie, SANDS NI –  a bereavement Unit in Craigavon in Memory of Emmett Og Rafferty and NI Air Ambulance in memory of Lesley Ann McCarragher.
The 3k family fun run/walk will support the Fight for Alfie fundraiser.
Alfie Pentony is a happy, fun loving, typical little boy who was recently diagnosed with Duchenne Muscular Dystrophy, which is 100 per cent fatal.
It's a very cruel disease as it wastes all the muscles in the body starting with the legs, then all the other muscles, lungs, heart, resulting in an early death. Most boys in Northern Ireland don't live to see 19.
The Fight for Alfie and Muscular Dystrophy UK -Duchenne research are tirelessly working on a cure.
The 5k run will be supporting SANDS –  story and fundraising campaign
Triona Rafferty is fundraising for SANDS, who support families who have lost a baby through either stillbirth, during labour or shortly after labour.
Triona tragically lost her son in October 2016 at 38 weeks and the support they received from Sands was invaluable.
"With the money we have raised so far, through friends doing a marathon and us doing a coffee morning, we want to help raise funds in our sons name to go towards a bereavement suite in Craigavon hospital," explained Triona.
"It's so important for when a woman is in labour with a stillborn child that she and her partner have a calming, relaxing and quiet a room as possible.
"It's a traumatic experience as it is so whatever comfort can be offered to the families during this horrific time will help immensely."
The 5k relay and the main 10k race is in aid of the recently launched Air Ambulance NI service, in memory of Lesley Ann McCarragher.
The iCare charity, based in Milford chose to support the charity which needs £2million of public donations to operate each year.
On the day there will be bouncy castles, face painting, and appearances from Mickey and Minnie mouse and Peppa Pig – a great family day out
Every participant will receive a goody bag and medal and first female and male in 10k and 5k will receive a prize and first 5k team to finish will receive a prize.
You can register online www.icarecharity.com, or register on the day between 9am and 10am
iCare need as much support as possible to raise vital funds for these local causes.
Sign Up To Our Newsletter