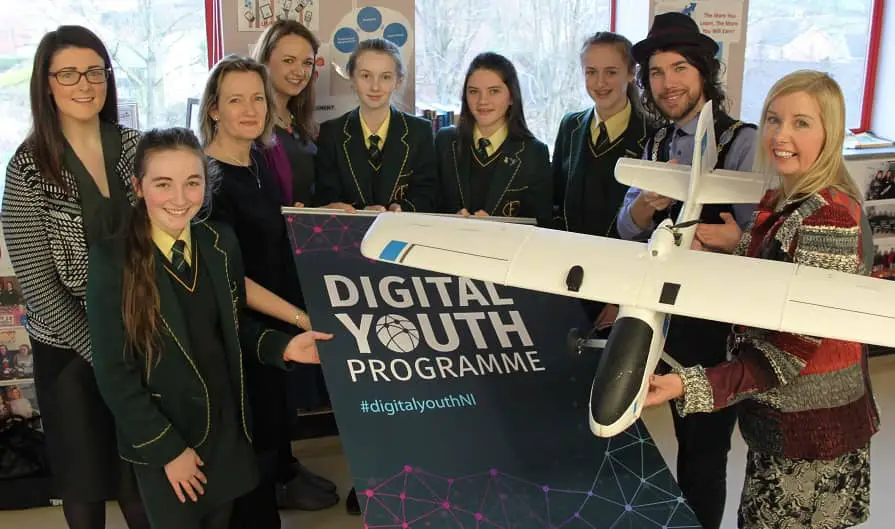 Armagh City, Banbridge and Craigavon Borough Council has launched 'Digital Youth', a new innovative programme that will not only encourage and cultivate a digital enterprise culture in the region but also enable over 500 students from 12 secondary schools to develop a stronger foundation in digital skills.
Launched at St Catherine's College in Armagh, 'Digital Youth' will improve students' knowledge and understanding of digital technology and widen their career prospects beyond traditional sectors.
Speaking at the launch, Lord Mayor of Armagh City, Banbridge and Craigavon Borough, Councillor Garath Keating, said: "The digital economy is the single most important driver of innovation, competitiveness and growth. It holds huge potential for young people who work in this sector as well as businesses that take full advantage of new opportunities.
"Solid digital literacy is as much a fundamental requisite for the world of work as traditional academic qualifications. Without it, applicants face missing out on the roles they want, which is why we're committed to helping young people develop their skills in this area.
"Through this programme, we aim to harness young people's entrepreneurial drive as well as equip them with specific digital skills that are increasingly sought after by employers. 'Digital Youth' will help hundreds of young people move into employment and put them on the path to future job success."
Delivered by local charity Young Enterprise NI, students will compete for work placements in local digital businesses and learn from local Digital Ambassadors.
Students with strong interests and aptitudes in entrepreneurship will be encouraged to explore the idea of setting up a digital business of their own in the future.
Teams from schools will pitch their digital project to a panel of experts at a showcase event which will also celebrate the achievements of all participants.
Carol Fitzsimons, Chief Executive with Young Enterprise NI, added: "We commend the Council for supporting the education system in the development of young people and the application of their digital literacy.
"Many young people have no experience of applying digital skills in the workplace and don't always realise the growing significance of this to employers across a range of sectors. This programme will equip them with the skills they need to develop bright careers in whatever industry they choose."
Young Enterprise is looking for volunteers from the digital sector to share their expertise with students and provide work placements through 'Digital Youth' in the coming months.
For more information on how you can inspire a new generation of digital entrepreneurs contact volunteer@yeni.co.uk or call 028 9032 7003.
Read more news:
Paramedic gives sister gift of life: 'I never realised just how ill I was'
'How did no one die?' Driver arrested after car ends up in mangled mess
Scam artists 'pretending to be homeless' in Armagh
Co Armagh man makes semi-final of Ninja Warrior UK
Thieves steal 20 cattle from farmer (62) in hospital with pneumonia
Owners distraught after personalised vintage tractor stolen from Armagh farm
Boy, 5, remains in critical condition after being struck by car on Thursday
Co Armagh woman's brilliant cover of James Arthur's 'Say You Won't Let Go'
Death of boy, 11, may have died because of lack of senior A&E staff
Cattle, including eleven bulls, stolen in two south Armagh farm thefts
Become a member
Support local, independent businesses by becoming an independent member.
Become a member