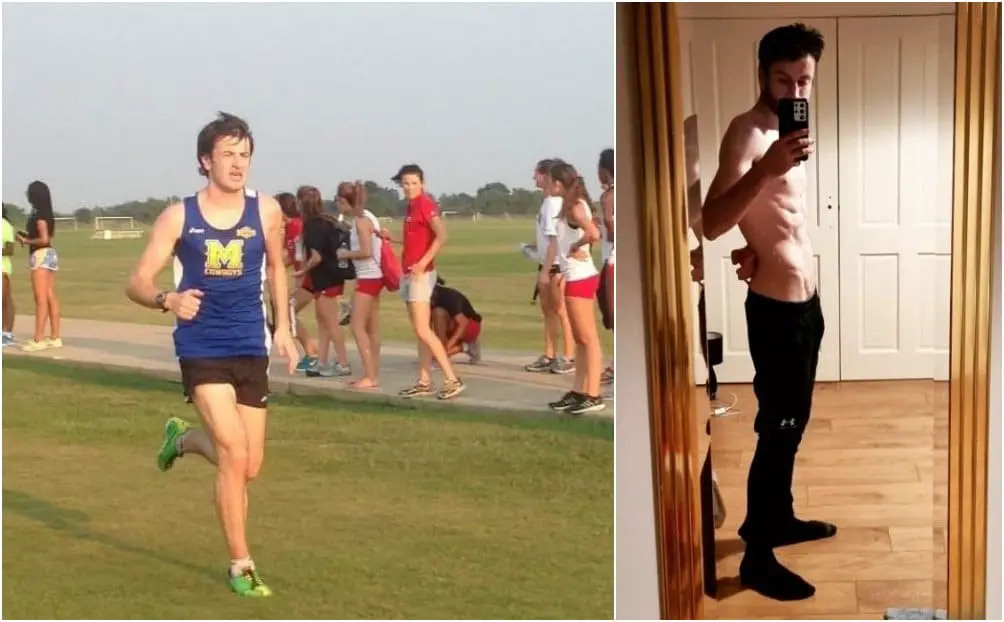 Not even 30 and living out of a car with nowhere to turn, one Armagh man, who spent the best part of his 20s abusing drink and drugs, was left with two bleak options on the table: Finally seek proper help or die!
A promising young athlete from a well-known running family in the city, Stephen Kerr had dreams and aspirations of making it to the top – he certainly had the talent and the accolades from his youth to back it up.
An athletics scholarship to an American university was the sort of stuff he dreamt about.
But that dream became a nightmare very quickly and from one episode to the next rock bottom loomed large.
Stephen is now 29; running professionally is no longer the goal – for him, it's a case of running for his life.
Speaking candidly to Armagh I, Stephen details how it all started; from a 16-year-old with a burgeoning gambling problem – one he managed to hide well from those around him – to an injury that derailed his entire life; and ultimately how he is, one step at a time, rebuilding that life.
At 18, Stephen was uniquely placed to hone his talent having been offered an athletics scholarship to McNeese State University in Louisiana, USA.
His talent was undeniable – his self-belief unquestionable, but injury put paid to his dream of scaling the dizzy heights and goals he had set himself from such a young age.
"Once I got injured – it was around my 20th birthday – I started drinking and that was it," he recalls.
"The gap at the top end of running and being very good at running is massive. Unless you're top end you're not making any money at it. If I wasn't making money I had to ask myself what was I going to do? I put everything into it; this was my dream, then I realised this wasn't going to happen for me."
Prior to his injury, a 39th placing at the European Cross Country in Budapest planted a seed of doubt in his mind.
"There were these expectations I was putting on myself; it was probably a decent enough run but in my head, if I wasn't winning it wasn't good enough."
Back in America, Stephen was determined to up the ante.
"The first six months went pretty well but I just didn't feel like I was training hard enough, so I pushed on further, then I ended up getting injured.
"The injury brought me to a low place; it left me with a lot of free time that I never had before and that was dangerous for me. I found drinking and I was in a different country where I didn't really know anyone. I basically lost the run of myself. And once I wanted to stop, I couldn't.
"It didn't take me too long to realise I had a problem. I couldn't go a week without drink, then I couldn't go days without it."
It all took its toll. Two years into his American dream and it was all over; his scholarship cut and on his way back home to Armagh.
His next big decision was to go over to university in Liverpool, one – with the clarity of hindsight – was completely wrong for him.
It was here, at 22, Stephen says he found drugs – party drugs in particular, mainly cocaine.
"That was a disaster altogether from the very start."
Admittedly, leaving the States, "everything was falling apart".
"I thought it was a thing where everybody had to go to university to be successful and that isn't the case.
"I'm not really someone who enjoys school and I just wanted to do what everyone else was doing and trying to make up for lost time but it was the wrong thing to do. I did a year and then I came home."
"I came back and went into treatment for three months. I thought I had done a good programme but obviously it wasn't. I only got two months clean – five in total – before I was back at it again.
"I was hiding who I was and I didn't want people to know I was in rehab. I was ashamed. Very little people knew."
Stephen's lowest point left him pondering his life – for him it was literally life and death.
"I was pretty much living out of a car, nobody wanted anything to do with me. I just couldn't stop taking the stuff. There was nobody on my phone I felt I could ring – there was my family but I didn't want to ring them. It got to a point where either I got help or I was going to die. It got pretty bad."
"I was mentally in a very dark place, trapped and struggling for a way out."
Fortunately there was a way out – as there is for everyone who is willing to admit they have a problem and more importantly for those who realise they cannot do it on their own.
Stephen checked into rehab in Cuan Mhuire, Athy in December 2021, where he spent five months.
"I knew there was a drug treatment programme with one of the best recovery rates in Europe there. I knew if I went and put my head down I could come out the other side. I knew I had belief in myself; I had hope that I would get clean. As soon as I picked up the phone and went to the first assessment I knew this is it, this is the turning point."
Stephen credits his counsellor, Mick Teague, as the man who "has given me another chance at life".
He was also full of praise for his long-suffering family who have supported him through the most trying of circumstances.
"My family has always supported me; my mum, my dad, girlfriend and sisters but it was really hard for them; they were watching me kill myself. They couldn't take it anymore but once I asked for help they were all there for me. They had tried and tried before and I understand they couldn't keep doing it if I wasn't willing to help myself.
"Only for them and that support network I wouldn't be here. One of the biggest problems the whole time was that I thought I could get off the drugs myself. I would stop for a bit and go back running, I was in and out, giving everybody this false hope almost and it got to the stage where nobody believed anything I said anymore.
"Actions were going to speak louder than words and I realised I couldn't do it myself. I needed people around me who are like me because they understand it; that's what works for recovery."
Six and a half months clean now Stephen, who is settled in and loving his job as an electrician, believes "it's a whole different ball game for me now".
"It's early doors; the first two years of recovery, they reckon, is the hardest. I'm hopefully doing all the right things now. Helping others helps me but it's not all about me; it's about helping others. People who don't know where to turn to, it might help those."
Since going public with his addiction struggles Stephen says he has been "overwhelmed" by the support of friends and strangers alike.
"People with addictions are often not the nicest of people and sometimes I feel a sense of guilt. There were so many people out there willing to help me but I couldn't see it being so locked in to being an addict. The best part is the people who are struggling opening up asking for help and getting that help. Then they're going on to help others, that's the real bonus. Honestly, I just can't believe the response."
For now, it's the proverbial step at a time but some things really do die hard.
"I'm back running again. I'm chasing goals. Whatever they are, it's better than chasing nothing."
You can follow Stephen's story as he continues his recovery here.
Sign Up To Our Newsletter