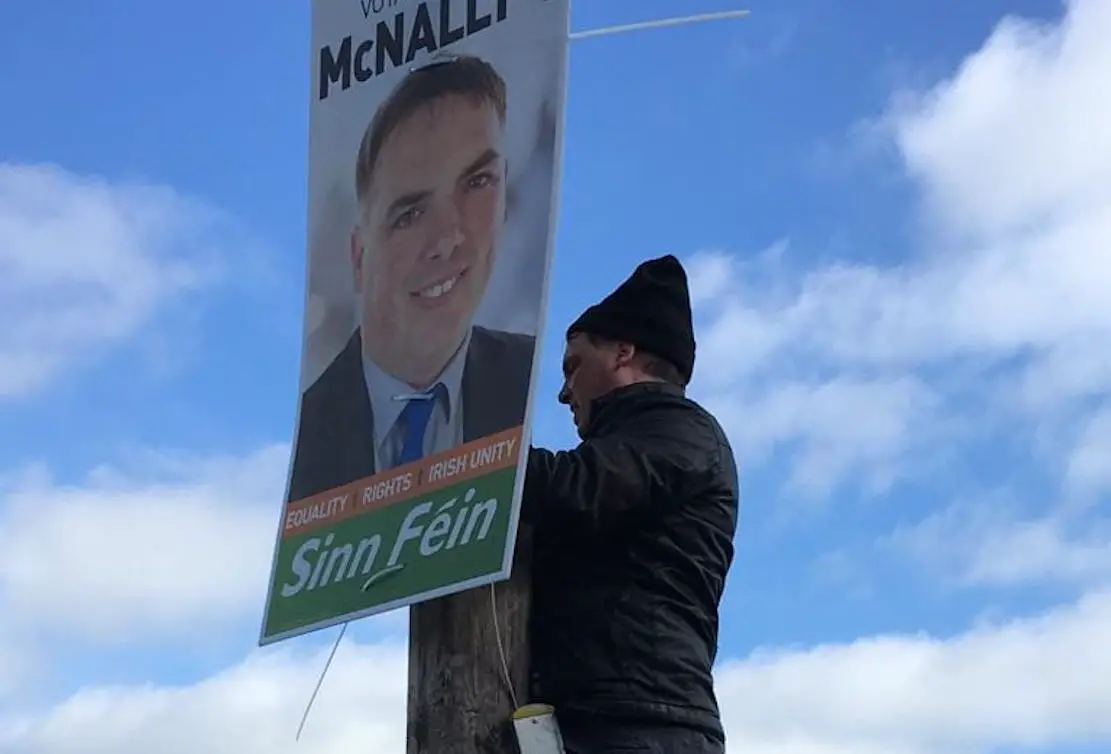 Here today, gone tomorrow!
Less than 24 hours after erecting his election posters, Darren McNally was picking the remains off the road in Tynan.
The Sinn Fein councillor is hoping to secure a third term as a local councillor for the Armagh area on May 2, however, it appears not everyone is a fan.
Posting on social media, the Keady councillor said: "Day 1 of my election posters being up and already a member of the Unionist community has torn some down in Tynan; the person responsible was observed by a resident pulling down posters on the chapel hill road this morning.
"The person involved doesn't even live in Tynan…there's nothing very Christian about committing a criminal act.
"I'm not sure if it's my face he doesn't like, or if it's our equality message that he is trying to silence, we won't be silenced and the poster shall return to the chapel hill in Tynan.
He added: "Like my own, all election posters, irrespective or political party, should be respected and I'm hoping going forward that this is an isolated incident."
Councillor McNally said the incident has now being reported and police may be looking at a short-term campaign in order to combat the vandalism of election posters.
It comes just a day after SDLP election posters were vandalised in Craigavon.
The SDLP campaign placards, in the names of candidate Thomas Larkham and sitting councillor Declan McAlinden, were crudely ripped and torn from lamp-posts in the area.
Mr Larkham, who hopes to be elected on May 2, says the vandalism is "totally unacceptable".
"Disappointed that some of my election posters have been vandalised," Mr Larkham posted on his social media late last night.
"I do my best and work hard for everyone in Craigavon regardless of their background and this type of behaviour is totally unacceptable.
"Elections are part and parcel of the democratic process as is putting up posters. This is just a blatant act of criminal vandalism."
He added: "All posters from all Political parties should be respected and I would appeal to those responsible to stop immediately."
Sign Up To Our Newsletter