While we might be in the midst of a global pandemic, the consequences it has had – particularly on mental health – appear to be much more far reaching.
With that, fitness instructors from the UK and Ireland will be taking part in a 24 hour fundraiser for PIPS Hope and Support in Newry and PIPS Charity based in Belfast.
This will kick off on November 27, with the first class being taken by Jake Wilson (main photo), of Armagh's Bubba's Project Gym, whose uncle William 'Billy' Cardwell tragically took his own life just eight weeks ago.
The fundraising will begin on what would have been Billy's 37th birthday.
Speaking to Armagh I, his sister, Heather Wilson, said she wished the family had known of the charity whilst her brother was still alive.
Billy was a foster child who joined Heather's family just before his ninth birthday.
She recalled: "He came and he settled really quickly; he had a great childhood with us but he did not have the best start to life.
"He was a really happy child. We have so many photos in which you can see that. It was tough when this happened, especially when you thought about the tough start but I also know that he had a happy middle."
Heather explained that the family knew Billy suffered from mental health issues, but they never thought it would have ended in such tragic circumstances.
She said: "Billy had a really good heart and unfortunately this world just isn't like that all the time. There are so many questions I wished I could have asked. Why did you not lift the phone? Sure you know I loved you, you could have phoned, you could have asked?
"I knew Billy suffered with his mental health but he and my mum had a really strong friendship. I was so busy with my life and I just thought if he had a problem he would have went to my mum."
Heather believes that the Covid pandemic had a major impact on Billy's mental health, with his normal routines of calling into help his mother, or helping out at his brother's farm, put to an end.
She said: "He wasn't able to get out of the house. We didn't realise that his mental health was getting worse because he was calling to check. We didn't know the hold it took until I saw the evidence of the lifestyle that he had.
"I remember at the start of the lockdown saying to a customer this is a bad virus, but the biggest killer out of this is going to be mental health, but I never thought in a million years that would be coming to my doorstep."
The Armagh woman said she has been on a "real journey" since the passing of her brother with a lot of lessons to take way from it.
Added Heather: "The harsh reality is that for some reason now everybody is so caught up in their own lives, that nobody actually stops long enough to check in on others.
"You will get people who do bits and pieces, but whenever you think back years ago when people would be calling in all the time, that community feeling is not the same.
"Life got busy with modern technology and all those other factors which have taken over. It has changed my life radically. I will put myself out there and it is about realising there is more to life than working all the time.
"How do we prevent it? I wish I knew. But I do wish I'd known of the like of PIPS, for Billy attended the doctors and everything, but medication doesn't work for everybody.
"I wish we knew that organisation was there for the extra support. I am not blaming the doctors because mental health at the minute is stretched to the limit."
All four of Heather's sons engage in sport, or exercise of some sort, with Jake (21) being a personal trainer.
And she believes the fitness industry is ideal for supporting mental health.
"It just does make you feel better, it clears the head," said Heather. "I know gym fanatics who do it more for the mind than their body. I try to keep active too.
"One thing that I have drilled into my boys is to talk. I would go on my walks and I know that if one is to say 'oh I am coming tonight', that they need to speak to me, it is so important, especially for young men."
The 24-hour fundraiser will take place online, with a range of fitness classes including Bootcamp, Boxercise, Strength and Conditioning, Pilates and Yoga being streamed via Facebook Live and Zoom throughout (see timetable below).
Leading fitness gurus including Ian Young and Maeve Madden have jumped at the chance to be involved to help raise awareness for mental health and highlight the benefits that exercise can provide, not only in supporting a healthy body, but also a healthy mind.
This massive fundraising initiative is the brainchild of one of Northern Ireland's leading Personal Trainers and owner of Bubba's Project Gym based in Armagh, Bubba Ali, who has been a constant advocate for raising awareness of mental health issues within the fitness community.
Bubba explained: "As a gym owner you get to know the people in the close-knit community which you build. Often you notice a person's mood a little low or someone a little out of sorts.
"Over the years we have seen the impact of mental health issues on members and friends of all ages and demographics; unfortunately no-one is off limits when it comes to mental health.
"Most recently, sadly, our gym family has been directly affected by a number of suicides and therefore we wanted to create a community fundraiser, not only to raise much needed funds for these worthy charities, but also to raise awareness of mental health and the devastating impact it can leave on families.
"In order to help our staff spot the signs of mental health illness, such as depression and anxiety, we are training all staff members in first aid mental health, so then we can hopefully spot the signs early if any of our members are struggling and be of assistance in getting them the help they may need.
"Suicide rates are growing at an alarming rate and therefore it is critical that we spot the signs early and are ready to provide any little bit of support that person may need. It could be the difference between life and death."
PIPS Hope and Support's, fundraising coordinator Padraig Harte said they were delighted to be one of the beneficiaries selected by Bubba's Project Gym for the upcoming fund-and-awareness-raising initiative.
He added: "PIPS Hope and Support relies heavily on the goodwill of the community to allow us to deliver our fundamental services to the community.
"We are the leading independent advocate on all aspects of suicide, including intervention, prevention, postvention and trauma in order to reduce and prevent suicide, self-harm and emotional and mental distress.
"We provide immediate therapy to anyone in the community – and have been within the Armagh area for numerous years – to those experiencing suicidal thoughts, high levels of anxiety, poor mental health or bereaved through suicide, and the financial support received from this initiative will allow us to continue doing that.
"With many of our vital fundraising initiatives cancelled, we wish to thank all the team at Bubba's for the support and look forward to the event."
To find out more visit the event page here or to make a donation visit the JustGiving page.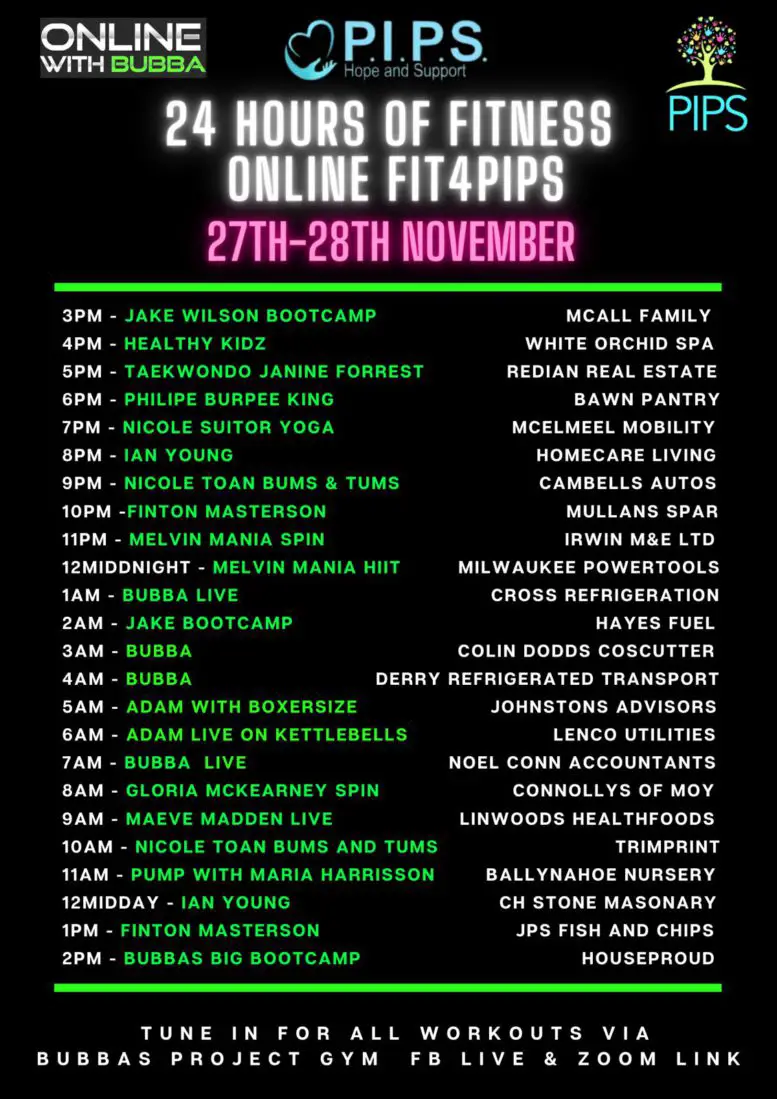 Sign Up To Our Newsletter