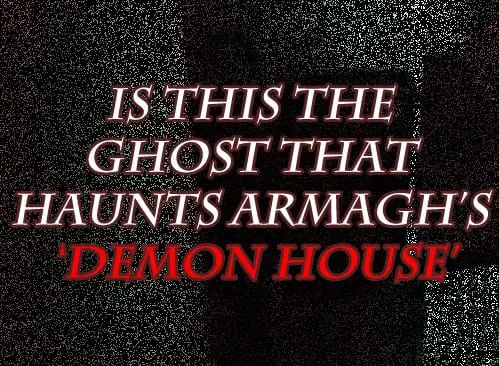 With Hallowe'en soon upon us, ghost tales become the norm and our intrigue to all things paranormal heightens.
So with that, we at Armagh I came across the story 'Blood and Terror at Armagh's Demon House' on spookyisles.com just last week
It's author, Belfast native Sharon Clarke, describes her first-hand account of the "evil" house she walked into.
It all began when Sharon was contacted via email by the homeowner, incidentally also called Sharon.
The emails to Sharon from this woman outlined tales "of furniture moving, manifestations happening,  [and] her child being pinned to the bed during the day."
She also writes of "lights dimming, doors opening and closing, mist manifesting in her room but more horrifying was that her six-year-old son was heard talking to a non-existent person called Mick in his room."
Curiosity got the better of Sharon – a promoter of paranormal research and investigations – so she went along to the three-storey house in Armagh.
She writes: "With an open mind I organised with Sharon to go have a look around her house with my colleague….Sharon didn't want to be there, at this point she was staying most nights in a different house as it was too much to live with."
After arriving at the house Sharon said she could feel the evil as soon as she entered.
"Evil, negative energy, call it what you like, but that evil was there, watching us and circling us," she writes.
"It was daylight still and my very core being was crying out for me to run, get out but I shrugged it off and tried to convince myself it was suggestive fears and my imagination going into overload."
She continues: "As we walked into the dining room I noticed to my right a table with a planchette and a pencil in it and some blank pages, evidence that a team had been in but hadn't used it."
Remember this, as it's important later in the tale.
"I turned into a child's room, a very pretty room and at the fireplace stood a wooden rocking horse still rocking, my thoughts were maybe someone is in the house with us? But I knew we were alone, well we were the only two human presences in that building.
"As I took photos of the bedroom each photo threw back blood stains on the carpet yet there were no stains visible to the human eye. Of course being pregnant at the time and also feeling incredibly afraid it was great timing that I needed to use the bathroom, I thought it was all calming down until I walked out of the bathroom to regroup downstairs and the door slammed shut on its own.
"I have no shame in saying I prayed, and I prayed hard."
As she prayed, she received some clarity, "we needed to leave and leave now, so we gathered ourselves up and left the house."
The blog continues: "The next day Sharon phoned and asked me 'Sharon did you guys use the planchette?' I responded very quickly that no we did not touch anything, she seemed shocked and said that she had gone back the next morning and all the pages were written on, the same room I recited the prayer in."
To read the whole chilling tale of Armagh's demon house, click here
Read more:
Is this a ghost captured on camera at Armagh Gaol?
Sign Up To Our Newsletter