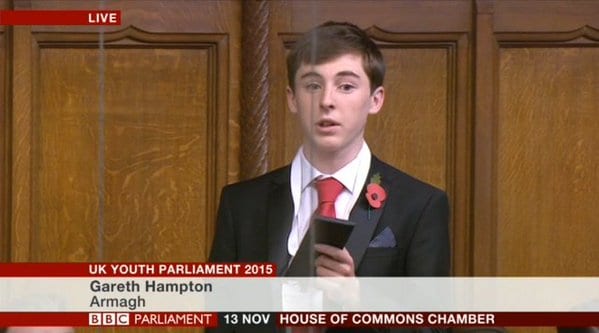 A young Armagh man has raised the need for the reopening of the Armagh to Portadown rail link in the UK's Youth Parliament.
Gareth Hampton, a pupil of the Royal School Armagh, attended the live televised event from the House of Commons in London on Friday.
Gareth was elected the Member of the Youth Parliament for Newry and Armagh.
He and his young peers from across the United Kingdom took over the House to debate five issues which had been voted on.
The Youth Parliament event – which was screened on BBC Parliament – saw members discuss issues which just under one million young people across the UK voted on, of which 2,145 came from Newry and Armagh – the highest ever involved in this constituency.
These were narrowed down to five which were then debated in the House of Commons on Friday.
The issues that were up for discussion by the young people were tackling racism and religious discrimination, mental health, public transport, a curriculum for lifem including finance, politics and community awareness, and, lastly, a living wage.
Gareth used the opportunity to raise the issue of Armagh's much sought-after railway link under the debate theme of public transport.
And he believes his arguments went down well in the House.
Gareth told Armagh I: "I stressed how beneficial it would be, not only to the young people of Armagh, but people of all ages, to access education, work and leisure.
"I felt the message was received positively and definitely raised awareness of the need for better transport links in Armagh."
Before the sitting was wound up, the members of the UK Youth Parliament voted on an issue to make their nationwide campaign, which was tackling racism and religious discrimination.
Gareth was delighted to have the opportunity to take part in the event and to take local issues to the floor of the Commons.
He added: "I felt the experience was surreal and I felt very proud to be in the House of Commons on behalf of the young people of Newry and Armagh."
Speaking on Transport on the need for improved links in Armagh last Friday in the House of Commons @UKYP pic.twitter.com/ARrPUG2tqi

— Gareth Hampton MYP (@ghamptonMYP) November 16, 2015
Read more news:
Hillary Clinton inspired by south Armagh martial arts star Jesse-Jane
Police called to scene of sudden death of woman in Armagh housing estate
Lord Mayor of ABC council opens Books of Condolence
Cross-border policing corridor to target criminal gangs and dissidents
Spires 'double parkers' should be 'photographed and fined' say irate motorists
Sign Up To Our Newsletter