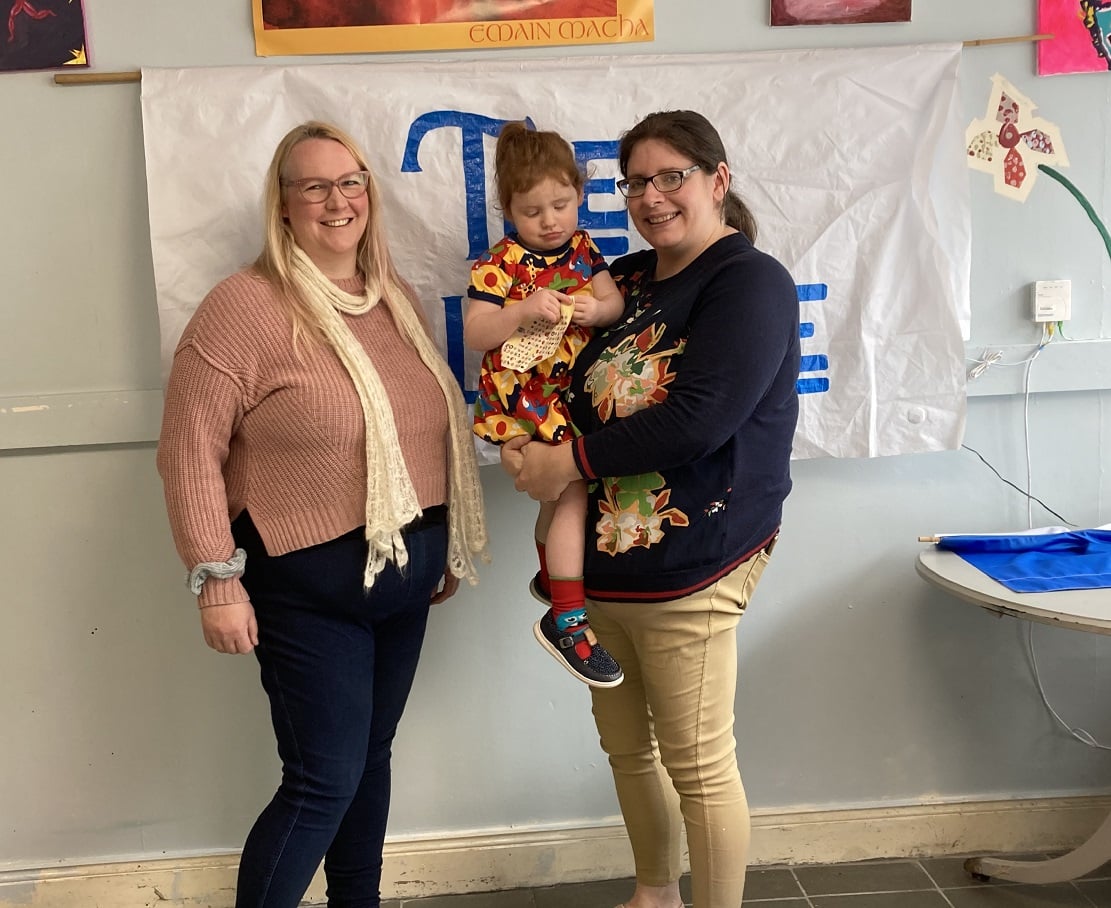 It was during outdoor get-togethers over lockdown, wrapped in blankets against the cold, that two Armagh friends formulated a plan to set up a women's group in the city.
Dervla O'Neill and Rhian Horwill had met by chance in the library just a few years previously and forged a strong bond, and it was this sense of community and friendship that they wanted to replicate for other women.
In March, The Village Armagh was formally launched with its very own Armagh Women's Festival.
Over the space of a weekend, it ran women's health checks, held craft events for women and children, hosted a writing workshop by Armagh author Byddi Lee, and had talks from an all-female panel consisting of influencer Aislinn Higgins of Dream DIY,  Louise Taylor of Little Forget Me Nots Trust and peace activist Anne Carr.
Since its formation, The Village has been running everything from baby massage to craft sessions and drop-in Meet Up Mondays, with lots of other ideas already in the pipeline.
The group's name was taken from the African proverb, 'It Takes a Village to Raise a Child', with Dervla and Rhian being firm champions of women and their mental and physical well-being.
Both are breastfeeding peer supporters and Dervla is a women's right activist.
It was partly Rhian's own experience of coming to Armagh as a 'newcomer' that helped plant the seed for the group.
She moved here with her husband, a local, eight years ago, having lived all over the world – in South Africa, the Netherlands, Russia and Asia – but felt at a loss as to how to start meeting people.
"I was thinking of starting to go to mother and toddler groups but they were all in different churches and I'm not part of a church," she explained.
Dervla added: "Lockdown was the push for us to do something. Before that, we were thinking we should start something for the women of Armagh. We wanted an inclusive hub for women of all ages and backgrounds to meet and get support from each other.
"If you have just moved to the town, or you haven't grown up and gone to school here, it's very hard to make friends or meet people  unless you play a sport or do something like that."
Neither woman had ever done anything like this before but setting up the charity is a challenge they have embraced wholeheartedly.
Dervla, who has three children aged from three to nine, said: "I come from an admin background. I was priced out of going back to work after my second child was born and I am also a carer for my husband."
Rhian, a mother-of-four, started off as a corporate lawyer but decided to leave after "burning out" and went on to qualify as a chef, and is now a parenting coach.
The two manage to juggle their busy home lives with The Village, which they have registered as a charity.
They try to keep costs down as much as possible – the building at 68 Upper English Street has been donated by the landlord and the bills are paid thanks to a grant from Armagh City, Banbridge and Craigavon Borough Council.
The aim is to enable women to enjoy the socialisation and different events for free, so that no-one feels excluded, and it's a warm, welcoming atmosphere where children are always welcome and no one raises a disapproving eyebrow.
Dervla explained : "If you want to meet up with a friend and you're going to a coffee shop, you're looking at £7 for a coffee and a bun and if you bring the wee ones, you're adding on another £3-£4 for a child and  a lot of people find they are priced out of that.
"A lot of women coming here have been feeling very isolated and it has affected their mental health. It's great for them to have a chat and get a cup of tea and just chill, and realise there are other people out there feeling the same thing.
"It's important to have something that's open to all. We have a lot of newcomers coming in and saying, 'We want to create links but we don't know how'. This is a really good place to start."
Other activities include a baby group with breastfeeding support, baby massage, a young mum's group and a singing circle on Thursdays taken by singer Eva Roa.
There are also very popular bingo nights, with the last one attracting 20 women, aged from 19 to 70.
A cancer group has just started, for women who have or have had cancer, and says Dervla "is led by a very inspirational woman and is going very well".
Meanwhile, an autism group is due to start next week for adults with autism.
Said Rhian: "One of the other things we are talking about at the moment is a group for women who don't have children, who often feel they are sidelined.
"We've had enquiries from empty nesters too. My mum Stephanie is involved and she is planning to start a group for older women.
"I think a lot of people keep to themselves through fear. I think a lot would reach out if they knew there was a group where they were going to feel accepted and welcomed. It's a very community feeling here, which is something a lot of us feel we're lacking, especially post-Covid."
Dervla and Rhian welcome anyone, including businesses, who think their services could be of interest to women and would like to be involved.
The Village Armagh can be contacted via their Facebook page, Instagram or email  TheVillageArmagh@gmail.com.
Sign Up To Our Newsletter