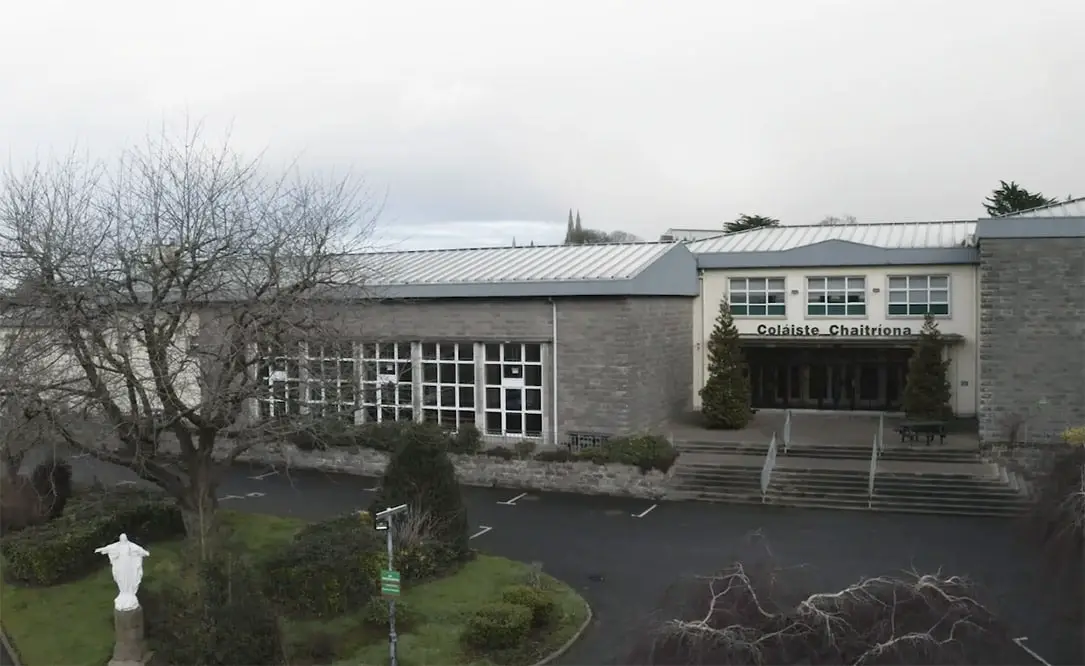 St Catherine's College in Armagh is among four County Armagh schools earmarked for new builds, the Education Minister, Michelle McIlveen, announced today (Monday).
Portadown College, Killicomaine Junior High School and St Paul's High School in Bessbrook will also benefit from major capital investments.
They are among 28 schools across Northern Ireland who will share in a pot of a whopping £794m – an average of £28million per school.
Call for projects opened on December 23 2021, and by the closing date of January 14, 2022, 34 school nominations were received.
Gateway checks were undertaken to ensure that schools considered for major capital investment are viable and sustainable.
Twenty eight schools passed the Gateway Stage. These schools progressed to the scoring stage and were ranked in merit order, based on the scoring system.
During her announcement earlier today, Ms McIlveen, said: "I believe it is important to keep a focus on the future and through my announcement today I hope to bring some much needed good news not just to schools and their wider school communities, but also the contractors and professionals in the construction industry and indeed the wider economy, which I expect will benefit from this announcement.
"Whilst construction spend on the projects I will soon announce will not be realised until the end of this decade at the earliest, making this announcement today will ensure a steady pipeline of projects in design which will in turn ensure the continued modernisation of the schools' estate into the future."
Reacting to the news, St Catherine's principal, Mrs Noeleen Tiffney, told Armagh I: "Today's announcement by the Education Minister is welcomed by everyone in our school community.
"Major Capital investment will ensure an enhanced educational experience for pupils of Saint Catherine's College for many years to come. I look forward to meeting with Department Officials to discuss potential options."
Carla Lockhart MP described it as "a good day for education in Upper Bann".
"This is a great day for the two schools locally who have made it onto the Capital build list, under the Major Capital Works Programme, " said Ms Lockhart.
"Both schools are in much need of new and enhanced facilities.  I have made it a priority since elected as an MLA and latterly MP for the area to try and secure capital investment for our ageing controlled sector estate.
"Portadown College has been to the fore with several Ministerial visits and meetings to highlight the dire state of the building.
"We were also proud to host a visit from the Minister to Killicomaine recently to highlight again the poor facilities.  To have them included on the list today is a major step forward and one that I am proud to be associated with.
"This is just the start of a process in trying to rebalance the lack of investment over many years within our controlled sector estate.  The Dickson Plan is a system of education that works and it is important that the schools involved get their slice of the pie when it comes to investment and support. Under a Sinn Fein Minister this sadly was not the case."
She added: "All new builds announced today will be subject to the level of capital resources available towards the end of this decade and into the next.
"However, today's announcement allows them to advance in planning.  It really is a good day for education locally and I want to place on record my thanks to the Minister of Education, Michelle McIlveen and formerly Peter Weir for their efforts over the last number of months/years in helping secure this proposed significant investment across Upper Bann and indeed Northern Ireland.
"It is imperative that we invest in our children's education. Today is about the children and future generations who will benefit from these 21st century facilities."
Upper Bann MLA Jonathan Buckley said he is delighted having lobbied the Minister extensively in recent years.
"Ensuring children and young people have all available resources to maximise on their academic potential is a key priority, and I look forward to continuing to work with the Minister and the Department towards the completion of these projects."
Alderman Sydney Anderson added: "Stemming from my tenure in the Northern Ireland Assembly, I have continuously voiced the need for funding at both schools. I am delighted with today's announcement that will deliver a potential investment of £25 million for Portadown College and a further £21 million for Killicomaine Junior High School."
The list of schools which will advance in planning from this announcement are:
Ballyclare High School
Ballyclare Secondary School
Ballymena Academy
Belfast High School
Cambridge House, Ballymena
Carrickfergus Academy
Dean Maguirc College
Dromore High School
Edmund Rice, Newtownabbey
Friends' School Lisburn
Hunterhouse College, Belfast
Killicomaine Junior High School
Larne Grammar
Larne High School
Lisnagarvey High School, Lisburn
Loreto College, Coleraine
Lumen Christi College, Londonderry
Malone Integrated College, Belfast
Mercy College, Belfast
Portadown College
Sperrin Integrated College, Magherafelt
St Brigid's College, Londonderry
St Catherine's College, Armagh
St Ciaran's College, Dungannon
St Joseph's College, Belfast
St Louise's Comprehensive College, Belfast
St Paul's High School, Bessbrook
St Pius X College, Magherafelt.
Sign Up To Our Newsletter