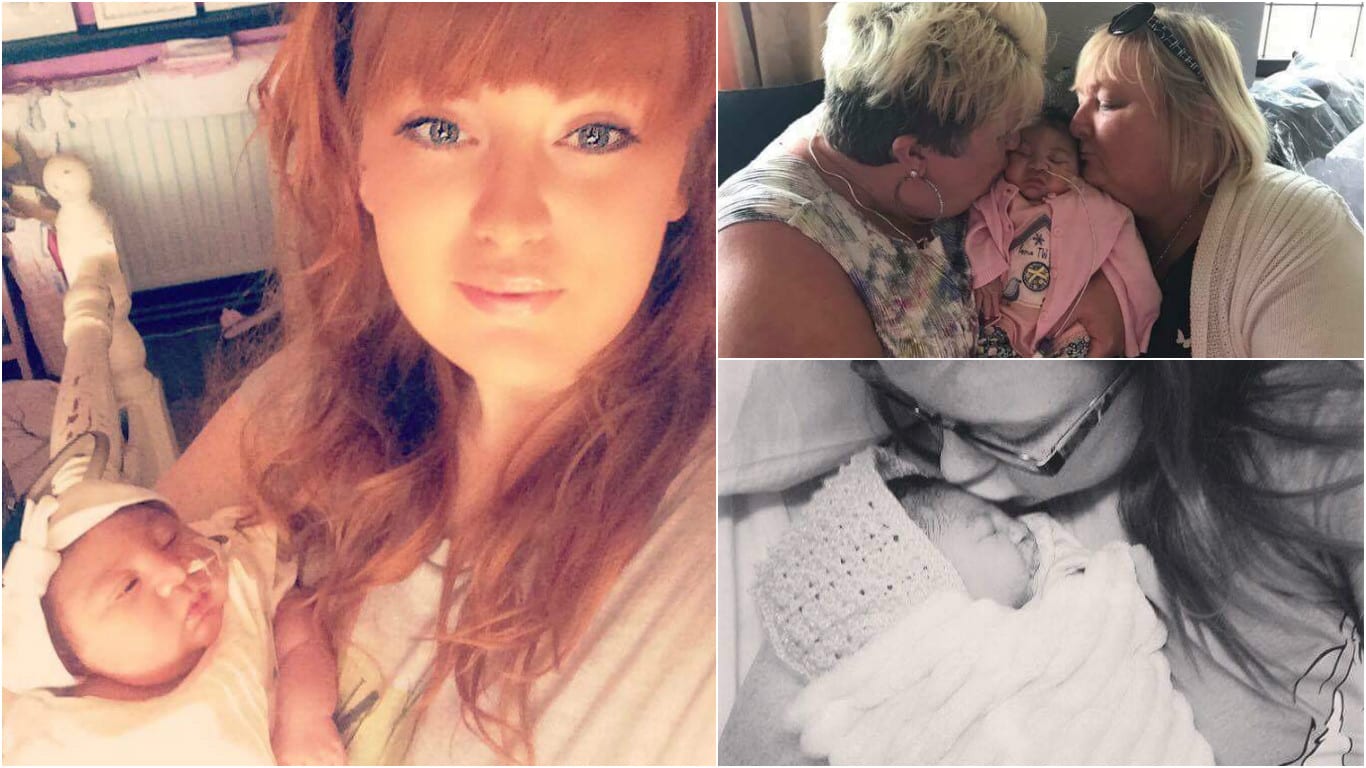 A county Armagh mum battling to save her new-born baby's life says she is living hour-by-hour.
Analee Gibney, 24, originally from Newtownhamilton and now living outside Moy, gave birth to a beautiful baby daughter just five weeks ago.
However, little May Rose was given a limited chance of survival, with doctors saying it could be hours, days or months at the very best.
First-time mother Analee was handed the devastating news 20 weeks into her pregnancy.
Little May Rose was diagnosed with a rare brain condition called Encephalocele – a neural tube defect on the brain.
Born on March 9, May Rose has battled against the odds, defying doctors' opinions, and giving her mother the strength needed to fight on for her daughter.
Consultants in Belfast have ruled out surgery because of several complications along with May Rose's fragile condition, but Analee is determined to save her daughter.
Speaking to Armagh I, Analee says that despite the daily struggle, she is staying strong for her daughter's sake.
"I am living my life hour-by-hour, day by day; it's not a nice way to live at all," she explained.
"It's hard because I feel helpless in a way. The doctors have been unable to do anything because of May Rose's condition.
"We have been going up and down to Belfast every week for scans, seeking to reverse the opinions we have already been given."
She continued: "She's not strong enough for surgery at the minute; we've been told to wait a few months but I can't wait that long for you never know what tomorrow brings."
Analee, who spent almost half her pregnancy in fear, remains hopeful that she may receive that one piece of good news she has been waiting for.
"I wouldn't have been able to get through my pregnancy without the support of my family and friends, and prayers from people across the world – I was overwhelmed by the messages I was receiving from people, some I didn't even know, on social media.
"We also need to raise awareness on Encephalocele, I know it's a very rare condition but when May Rose was first diagnosed I was quite disheartened by the lack of information and statistics available.
"That's why I decided to share posts across social media – I wanted to gain as much knowledge on the condition as I possibly could and I also wanted to be a voice for May Rose, and I will continue to be her voice.
"I can't thank the staff in the Belfast Health and Social Trust enough for what they have done for us. They really are a God-send from above and I will always be thankful for the service they have offered.
"But I am adamant that more can be done, and I will continue to fight for my daughter. The funds that have been raised so far, will go towards getting second opinions on neurosurgery, and third opinions, if that's what it's going to take. I can't imagine my life without my daughter, I really am blessed to be her mother."
Analee has set-up a Go Fund Me page to help pay for additional appointments and help. If you would like to help, please click on the link here.
Sign Up To Our Newsletter