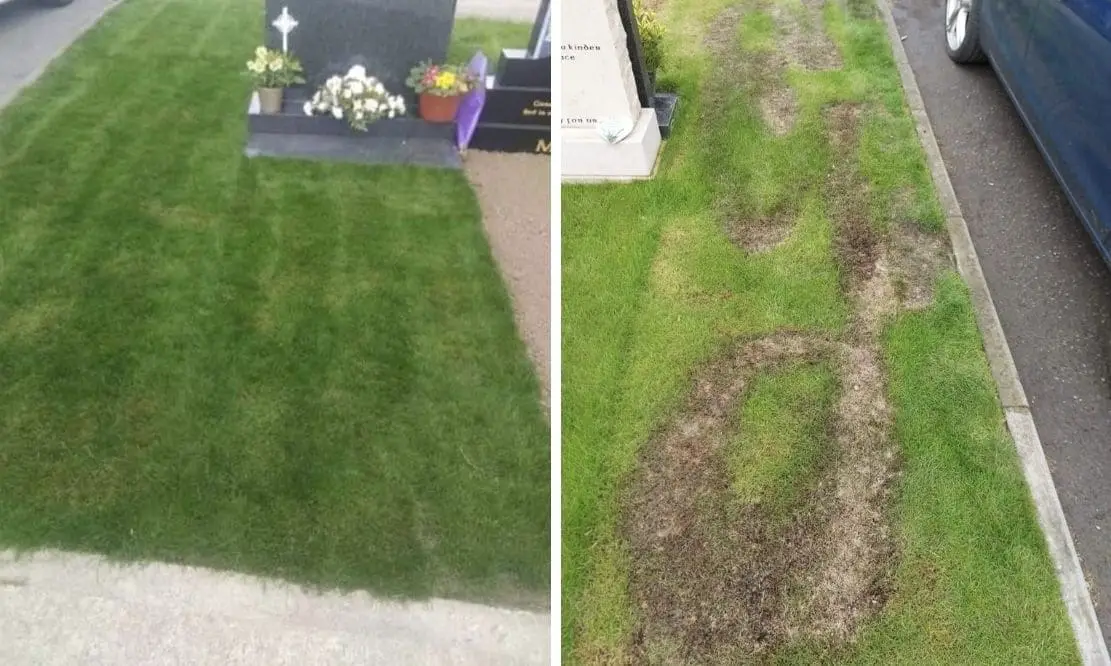 An Armagh woman has hit out at suspected vandals after grass was damaged at her mother's grave.
The woman, who has asked to remain anonymous, contacted Armagh I following the discovery at St Patrick's Cemetery in the city.
The family suspects someone purposely put a chemical on the grass, as it appears to be completely burnt away.
"This is the third occasion that this seems to be happening deliberately. I can't even say that it's someone doing it to help out and making a mess of it," she said.
"My father had put fresh grass on my mother's grave and the grave behind it.  He had done the first cut and it wasn't even cut two days when this was done.
"It was then done the following week and again last Saturday. He had been up on Friday night to cut the grass, then on Sunday morning he noticed it had been done again."
Initially, it was believed that it may have been someone trying to help out who had cut the grass too short, but by the third occasion the family was convinced that the damage was intentional.
The thought that someone has been targeting the grave has caused a lot of heartache for this family.
The woman said: "Daddy is just devastated. He puts his heart and soul into keeping the grave.
"It's coming up to Cemetery Sunday on June 19 and the fact is he's going to have to start from scratch again. It's completely soul-destroying. He was broken last night when he was talking about it.
"It's sad enough grieving the loss of a mother, but knowing that someone is intentionally doing what they're doing is very disheartening.
"He's probably going to have to go down the route of buying more fresh grass sods, in case this happens again."
Damage to graves has been a recurring issue locally, with vandalism on headstones at a church in Banbridge recorded last weekend.
"It is a serious issue involving a place of rest for your loved ones. We want to make whoever's doing it aware that are not tolerating it", she added.
Sign Up To Our Newsletter