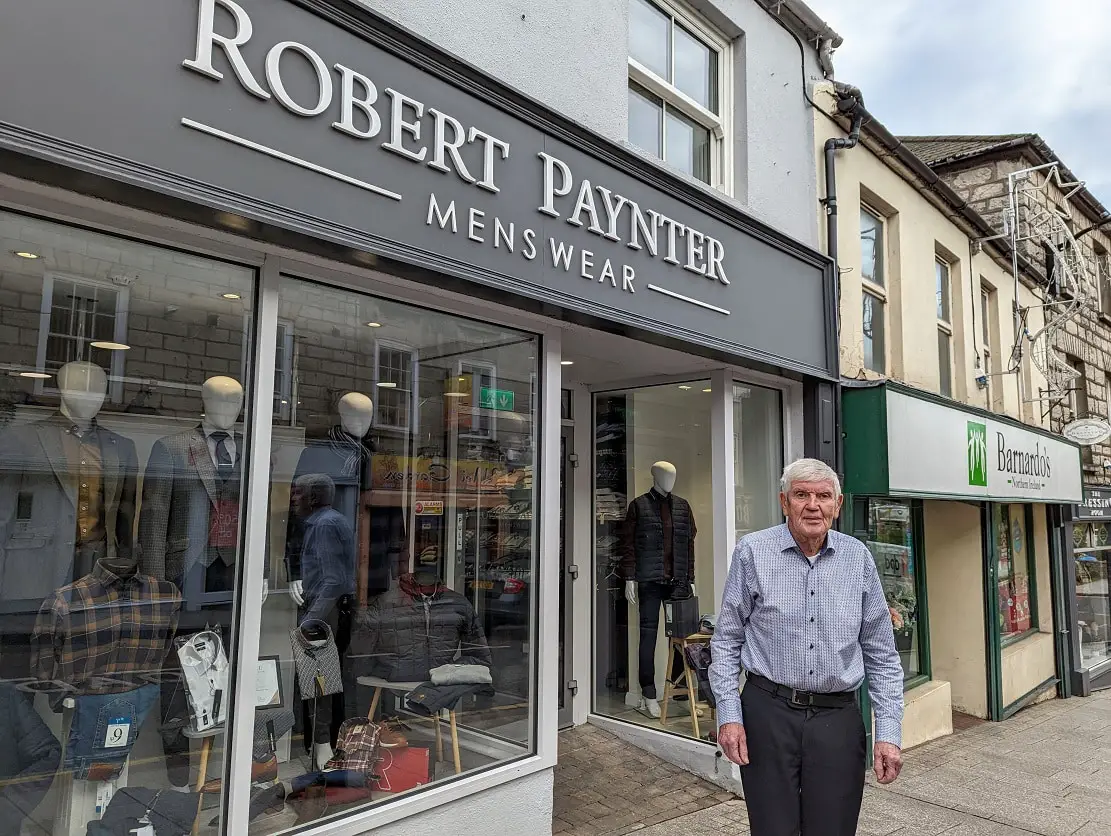 Those who frequent Armagh City Centre will know that Robert Paynter Menswear has been a staple of the city for many, many years, as the one-stop shop for the men who need their next suit.
Robert Paynter, the man behind it all, has recently been lauded for his contribution to the city, having been presented with a certificate of recognition and achievement.
The accolade was presented to Robert by Armagh City Centre Management, for over 60 years of service which he has provided to the local community.
Robert Paynter Menswear was started in 1982 by Robert and his wife Audrey, who opened the shop at 34 Scotch Street in the city.
Thirty-six years later, in 2018, the business moved to its new premises directly across the street, and continues to serve the local community.
Armagh I spoke to Robert about his career and how the business has developed over the four decades that his doors have been open.
Robert – who is set to turn 80 this weekend – opened the business 40 years ago with his wife Audrey, who has been by his side ever since.
On top of that, Robert has previously 24 years of retail experience, making a total of 64 years serving the local community in Armagh.
Robert started out from humble beginnings, working at Lennox's as a teenage lad before moving on towards starting his own business.
"I started in Lennox's, at 14 years of age," he said. "I had to take loan of a suit to start with. I hadn't a suit of my own. I then went from that to the hardware cart in Fane Valley."
From there, Robert had a few more jobs before finally biting the bullet and opening Robert Paynter Menswear.
The store – which Robert and his wife Audrey opened back in the early '80s – continues to serve the community.
"I always had a notion of starting on my own," said Robert, who is able to recount happy memories of his time in the business.
"I was very happy, what more can you say? I was very happy."
He adds that since the business opened its doors on Scotch Street in Armagh, the local community have been very supportive.
"They've been very, very good," Robert is quick to point out. "Since I opened here, we've had a lot of lovely customers. We've been here 40 years and they keep coming back.
"It's a family shop and I think we serve the public fairly well. They are very good to us."
It was through this resonance and high-esteem with the local community that resulted in Robert being presented with a certificate of recognition and achievement from Armagh City Centre Management, a testament to his 60 plus years of service to retail in the city.
"I was proud to receive it and I didn't expect it at all," he admits.
Over the years, Paynter's on Scotch Street has truly been a family affair, with Robert's wife Audrey, and his son and daughter, Jeremy and Julie, helping to hold the fort. Robert is keen to point out the contribution and team effort that the family have put into the business.
"My wife was with me from the very first," Robert said. "Julie has been here 30 years, and then Jeremy came in and he has been here 20 years.
"They run the business now. They do the whole thing."
Despite having taken a step back from the day-to-day business, Robert still comes in to the shop every morning, taking a keen interest in its workings.
When asked if he has had many notable experiences over his 64-year career, Robert laughs and simply replies: "Plenty."
Recalling a story from his youth, Robert went on: "I remember at Lennox's, I got out to do a job, and I bought two calves and I put them in the back of the van and I took them home."
This story, which he recalled with fondness, provides a hint into Robert's other passion in life – farming.
Robert has been farming for 50 years and is currently running a farm in Richhill; farming, he shares, is his passion in life.
Despite suffering from a stroke, Robert continues to work on the farm right to this very day.
"I'm still enjoying it and still going," he says. "I feed the cattle every night. I'm going to farm on as long as I'm fit."
Robert added that the business in Armagh has helped him to build the farm, and it is clear from speaking to him that he has poured his heart and soul into both.
"If he wasn't here he was on the farm," daughter Julie notes.
It would be remiss of anyone discussing Robert's life and the business to neglect to mention the strong faith held by the family, which has carried them through the good times and the bad.
Robert is a faithful member of Armagh Baptist Church, and says that faith has helped him throughout his many years of business.
"Our faith is very important to us," he says, while wife Audrey adds there is no doubt it has kept the family going, keen to stress that they are not proud of what they have achieved, but thankful for everything that has happened.
"We're not proud, we're thankful. God has been good to us," she said.
Sign Up To Our Newsletter