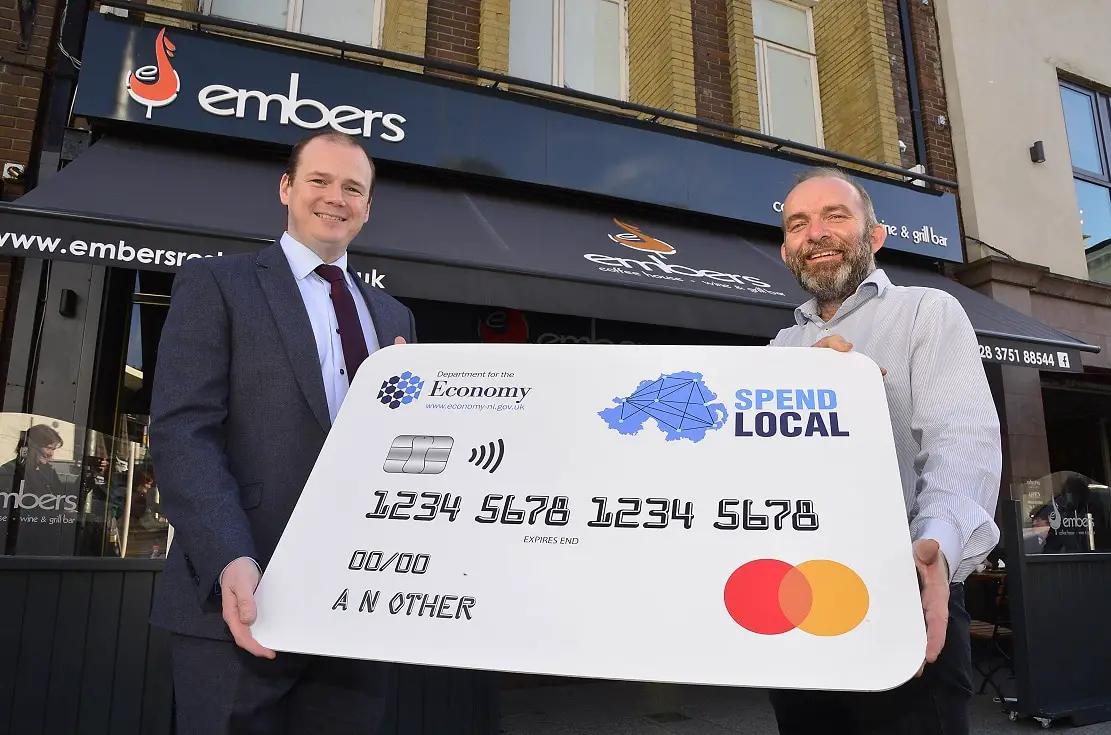 The Economy Minister visited a number of businesses in Armagh on Wednesday to hear how they are benefitting from the High Street voucher scheme.
Gordon Lyons stopped off at Embers restaurant, bike shop Cycleology, Uluru Bar and Grill and Clarke Decorate where he spoke to owners and staff.
The Minister, who was accompanied by Newry & Armagh DUP MLA William Irwin and colleague Alderman Gareth Wilson, also took time to chat to shoppers about the £100 Spend Local Cards.
John Murray, who own Embers, told the Minister the restaurant was seeing more people coming in with their cards.
"There is a lot of enthusiasm about the cards. They have been a topic of conversation among diners for a number of weeks now and I think people are genuinely excited to get out there and use them," he said.
"It has been a very challenging period for the hospitality sector, and anything designed to drive more people into our town centres is something to be welcomed."
Alistair Robinson, owner of bicycle shop Cycleology, said customers were either using the card to upgrade to a bike they have had their eye on or putting the £100 towards treating their children.
"It is an added bonus that the scheme is enabling more people to get a bike and the health benefits regular cycling brings," he said.
Restaurateur Gavin Emerson of Uluru Bar and Grill said they had been working hard to develop additional incentives for people to use the card with them.
"It has been a tough period for a lot of people, and I hope the cards can encourage more people back into the city centre so they can enjoy the wonderful hospitality we have here in Armagh," he said.
The Minister also met Jim Clarke, owner of Clarke Decorate. He said: "After the first lockdown, a lot of people moved online for their shopping so any scheme that helps rejuvenate and drive people back to our high streets is to be welcomed.
"We have had a number of people using their Spend Local cards with us. If someone is decorating a couple of rooms at home, then £100 is a nice sweetener when it comes to the bill."
MLA Mr Irwin said: "It was great to be able to invite the Minister down to Armagh City and in the short time available it was useful to speak with local businesses and hear how beneficial the spend local voucher card has been and ultimately will be as we emerge from the Covid19 restrictions.
"As we know the spend local scheme is geared towards bricks and mortar shops and businesses to ensure investment in our local economy and speaking to traders it is clear that people are making full use of this opportunity.
"Minister Lyons is someone who enjoys getting out on the ground and that was certainly his experience in Armagh."
Anyone who hasn't yet applied for their Spend Local card is being advised to do so before the portal closes at midnight on Monday, October 25.
The Minister said: "We are still at the early stages of this scheme but, to date, over £5.6million has been injected into our economy and the economic benefits are starting to be felt.
"It was good to come to Armagh to meet retailers and restaurant owners today and it was reassuring to hear that they are starting to see how the High Street Scheme will help them.
"If you haven't applied for your card, do so today. If you have received your card, then Spend Local. You will be helping thousands of businesses across Northern Ireland just like the ones here in Armagh."
View all the latest Armagh news here.
You can join our Armagh City & District Facebook group here.
Sign Up To Our Newsletter