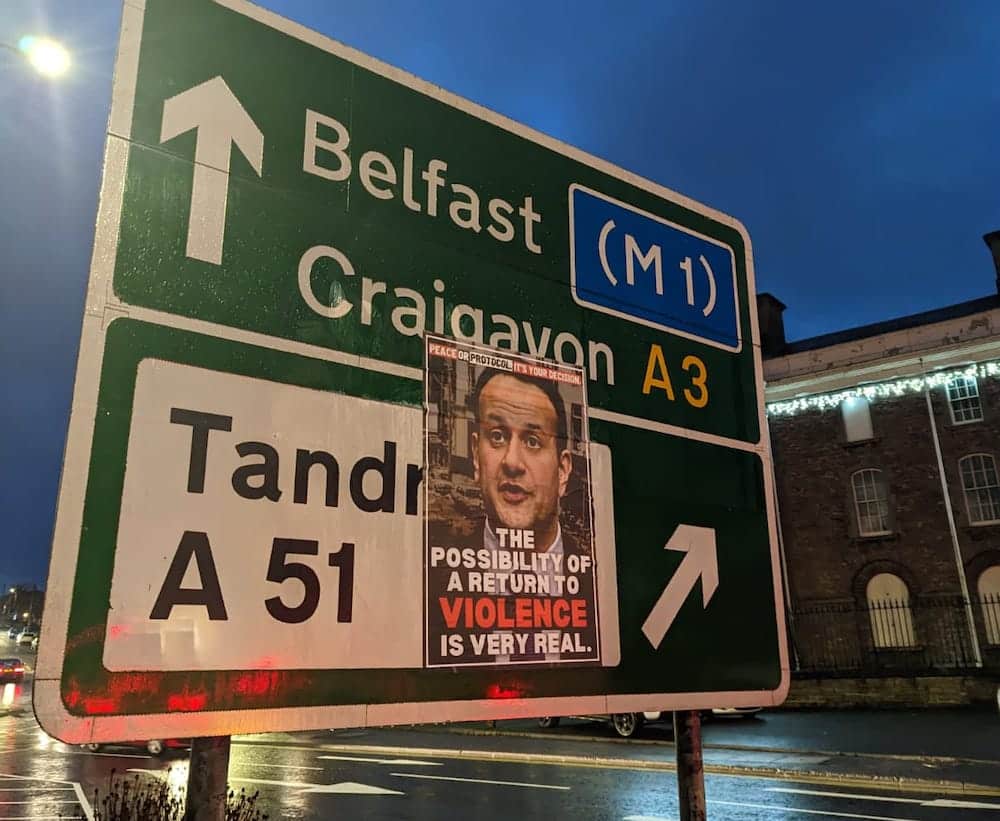 A Newry and Armagh MLA has hit out at those responsible for erecting "posters threatening violence" in Armagh.
The anti-Protocol posters carry the words, "Peace or Protocol…It's your decision" and warn: "The possibility of a return to violence is very real."
Sinn Féin MLA Cathal Boylan has said the posters, containing pictures of Irish Ministers, including Taoisearch Leo Varadkar, are "threatening violence and are utterly disgraceful".
"Threats of violence on posters of Irish Government ministers are outrageous," said Mr Boylan.
"These threats have no place in our society.
"The groups behind these posters must desist from these reckless threats and disband at once.
"It is disgraceful that almost 25 years after the good Friday Agreement that loyalist groups are still involved in the threat of violence.
"There is an onus on political leaders to call out this intimidation and the continued existence of these criminal gangs in our society."
Aontú Councillor Denise Mullen has also hit out and said "threats of violence cannot hold democracy to ransom".
She added: "It's chilling to see posters being put up in our community that threaten our hard-won peace. The poster has an image of Leo Varadkar superimposed on top of a photo of the Dublin/Monaghan bombing.
"It's disgusting that there is still a tiny minority that seeks to hold the democratic system to ransom by threatening violence.
"Horrendous threats of violence cannot be accepted. Over the past few years, we've seen great strides in reconciliation and cross-community solidarity. There is almost unanimous cross-community support for the peace process.
"Aontú has been clear that a tiny minority cannot hold the democratic system hostage. It's important that threats of violence do not derail the will of the people."
Sign Up To Our Newsletter