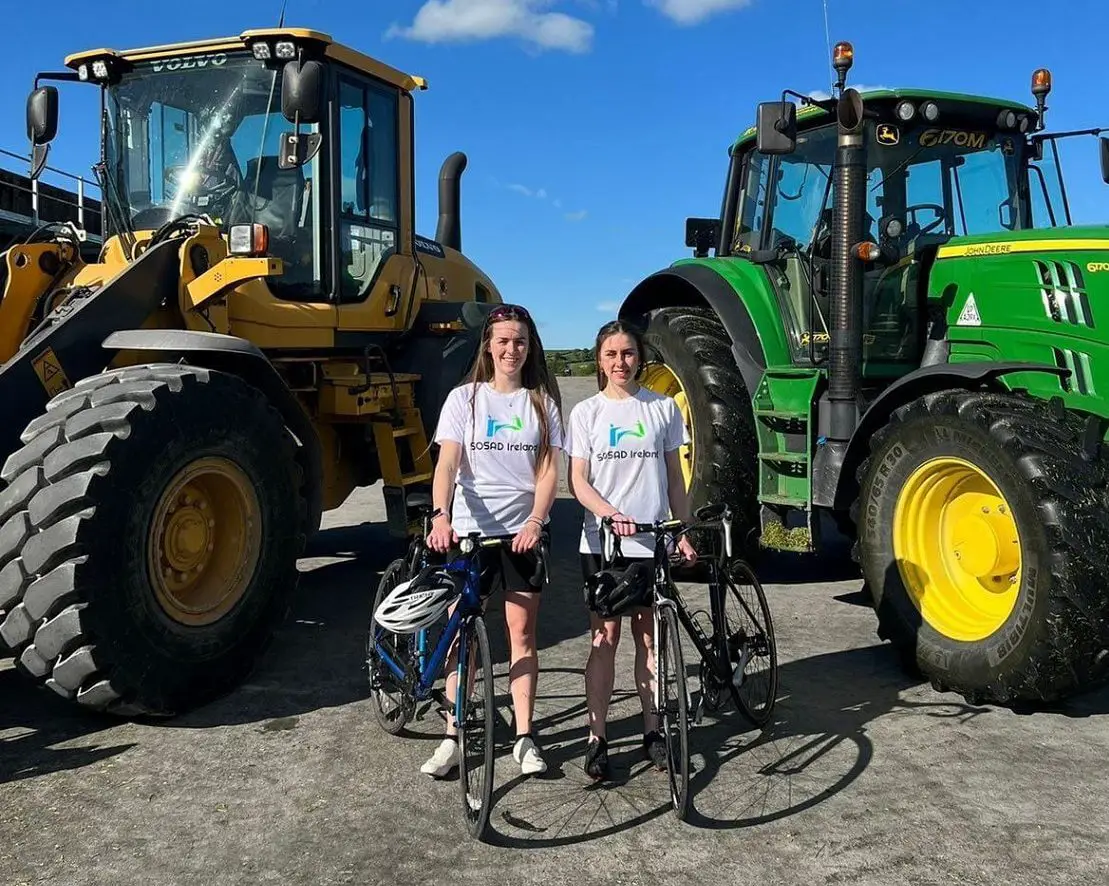 Two County Armagh sisters are to take part in a 24-hour cycle to raise money for a suicide awareness charity following the loss of their cousin.
Gabrielle and Orlagh Fox, 24 and 27 – two keen Camogie players from Derrynoose – have swapped the hurley for the bicycle in their bid to raise money for suicide awareness.
The girls lost their close cousin Jack to suicide in June 2021. This was a hugely difficult time for them, so they decided to team up with SOSAD Ireland, to raise money to help prevent other families going through the same ordeal.
SOSAD is a suicide prevention and awareness charity based throughout Ireland, with an office in Monaghan which deals with the Armagh area. The aim of the organisation is to offer support services for people struggling with mental health issues.
To raise these vital funds, the duo will be taking part in the Mondello24 cycle this June.
Mondello24 is a 24-hour cycling endurance challenge where teams or individuals have 24 hours to complete as many laps as possible around Mondello Park, Ireland's only FIA licensed international motor racing circuit, situated in Kildare.
The challenge will begin at midday on Saturday, June 18, and finish at midday on June 19.
The track is 3.5km in length and the challenge will take the form of a relay, with one rider on the track at any one time. The pit lane will be used for the handover of their allocated slap band.
Jack Farrell was 25 when he passed away from suicide in June 2021. Jack was from Westmeath and had graduated with an Honours in mechanical engineering from Athlone IT. He was very close with Gabrielle and Orlagh and had lived with them in Armagh for a number of years.
Gabrielle told Armagh I that when they're struggling, Jack is what keeps them going.
"Prior to COVID, he lived with us on and off for two or three years," she said. "He became part of the furniture in Armagh. He would come up and help with the seasonal farming work and was just always about the house.
"He had a great love for farming and machinery. At the word 'silage', he'd be out the door in the morning. He would always have a smile on his face.
"If he was still here, he'd be calling us two clowns, saying were not near wise. He would be laughing at us on the sidelines if he knew what we were doing.
"He was a cousin but basically a brother to us. We were all out farming together. It was hard to see him go. We said we'd keep his memory alive and keep going."
A key motive of the challenge, for Gabrielle, is to challenge the stigma around mental health and raise awareness around suicide amongst young people.
"It's hard to know what's going on in people's heads sometimes", she says.
"As a family it's hard to speak out when someone is so young. We want to make it less of a taboo subject and encourage people to speak out.
"Suicide is at an all-time high with young people. Around the last few years, I know a few young people who have sadly passed away. Initially you can't believe it's happened, then next thing it's a year on."
The Mondello24 provides the perfect opportunity for Gabrielle and Orlagh to push themselves, while also raising awareness for a very worthwhile cause.
"We said we'd give ourselves a good challenge.
"We've been out training at silly o'clock at the morning. When we're finding it tough we ask why were doing this – To raise awareness in memory of Jack, which is the driving force", she added.
"We're excited for it. In the coming weeks were just prepping and getting our pit team ready.
"There's been a lot of support from family and friends in the background. Seeing people cheering us on and knowing why were doing it is a driving force to keep going.
"We're both excited but apprehensive at the same time. We're clocking up the miles anyway."
Donations can be made using this link.
Sign Up To Our Newsletter