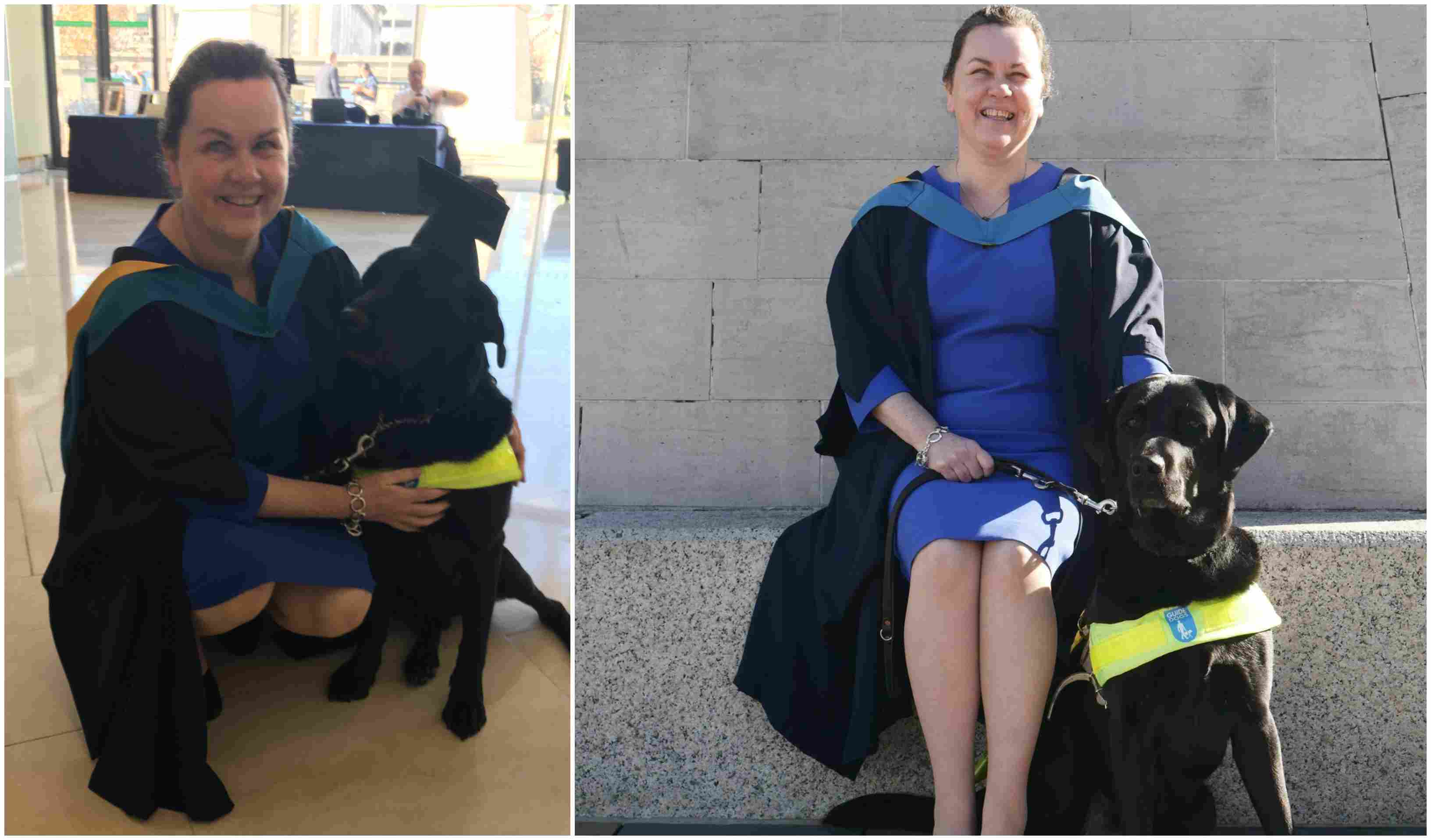 An Armagh woman who lost her sight in a car accident has graduated with a degree after completing a six-year part time course with the Open University.
Hazel Flannigan collected her BA (Hons) degree in Arts and Humanities at Belfast's Waterfront hall last month, alongside her trusty guide dog Kelty.
The Armagh woman lost her sight after suffering damage to her eyes when she was involved in a car accident.
She told Armagh I of how her life changed forever that day and how she came to pursue this course.
"I had a car accident and I was hit with an airbag which caused severe bleeding at the back of my eyes," explained Hazel.
"They haemorrhaged distorting my vision. This was followed by scarred retinas which detached, glaucoma and trauma cataracts."
Prior to her accident Hazel had worked as a florist which is a "a chapter in her life" she keeps closed.
She added: "It was all very visual – the matching of different colours – I just had to move on and find something that I could do."
Hazel's journey began with an audio typing class at the Southern Regional College in Armagh.
"I did an audio typing module, run by the Tech, at the time they took on a few blind students and taught them to touch type," she explained.
"I achieved an advanced audio typing with distinction which put a bit of pressure on the sighted ones, as they saw a blind girl that only made three mistakes!"
Always one to push herself, Hazel then decided to enrol in an English course at the Southern Regional College, going on to get her GCSE and A Level exams in the subject.
Hazel stated: "When I was at school English wasn't really my subject, but I started this course and realised it wasn't really all that bad after all.
"The touch typing really helped and without it I would never have been able to complete exams or assignments."
From there it was a natural progression.
Hazel began to look at university options and made her choice on the Arts and Humanities.
"I am so indecisive as a person, so here was an option for me to dip my toes into several subjects from History and English to Religion and Philosophy," she explained.
"The main reason I did the degree was I wanted to keep my head active and fill in a few gaps in my CV with the hope of getting back into work."
Sadly Hazel says she is still viewed by many as "unemployable" due to mobility issues, but she adds: "I can still type and write!"
And wherever she goes and whatever she does she certainly will not be alone, as she has the company of her beautiful black Labrador Kelty, her guide dog.
"He is absolutely fantastic, everyone comments on how shiny his coat is and how soft his ears are," says Hazel.
"He just wants to be beside you all day, he is very reliable and eager to work."
Hazel really wants to thank all of those who helped her on her way, including her friend Linda Bothwell, who acted as her mentor during her degree.
"Linda was great, she helped with me getting around and took notes in class for me," she recalled. "I would not have been able to do it without her."
So what's next on the 'to do' list for the Armagh woman?
"I think the garden needs done," she jokes. "I would love to do a masters but at the minute it is a lot of money.
"There is plenty that needs sorted around the house and the garden is top of the tree."
Hazel hopes her story will encourage others to pursue academia even if they have experience life-changing events.
The sense of satisfaction has been incredible.
"It has been a long time coming six years part time," she said. "But I made it through it and I have so many to thank for it."
It was a pleasure to be able to chat to the Armagh woman, an inspiration to others of what they can achieve if they set their minds to it.
And she admits there is an irony that has not been lost on her – saying she feels it fitting her story should feature on a website called Armagh I, given the loss of her own eyesight.
Sign Up To Our Newsletter