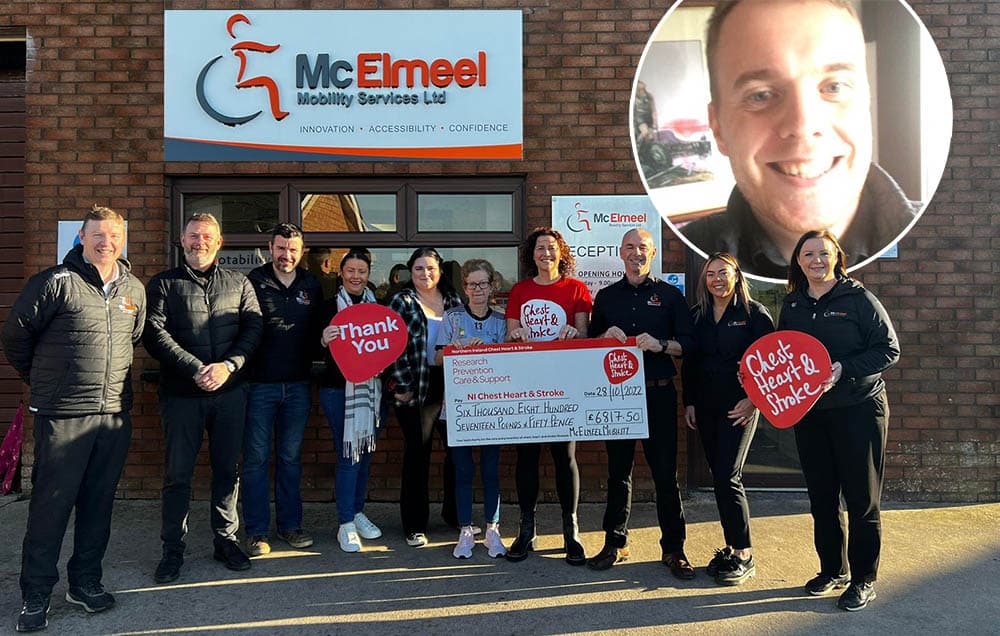 Colleagues of a young Armagh man who died from a heart condition whilst at football training have raise over £6,800 for charity in his memory.
Oisin Fields' untimely passing in January sent shockwaves across the community.
And members of staff from Armagh-based McElmeel Mobility Services, where he worked, have now raised over £6,800 for local health charity Northern Ireland Chest Heart & Stroke.
Oisin, who was only 30 years of age when he died, was a much-loved colleague at McElmeel Mobility Services and the team decided to support the work of NICHS as a tribute to him.
Linda Hughes, HR Manager at McElmeel Mobility Services, said: "Everyone at McElmeel Mobility Services was deeply shocked and saddened when Oisín suddenly passed away.
"Oisín had worked with us for two years and was a valued member of the team. Oisín was so well-liked, he was so positive, upbeat, a true gentleman and a great colleague. Oisín's death has really impacted everyone here and the team wanted to do something as a tribute.
"It was our Purchasing Manager Ciarán Trainor who got the ball rolling with our fundraising activities for NICHS."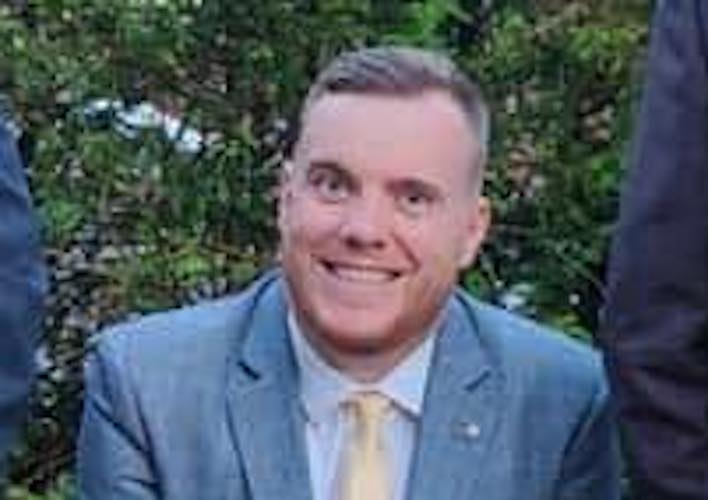 Ciarán added: "Oisín was the nicest, friendliest big fella I ever had the pleasure of working with. Everyone at McElmeel, and beyond, never had a bad word to say about Oisín. He was extremely well thought of by customers and suppliers who he dealt with on a daily basis.
"I, like most others in McElmeel, keep Oisín's Memorial Card at my computer. He's like a reset button that reminds us that even when we're having a bad day to never let things keep on top of you because we never really know what tomorrow will bring for any of us."
Over the past six months the team at McElmeel Mobility Services have organised a number of fundraising initiatives in aid of the charity, with support from the local community.
Linda said: "We started off with a coffee morning and car wash which raised £600, and this spurred us on to do more.
"In July over 30 family members, friends, and colleagues of Oisín climbed Slieve Donard, some overcoming their fear of heights to take part.
"In September some of the team took on another climb at Carrauntoohil in County Kerry, which is the highest mountain in Ireland. Everyone within the company wanted to do their bit to raise money for Northern Ireland Chest Heart & Stroke and to remember Oisín."
The team recently presented a cheque for a tremendous £6817.50 to the charity.
Added Linda: "We have been overwhelmed by the generosity of our staff and the local community and want to thank everyone for their support and donations.
"We are delighted to have raised so much for NICHS to help support them with their work of raising awareness of, and trying to prevent, chest, heart and stroke illnesses in Northern Ireland. We now plan to hold an annual coffee morning and car wash as well as a mountain climb in Oisín's name, with all proceeds going to the charity."
Regina Cox, Partnerships Manager at Northern Ireland Chest Heart & Stroke, said: "Oisín was a much-loved team member at McElmeel Mobility Services and his sudden passing from a heart condition at the young age of 30 is heart-breaking. We are very thankful to Oisín's wonderful colleagues, family, and friends for all their efforts in raising this fantastic amount for our charity.
"Today, there are over 335,000 people living with a chest, heart or stroke condition in Northern Ireland – that's one in five of the population. Almost 90% of NICHS's care and prevention services and research projects are funded exclusively by donations so fundraising efforts like McElmeel Mobility Services' are vital for our charity and what we can achieve.
"The funds raised will enable us to continue to help the local community and provide life-changing services for people living with chest, heart and stroke conditions and their families."
To find out more about ways to support Northern Ireland Chest Heart & Stroke, as a business or as an individual, visit https://nichs.org.uk/how-you-can-help
Sign Up To Our Newsletter