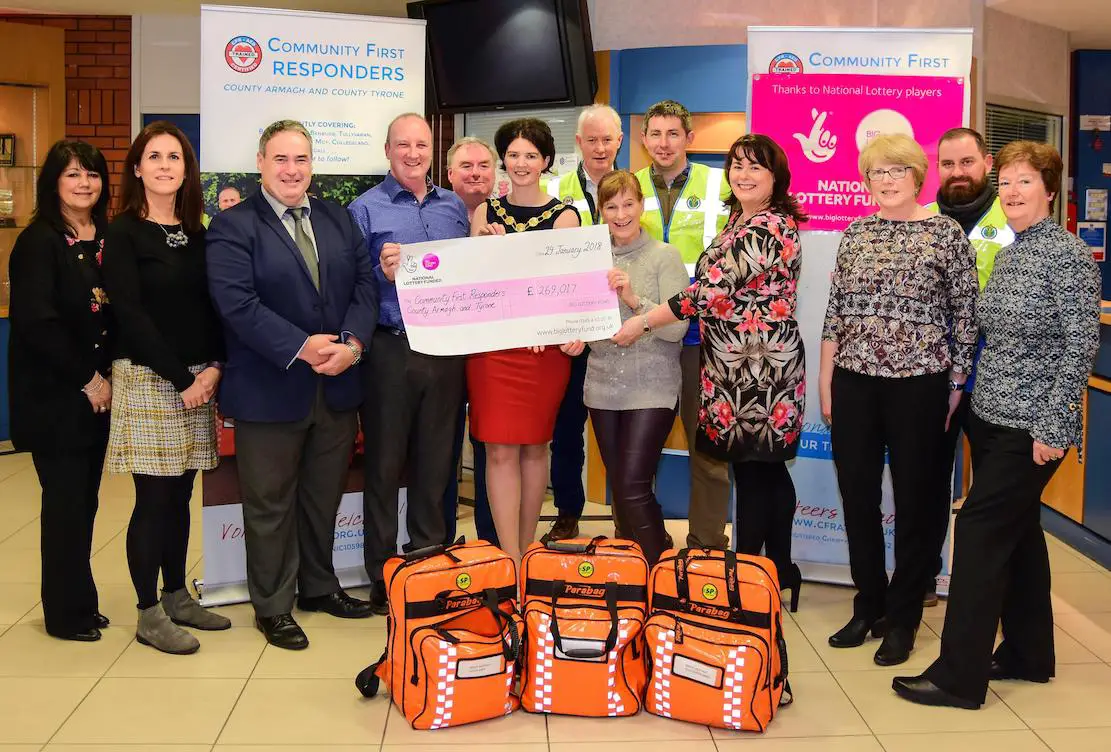 Community First Responders County Armagh & Tyrone (CFRAT) has been awarded a £269,017.
The group received the cash boost from Big Lottery Fund's People and Communities programme, for a three-year project to boost the services they provide to local people over a wider area.
CFR&T is an entirely voluntary and charitable organisation which has been developed to offer assistance to the over –stretched Ambulance service crews.
They currently operate in the following areas Benburb, Brantry, Eglish, Collegelands, Loughgall, Moy and Tullysaran.
The service has been operational now since June 2017 and in that short period of time they have responded to over 50 emergency 999 calls in the areas in which they operate.
When a 999 call is received by the Northern Ireland Ambulance Service, the details of the call are vetted and if found suitable for CFRA&T the call details will be passed to an on duty responder in the area of the emergency, the responder then attends the patient which is often quicker than NIAS, as the responder will typically be closer to the patient.
The types of calls attended include cardiac arrest, chest pain, choking, diabetic emergencies, epileptic emergencies, shortness of breath etc.
Each responder has been trained up to NIAS standards and there will be at least one fully equipped resuscitation kit including a defibrillator available at any call.
Aidan Early, who is the Chairperson for CFRAT said "we are absolutely over the moon with this award and we would like to thank the players of the National Lottery and The Big Lottery Fund for awarding us this tremendous amount of money."
Julie Harrison, Big Lottery Fund NI Chair, said: "I would like to congratulate Community First Responders County Armagh & Tyrone on the funding they've received for their project and to say thanks to all the National Lottery players who have helped make this possible.
"We want to fund great projects that work with local people, build on a community's strengths, and are well connected to other services and activities in the community. We are looking forward to seeing the positive impact this project will make to people in this area."
When asked how the money will be used and what difference it will make to CFRAT, Aidan said: "We will be using this money to improve the service we deliver. We will now be in a position where we can fully equip all our volunteers with defibrillators and vital resuscitation equipment".
He continued: "Currently we do not have enough equipment for our volunteers and this can lead to delays in getting assistance to patients, this money will rectify this problem."
Aidan also spoke about the future plans for CFRAT which will include the appointment of a project manager who will work out of CFRAT's recently acquired office and training suite an Northland Place Dungannon, he also said there will be a new recruitment drive to spread the service into other areas.
"We currently would like to train and equip responders in Aughnacloy, Caledon, Coalisland,Donaghmore, Dungannon, Moygashel and Richill as these are areas which have high demand for Ambulance services and we feel we could really improve the survival rates of cardiac arrest patients in these areas also."
MP Michelle Gildernew, who responds to emergency calls from NIAS as a trained team member with the first responders said: "The CFR group is one of the most rewarding things I have ever been involved with, to be able to assist NIAS on emergency calls to vulnerable and sick patients in my own locality is deeply humbling, This money will enable us to provide a better level of care to those in need.
Colm Gildernew Fermanagh and South Tyrone MLA said: "I am delighted to have joined the Community First Responders; it is a fantastic initiative and I believe volunteer groups like this will represent an important part of the solution for community health care."
Main image by Mark Winter
Sign Up To Our Newsletter