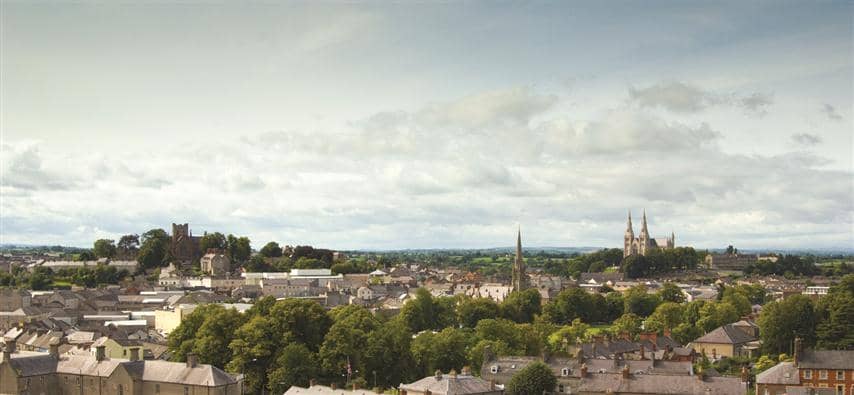 Serious concerns have been raised over the prioritisation of some streets at the expense of others as part of a £1.98 million lottery funding package for Armagh city centre.
Armagh I revealed in October, Armagh City, Banbridge and Craigavon Borough Council had submitted a bid to the Heritage Lottery Fund to help finance a programme aimed at regenerating the economic heart of Armagh.
Last month we reported that the local council had received a letter of offer from the HLF under its Townscape Heritage initiative.
The money will see the repair and re-use of up to 30 buildings, create 20 jobs and five new businesses as well as securing 10 jobs and four existing businesses, and Armagh I understands the old Dunnes Stores site on Upper English Street will be redeveloped as part of the overall project.
A number of areas have been targeted – Upper English Street, Russell Street, Barrack Street and Melbourne Terrace/Gosford Place at the Mall.
Armagh Councillor Garath Keating has welcomed news of the HLF investment in principle.
But the Sinn Fein representative has challenged what he describes as an "artificial hierarchy of conservation area projects".
He cited his "disappointment and concern" that certain streets seemed to have been identified and pre-determined as the main benefactors of anticipated funding through an application process which he considered was "lacking in transparency and community involvement".
Councillor Keating told Armagh I: "I have raised serious misgivings with council officials at the way in which some parts of the town are now being afforded priority status for funding opportunities, at the potential expense of other parts of Armagh's long established Conservation Area.
"The basis of the application to HLF appears to have been predicated on the opinion of one hired consultant who, without it seems having engaged at all with the local community, identified Russell Street, Gosford Place, Melbourne Terrace, Upper English Street and Barrack Street as the priority areas for funding on the somewhat vague basis that visitors to the city will visit the Mall area.
"There are many streets and projects within the Conservation Area that are badly in need of investment in order to bring some important buildings back into economic use.
"It is disappointing to think that some of those projects might not be considered fairly on merit, under this opportunity, on the basis that they fall outside this newly and arbitrarily defined priority area.
"There are significant and worthwhile projects at various stages of progress or consideration at Ogle Street, Cathedral Road and English Street, none of which, disappointingly, feature on the current HLF proposal.
"I have sought further details in relation to the full application process along with a commitment that talks be undertaken with HLF to examine the availability of funding for other worthy projects."
Read more news:
Armagh City man in court charged with attempted murder after Craigavon stabbing
Huge boost as work on new £6.9m Craigavon paediatric unit to start next week
Charity helps deliver specialist tricycle – and smiles – for Ceara Special School pupil Reece
Kennedy: Thomas 'Slab' Murphy sentence shows no-one is beyond the law
Patients unaffected as fire breaks out at Craigavon hospital
Terminal cancer patient Willie weds soul-mate Lyndsey thanks to public generosity
Become a member
Support local, independent businesses by becoming an independent member.
Become a member