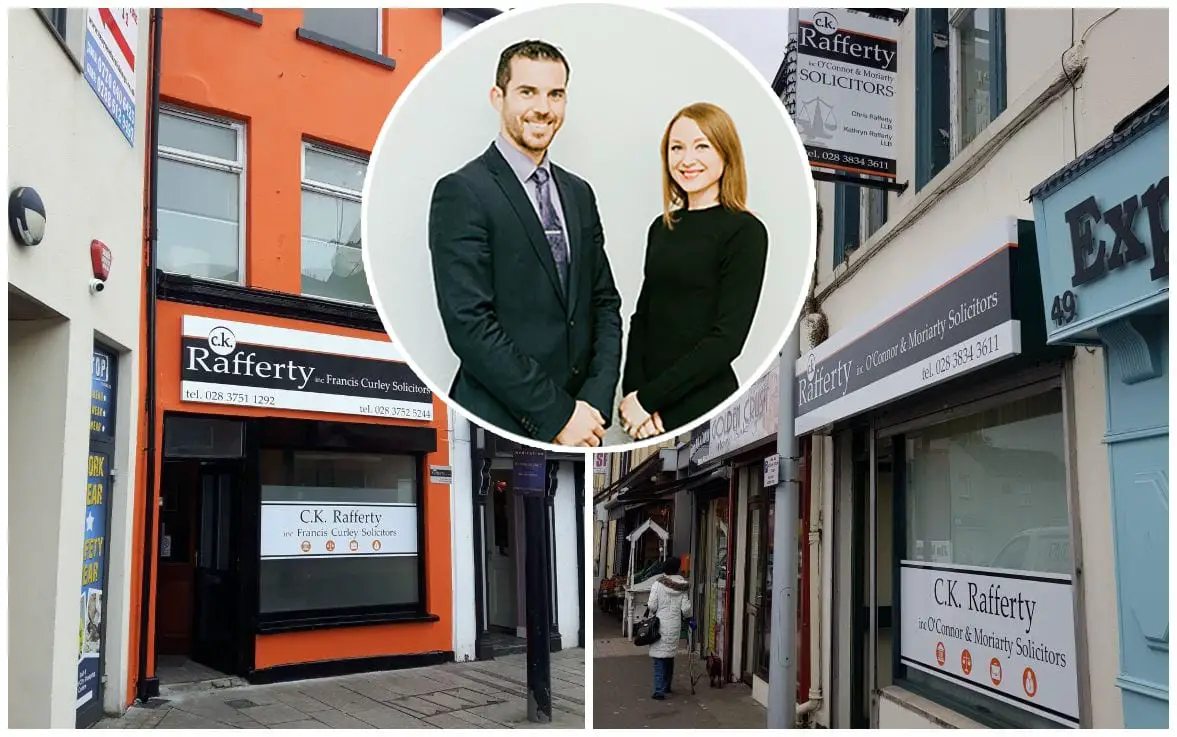 Chris and Kathryn Rafferty are a dynamic duo offering both expertise and a family, friendly feel to their business. This is their story, in their own words..
From the very beginning we have offered a personal client focused approach. With us it's not all about billable hours. We are a family run business with a genuine desire to help people.
Throughout the years our way of conducting ourselves has resonated with our clients and in November 2016 we took over the long established and well-respected firm of Francis Curly.
We moved into his office at 2 Ogle Street Armagh and have gone from strength to strength ever since. In November 2019 we took over another well established firm in Lurgan, O'Connor & Moriarty Solicitors. 2 offices. Same personal service.
We believe that we offer something different to many other law firms. We are not the stereotypical law firm as can be seen from our website (not a photograph of a leather-bound book or mahogany table in sight!). This is not what we are about.
Yes, we certainly have the expertise that rivals any solicitor firm in this jurisdiction, but we believe that providing a good service goes beyond just knowledge of the law garnered from books.
We believe in our local community and actively participate in many local community groups and sports organisations.
Armagh is without a doubt a great place to live and work. There is no need to instruct other larger firms just because they are located "in the city" so to speak. Location, size and huge advertising budgets do not mean that you are the best at what you do.
Finally, we would like to take this opportunity to thank our clients, friends and family for all their support throughout the years. It certainly means a lot to us.
Chris and Kathryn Rafferty
Buying or selling a house? The basics
Buying or selling a house normally takes 2 to 3 months from when the sale is agreed. The process can take longer if you're part of a chain of buyers and sellers. There are several steps you'll need to follow:
– Sellers should instruct a solicitor to act on their behalf as soon as the property is placed on the market. Deeds can take a number of weeks to be sent to the solicitor from your Lender. A seller should obtain building control approval for any works in the property in the past 10 years that required same. This includes the installation of wood burning stoves. If the property you are selling has a septic tank, confirm if there is a consent to discharge. This is required by a buyer and can take up to 12 weeks to issue from date of application. The absence of a consent to discharge can cause significant delays in completing the sale of a property.
– if a seller is using an estate agent, potential buyers must make any offers through the agent
– once a buyer's offer has been accepted, the seller is responsible for drawing up a legal contract to transfer ownership. Sellers must provide searches and property certificates. There are outlays involved in this which you will be expected to pay for in advance of obtaining. These can take up to 5 weeks to issue therefore should be requested as soon as the buyer has confirmed their finance is in place.
– sellers must provide an Energy Performance Certificate for the property. Your estate agent should be able to arrange this for you.
– an offer isn't legally binding until a contract has been signed by the buyer(s) followed by the seller(s)
– depending on the purchase price, the buyer may have to pay Stamp Duty Land Tax
– a seller and buyer will have to satisfy their solicitors Money Laundering requirements therefore please be prepared to produce original photographic identification and a bank statement by way of proof of address and funds for your purchase
– Buyers should advise their solicitor as soon as possible if anyone over 17 who is not named on the mortgage will be residing in the property after completion and if any third party is contributing to the purchase price by way of a gift as there is additional paperwork to be prepared and executed before a buyer can sign the contract
At CK Rafferty Solicitors we deal with all property matters to include buying, selling, re-mortgaging, transferring and renting. Call us on 02837511292 or visit our website at www.ckraffertysolicitors.co.uk

Sign Up To Our Newsletter