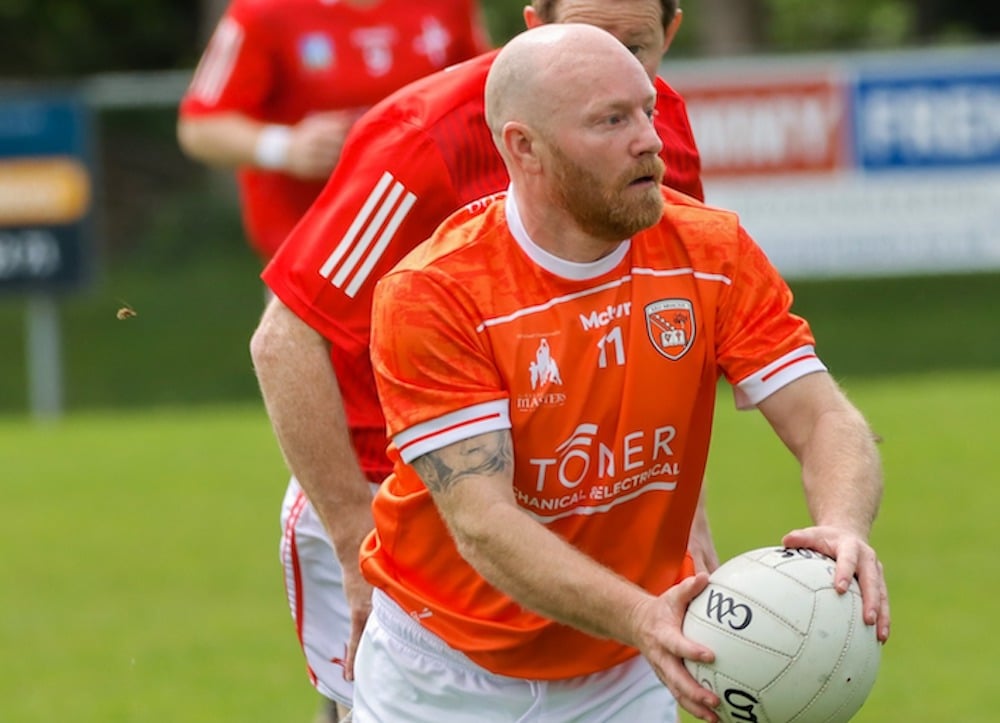 'No chance!' That was the initial response to a proud Armagh man who was asked to don the jersey of arch-rivals Tyrone for their Masters team last season.
Austin McKenna is a proud Blackwatertown man – and is proud of his local GAA club, An Port Mor, so much so he returned home – having spent 21 years in the US – with his young family about 18 months ago.
He has won his fair share of championships stateside but it was fair to say his playing days – at senior level at least – were behind him, or so he thought.
That was until he received a message to play for the Tyrone Masters side in 2022. The GAA Masters is an inter-county set-up for players 40 and above. The initiative, which is not affiliated with the Official GAA, was set up as a way to keep older men active in the game.
For Austin, who is 44, it has provided a great opportunity – even if his first foray into the Masters series was for the enemy!
"I got a random WhatsApp from the Tyrone manager, this time last year, asking if I would play with Tyrone," Austin explained.
"I'm a big Armagh man so I was like 'no chance'. I was looking at it and thought, I can't play for Tyrone and I sort of said no. Them I took a bit of time and I thought it about again and said to myself 'what am I doing', so I messaged him back and said, 'you know what, I will play, thanks for reaching out'.
"I went and started training; their season was almost over so I sort of came in at the end but I loved it, it was deadly good standard, all the fellas were around the same age, same way of thinking, I just thought it was brilliant."
Tyrone reached and subsequently won the All-Ireland final – their second in a row. Austin became an All-Ireland winner…with Tyrone.
Said Austin: "On the day of the All-Ireland final, I was sitting in the changing room with the Tyrone jersey on and I was thinking how lethal would this be if it was Armagh.
"After it was over I just knew Armagh needed to have a team. There's a good buzz about Armagh at the minute too. I reached out to a few lads – Chris Rafferty and Brian McGeary. Once we sort of got talking, it gained traction really quickly; there was serious interest.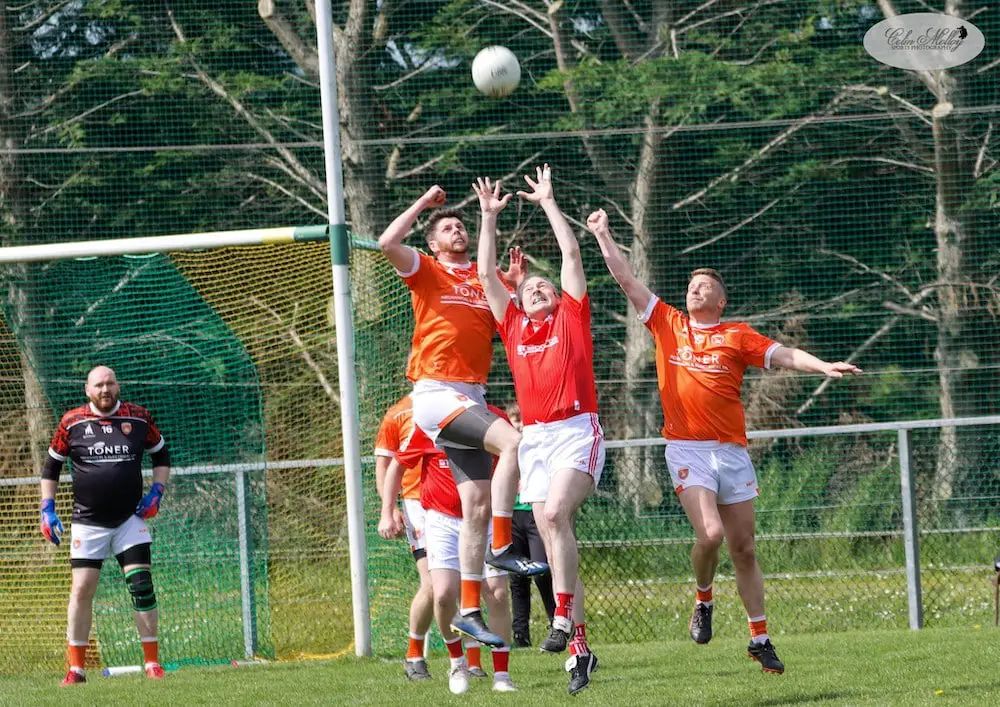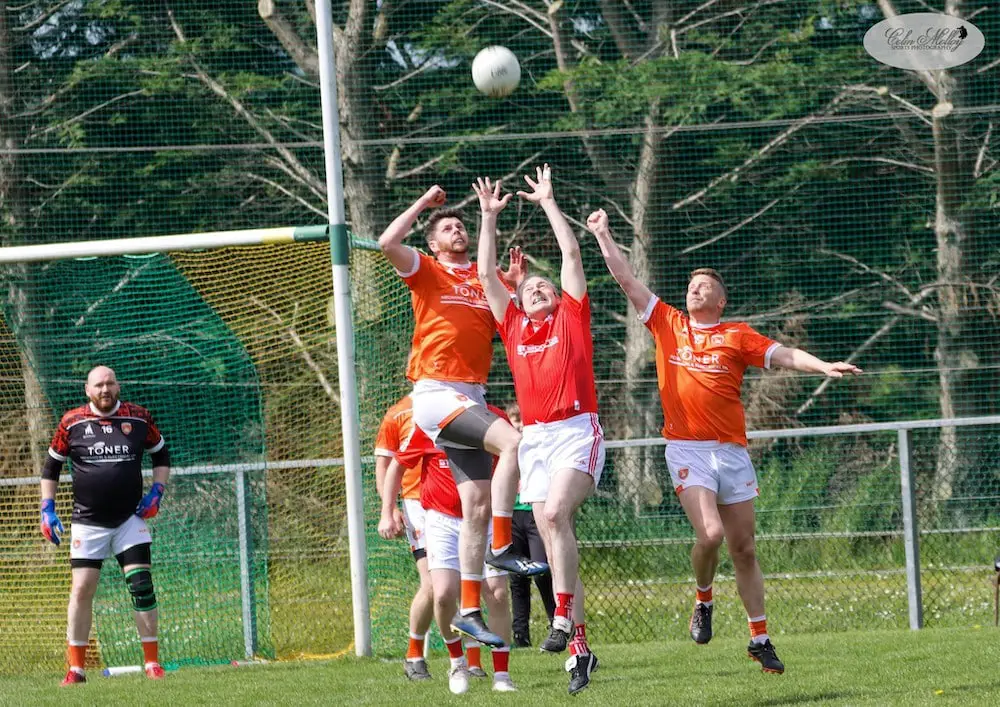 "We now have 60 on the WhatsApp group, and so far we've played two challenge games and our first league game (against Louth) and we've won all easily. We've a good team and we play Tyrone in two weeks which will be a big test against the All-Ireland champions."
Tyrone currently boast players like Sean Cavanagh, Steven O'Neill, Ciaran Gourley and Conor Gormley. That quartet alone has 12 All-Ireland medals between them.
While the competitive nature of the competition is evident it's a game open to all who turn 40 this year and above.
If you turn 40 this year, you can play. There aren't many around that age that play – it's more the older 40s. We've a decent team.
"There are teams that are there for the craic, there are teams that are sort of semi-serious and then you have teams like Tyrone and Dublin who are really serious," explained Austin. "We're probably closer to the latter than the other two.
"But there's a place for everyone. Our team, you have good players, then you have another group maybe not as strong and then you have a group that are there for the craic, that's the good thing about it, it's still really social. It's open to anyone which is brilliant.
"The only county stacked with ex-players is Tyrone but it's not like that with any of the other counties. We have a few in our WhatsApp group but it's about them getting time.
"While we wouldn't have household names there are lot of players who have played at a really good standard at club and underage levels."
Armagh are currently in a round-robin group alongside Louth, Down, Donegal, Tyrone, Leitrim/Longford and Antrim.
Austin says Armagh will harbour ambitions of winning all those games – even Tyrone who they face next.
"That's the big one coming up," said Austin. "Tyrone are All-Ireland champions, we're in our first year; we've both won our first game and the interest is building. Hopefully people can get behind it and really bring it on."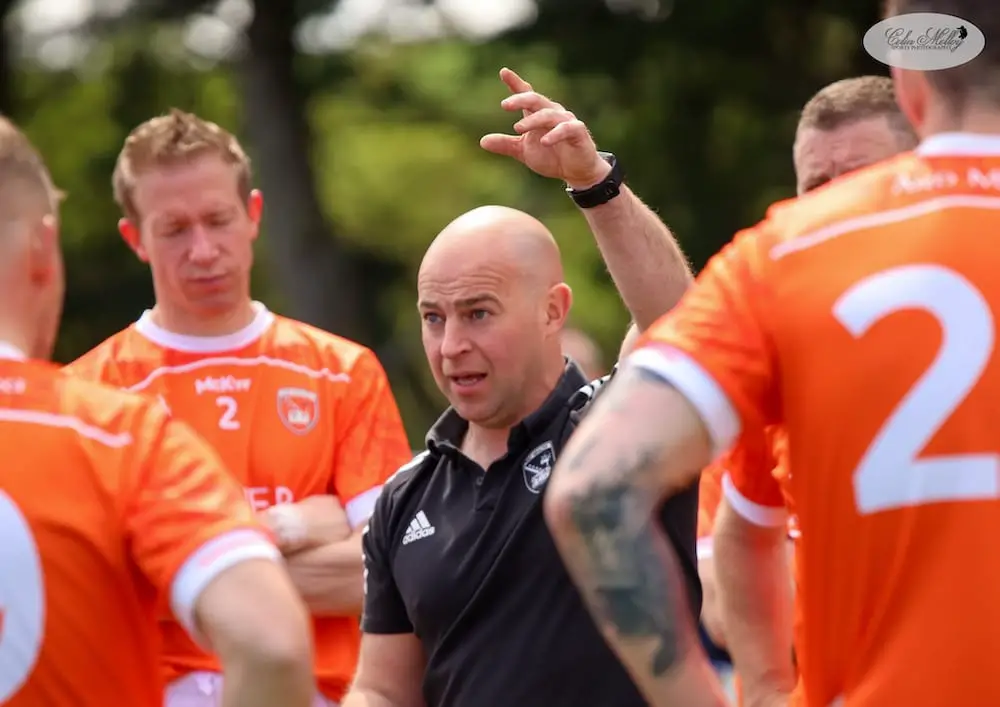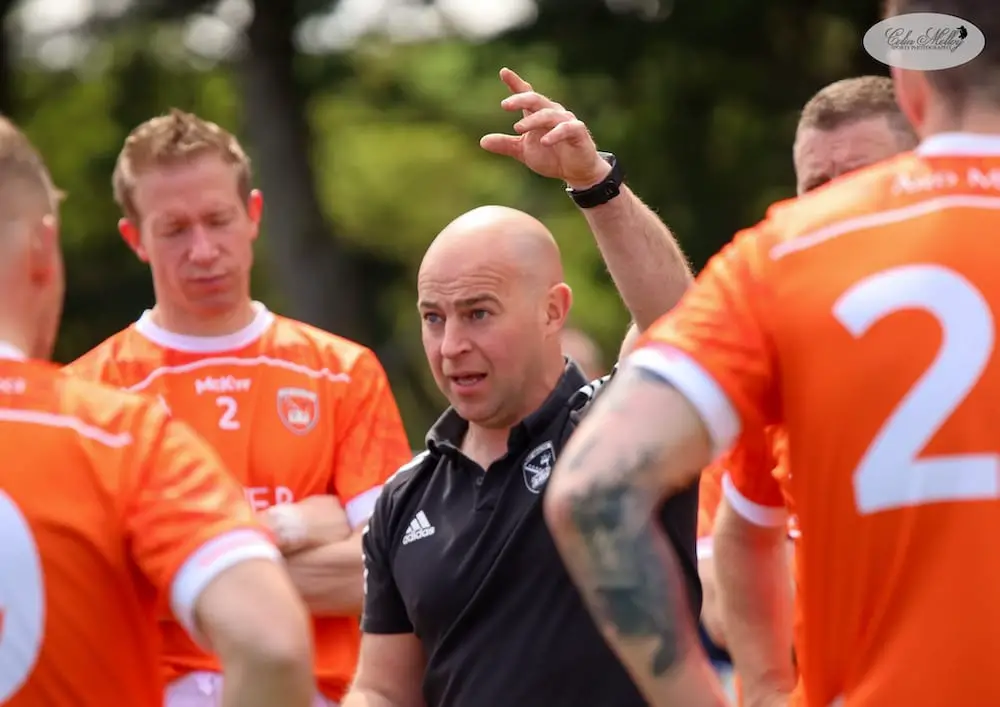 That game is to be played in Eglish, which straddles the two counties. It's to take place on Saturday, May 27 at 7.45pm. While it's a close clash with Armagh's All-Ireland game against Westmeath in the Athletic Grounds (4.45pm throw-in) Austin is hopeful it gives people a chance to watch both.
While in its infancy, the Armagh Masters team are really building up a head of steam as they aim to emulate their neighbours in picking up major honours.
They currently look the part anyway. Paudi McKeever, of McKeever Sports, is a big supporter of Armagh GAA and likewise the Masters side for which he too plays.
"Having him on board has been brilliant. He has supplied us with gear and it's class. We're coming and looking like a proper county team. His input has been brilliant both on and off the field."
Tyrone vs Armagh, Saturday, May 27, Eglish, 7.45pm throw-in.
Armagh Masters would like to thank its sponsors: M.Toner Electrical; Allied Fleet Services; Mamo Construction/Millview Windows; CK Rafferty; JH Tyres and McKeever Sports.
Sign Up To Our Newsletter