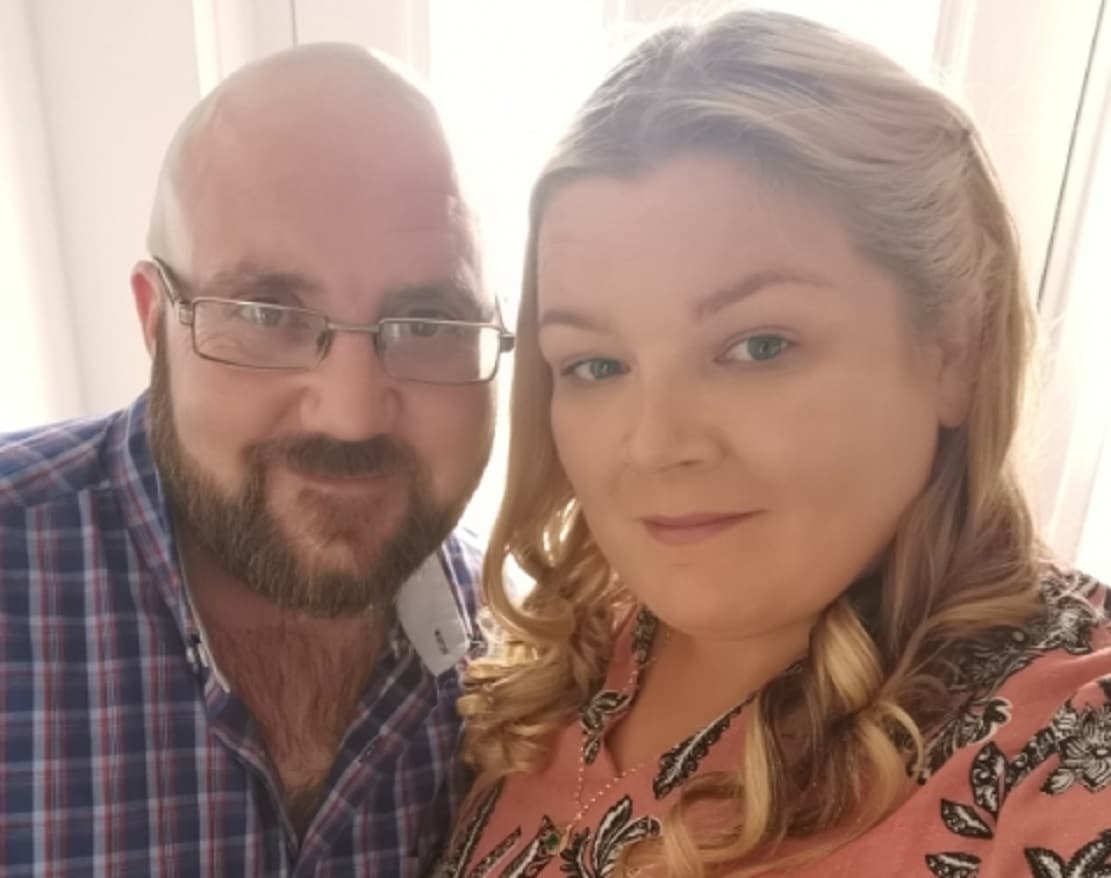 A Co Armagh couple have been given the best wedding present ever after the groom-to-be 'rang the bell'  to signal the end of his cancer treatment.
Alex Booth finished radiotherapy on Wednesday, less than a fortnight before he and Sue Bloomer tie the knot.
The past couple of years have been tough for the Killylea couple who found out just months after getting engaged in March 2020 that Alex had Non-Hodgkin lymphoma.
And with the diagnosis coinciding with the Covid pandemic, it made hospital visiting practically impossible.
Said Sue: "He actually took a coughing fit and crashed the car and was sent for various tests where they noticed shadowing on his chest. So they did a biopsy and that's how it was diagnosed.
"It was a very big shock. I was at work at the time and Alex was in hospital on his own, because they couldn't let me in.
"They rang me to work and allowed me to go in to see him."
Alex started chemotherapy  at Craigavon Area Hospital in Christmas week and spent the entire holiday period in hospital.
Said Sue: "I wasn't allowed in at all. We were able to phone or video call but when I video called Alex he would have got very annoyed and upset."
Alex underwent six courses of treatment, lasting five months, and in between took several infections and had to be admitted to hospital.
"He has had a rough ride," said Sue, who works in a day nursery in Markethill and who, last year, won Neighbour of the Year award along with sister Joanne in the Armagh I People of the Year awards.
Despite getting the all-clear, Alex was advised to have a course of radiotherapy to lower the chances of the cancer returning.
Alex, who is originally from Magherafelt, underwent 15 days of radiotherapy at the City Hospital in Belfast, finishing this week.
Said Sue: "It just felt like a total weight was lifted off our shoulders. When you hear that bell ringing, you know it's over. We can enjoy ourselves now in the run-up to the wedding. All along, we couldn't think of anything except Alex."
It is now finally sinking in for the couple that they will be getting married in just a week's time.
Both of then got the traditional 'doing' in Killylea this week, with Sue coming off worst, being doused in everything from treacle to rotten eggs and milk!
And although Alex is still a bit tired, the couple are enjoying the last-minute preparations and looking forward to their big day.
They will marry next Saturday, September 10 at St Mark's Church, Killylea, with a reception afterwards in the Royal Hotel, Cookstown.
They had originally booked a cruise for their honeymoon but decided to postpone it when Alex became ill.
Instead, they will spend a few peaceful days in a log cabin in Donegal, where they are looking forward to chilling out and spending some quality time as a couple.
Sue's son Jamie (14) will be usher while her sisters Joanne and Jill will be bridesmaids. The bestman will be Alex's cousin Gareth Milligan and the groomsman will be one of his good friends, Adey Catherwood.
"Both our families have been brilliant, as has Tynan Surgery and the staff at the haematology ward in Craigavon were outstanding. We are so grateful to all of them," Sue added.
Sign Up To Our Newsletter