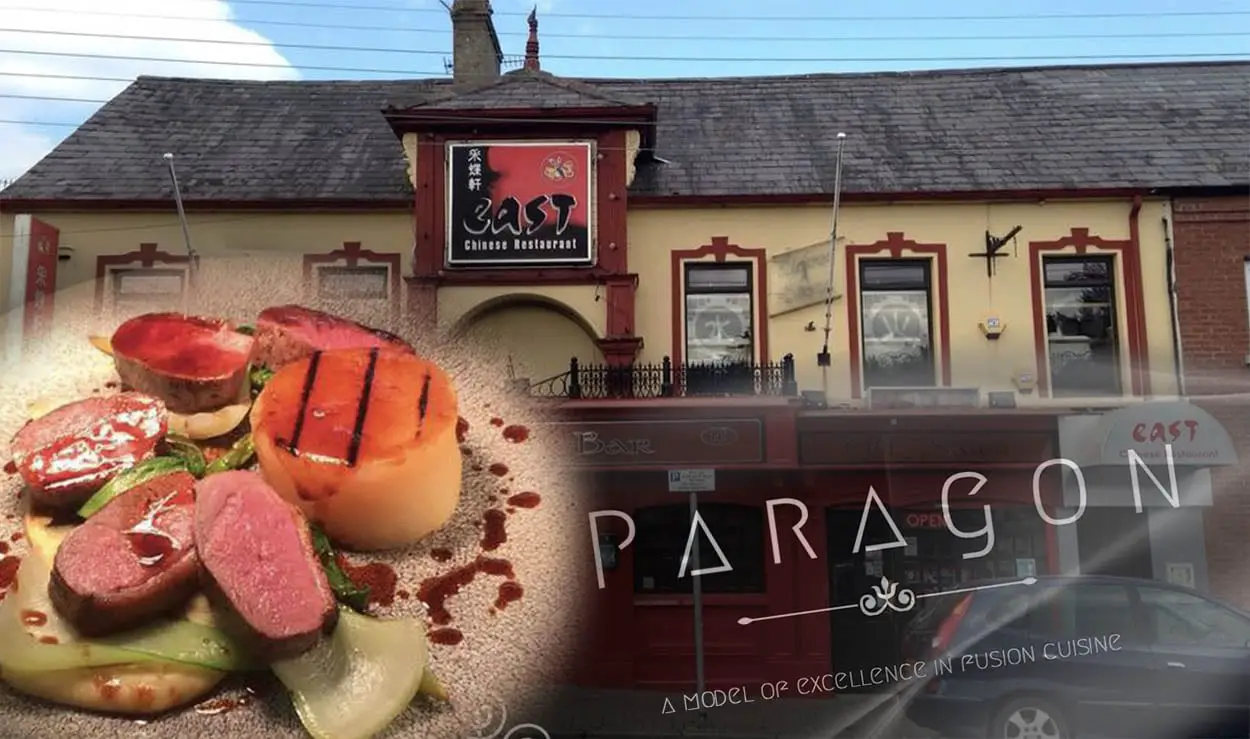 As an Armagh Chinese announced its farewell to the city this week, another exciting project is set to take its place.
The former East Chinese on Railway Street will be taken over and headed-up by an award-winning chef.
The restaurant will undergo a makeover and rebranding, with 'Paragon' set to open its doors to the public on Friday, August 25.
Paragon, as its name suggests, will combine a number of cuisines – including Chinese – but will retain the a particular perfection.
The restaurant will be managed by Geoff Lyndsay, 36, with award-winning chef Steven Theed, 34, controlling the kitchen.
Speaking to Armagh I, former hotel manager Geoff Lyndsay, said the menu, despite being wide-ranging, will contain only the best element of each cuisine.
"My wife's family run Tsan Chinese in Moy and we'll be taking the best, most popular dishes on that menu and incorporating them into the restaurant in Armagh," explained Geoff.
"The menu will also include steaks, burgers, vegetarian/vegan, just something different and if anyone who is on any kind of diet plan, we will be able to cater for them on request."
While Steven will take charge of the cooking, Geoff, who has more than a decade of experience in hotel management, will be taking front-of-house duties on board.
"We really want to have a hands-on approach with this new business," said Geoff.
"We both run our own separate companies but we're fortunate enough in the fact that they run themselves; we both have a lot of free time which will allow us to dedicate ourselves to this.
"At this stage we're just bursting to get at it. We have looked at doing something like this in the past but nothing seemed right, until this came up.
"We wanted something established, well-known and taking over East was a no-brainer really.
"It's in a great location and it's pretty much ready to go; we just need to put our own twist on it."
Kevin and Bonnie Ho had been running East for the best part of two decades and Geoff says if it wasn't for their help and trust, the project would not have been proceeding.
"They have been fantastic to deal with and we really just want to carry on where they left off.
"The fact that there's very little extra work that needs to be done is testament to them; they had their own reasons for wanting to move on but they left us with a very healthy business.
"We don't need to fix something that isn't broken but saying that, we will have own unique take on things.
"We will bring in our own kitchen team but we will also reach out to those front-of-house staff that worked there previously.
"We just want to thanks Kevin and Bonnie for making this a flawless transition and we wish them all the best in the future."
Want to check out their menu, click here.
Sign Up To Our Newsletter