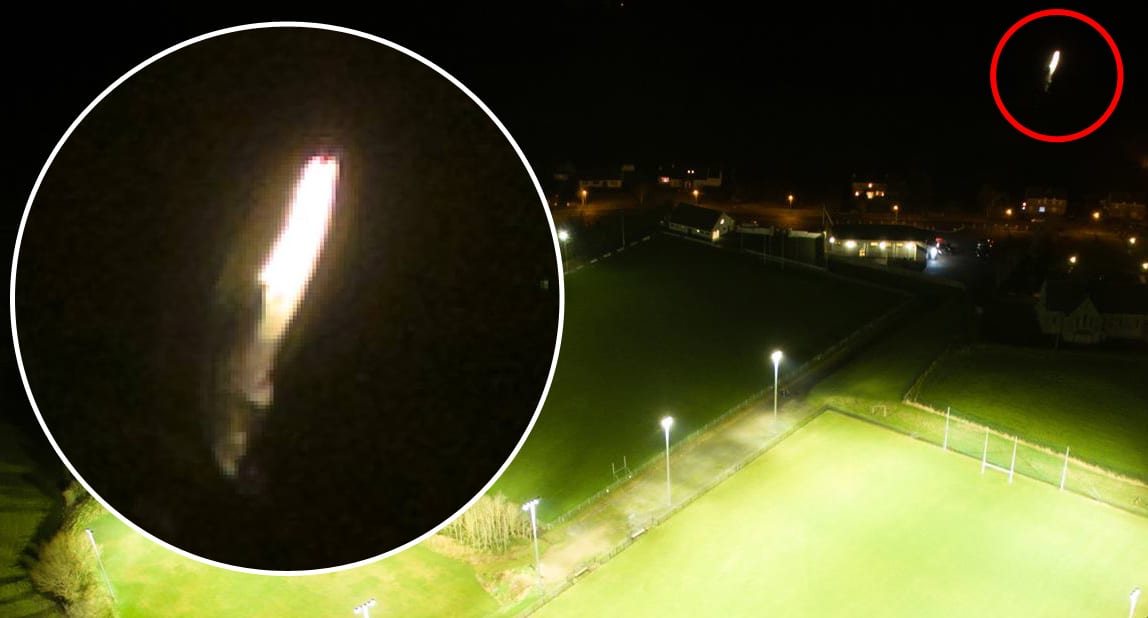 A photograph taken using a drone hundreds of metres in the sky seems to have caught a fireball streak across the Armagh skyline last night (Wednesday).
Aerial photographer Patrick Hughes was currently shooting photographs of Tullysaran GAA playing fields around 7.50pm when he made the capture.
Mr Hughes contacted Armagh I asking if there had been any sightings of a meteor that evening so we looked into it.
Astronomer at Armagh Observatory David Asher, speaking to Armagh I today, said the object may well have been a rocket.
"This looks interesting," said Mr Asher, when shown the pictures.
"At first glance a fireball comes to mind. On closer inspection (looking at the zoomed in image) the shape isn't quite like what we usually see for fireballs.
"My colleague suggested it's a lot more like what you'd see from a rocket. Not quite sure how to put the shape into words, but: this image looks more kind of sausage shaped, a fireball you'd expect to look more kind of streamlined and also with a flare towards the end of it, or a fireball moving top left to bottom, or a more elongated looking one moving top right towards bottom left."
He added: "It's true that the annual Geminid meteor shower was recently (peak on the 14th evening, thus just still active on the 16th evening), these meteors/fireballs come from the direction of the Gemini constellation. But as I said, the close-up doesn't really have the shape of a fireball.
"If we knew the direction of motion in this still image and if the direction was upwards then this would help to confirm that it could be a rocket."
What do you think it could be?
Read more news:
Four Seasons confirms to MLA 'formal offer' made to buy Hamilton Court
Search for missing Paddy ends in heartbreak for devoted family
Man (26) shot in both legs in County Armagh
Brazen thieves drink at clubhouse bar they were in process of robbing
Police and Fire Service attend early morning arson attack in Markethill
Tragic Keady girl's brave battle to help other children undergoing treatment for cancer
Sign Up To Our Newsletter