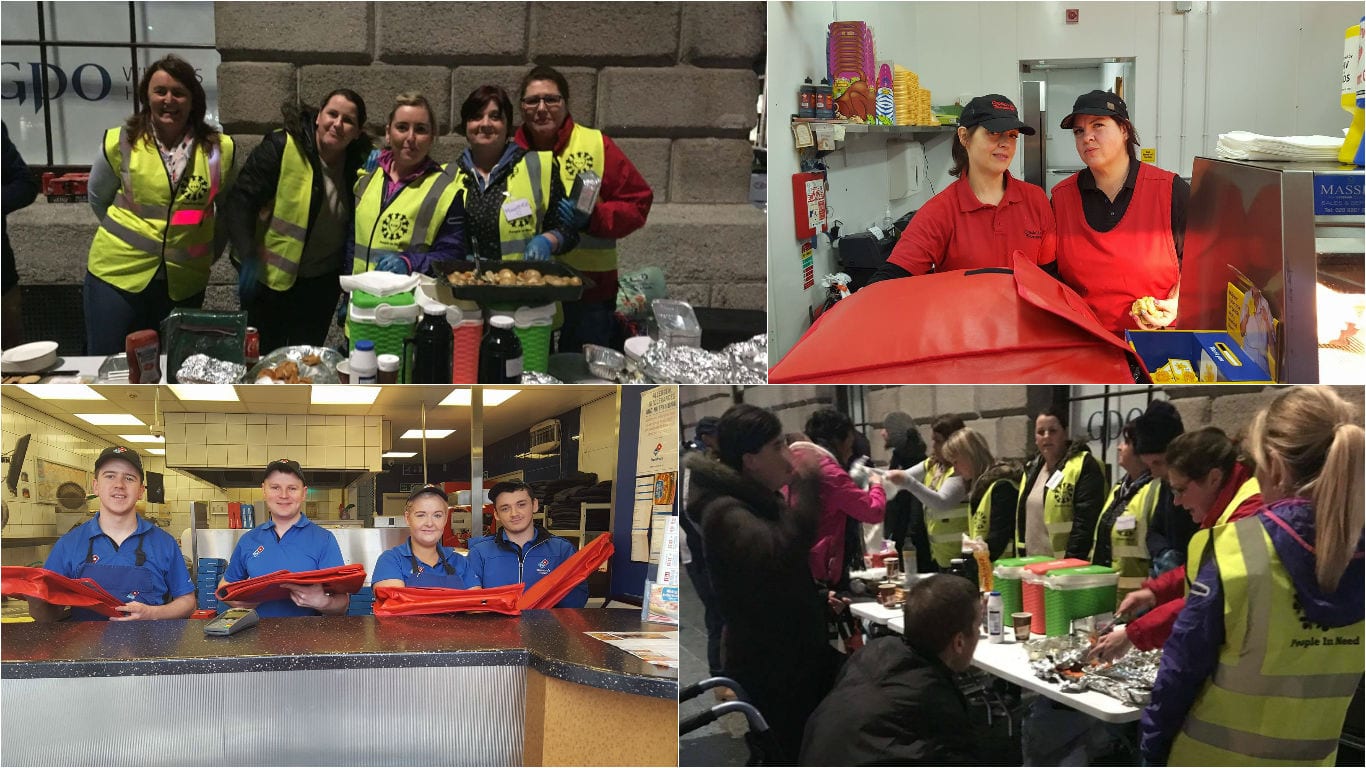 A couple of Armagh ladies are among a small group of people changing the lives of people in need one step at a time.
Gemma McWilliams and Geraldine McAneney are just two from a close-knit club of about 20 people from the Armagh and Newry areas; a group that pitch together in a bid to assist others in desperate need of help.
P.I.N (People in Need) is a Facebook group set up just last month in a bid to bring "a little bit of humanity back into the lives of the people we have come across on a weekly basis through outreach programmes north and south".
Their aim is simple: to assist people in crisis, both north and south, by providing a hot meal, a friendly face, a bit of dignity.
The group's first task was to help the homeless on the streets of Dublin on St Patrick's weekend.
Speaking to Armagh I about their experience so far, Geraldine explained how it all works and how businesses in Armagh have really come together to help their generous cause.
"The response has been fantastic since the group was established," said Geraldine.
"Last weekend we made our way to Dublin from Armagh with plenty of hot food ready to serve. We kept the stuff in heat bags so the food remained hot hours after it has been cooked."
She added: "We approached several local businesses for help as the number of people in need of help is increasing week-on-week and the businesses have responded brilliantly to us.
"Donations ranged from chip and sausages from Cordelia's; four large pizzas from Dominos and water and juice from Marks and Spencer. Everyone we have asked has got on board with the project."
Geraldine, Gemma and colleagues keep in close contact through Facebook messenger and they highlight each and every donation through their Facebook page, which has garnered a huge community presence in recent weeks.
On their recent trip to Dublin, as well as the donations, the group brought home-made food, clothes, personal care bags, sleeping bags and tents.
Geraldine added: "It was very successful as far as our mission was concerned, which was to feed and clothe the homeless.
"Everyone got stuck in and worked fantastically as a team. It really is like living your life on a roller coaster of emotions at times."
The group is still in its infancy but they are doing great things. If you want to get involved or help out, or even just to find out a little bit more about what they do, please visit their Facebook page here.
Sign Up To Our Newsletter