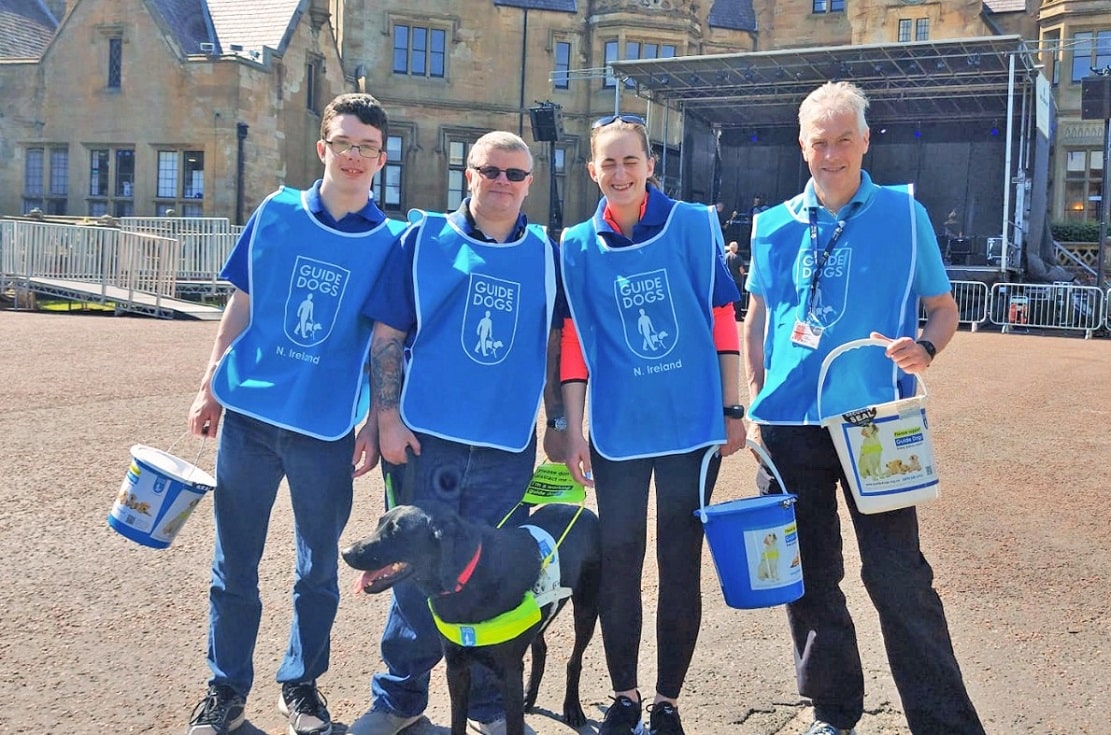 A County Armagh Guide Dog fundraising group has said they hope to "spread their wings" in the coming months and attract more volunteers to their work.
The Armagh Tail Blazers is a fundraising branch of the Guide Dogs charity; it's based in Portadown and covers a wide area, including Lurgan, Craigavon and Armagh City.
If you've been in a local supermarket recently, there's a good chance you've seen one of their little counter-top dog collection boxes. They also attend events such as the Balmoral Show and Country Comes to Town.
Last year, they raised over £20,000 for Guide Dogs.
The group currently has six volunteers and is led by Portadown man and guide dog owner Les Massey, who is assisted by his Black Labrador Munroe. They spend their free time out and about in County Armagh's towns and villages collecting much needed funds for the charity.
Back in June, Les won the coveted 'Partner' Award at the Guide Dogs charity's Volunteer Awards in Parliament Buildings, Stormont.
Les, who has volunteered with the group for over five years, was recognised for his commitment to coordinating the branch and welcoming new members, as well as collaborating with local businesses to secure space for Guide Dogs counter-top boxes.
Speaking to Armagh I about the work of Armagh Tail Blazers, Les said: "People in County Armagh are really really generous and we do really well. We're always out and about lifting money. As a group we're always trying to figure out different ways of fundraising and trying to get into different places."
Les says that the main priority of the group at the moment is bringing on board more volunteers so that they can increase the scale of their charity collections.
"The more volunteers we have, the more we can do," he explained. "We don't take ourselves too seriously. We have a laugh and a joke but at the same time we're there to collect money and that's the main thing. We're just a very friendly group and we all get on so well."
Les, who says that his eyes have deteriorated over the years, told how he was invited to join when the group was started, eventually taking over the running of it.
"Since I took it on it's brilliant. If your struggling there's always someone on the other end of the phone."
As someone who is assisted on a daily basis by his guide dog Munroe, Les knows more than most the vital contribution that the Guide Dogs charity makes to the lives of many across the UK.
Of Munroe, Les said: "He's brilliant. An absolutely fantastic dog. You put the harness on him and he knows he's going to work. He knows Killicomaine like the back of his hand."
Les is also keen to emphasise that the Guide Dogs charity is about more than just training dogs, adding that the charity is involved in work in schools and colleges and helps to train people to use canes.
"Dogs are the main thing but there's other stuff there that people don't realise," he said.
According to the Guide Dogs charity, in 2019 it cost £34,600 to breed and train a single guide dog and £54,800 to support a guide dog from birth to retirement.
These high figures mean that, for Les, every penny counts.
He added: "As volunteers, we really try our best to get as much money as possible because we don't get any help from the government. All money that we raise goes straight to Guide Dogs and stays in Northern Ireland.
"We are hoping to spread our wings across the rest of County Armagh but we need more volunteers. If we had more volunteers we could spread out a bit more. No one is expected to do or go anywhere unless they are free. We are just volunteers and do this when we can but usually we manage to do all we are asked."
Anyone interested in volunteering with the charity is encouraged to contact gary.wilson@guidedogs.org.uk. You can find out more about the work of Guide Dogs by visiting their website here.
Sign Up To Our Newsletter