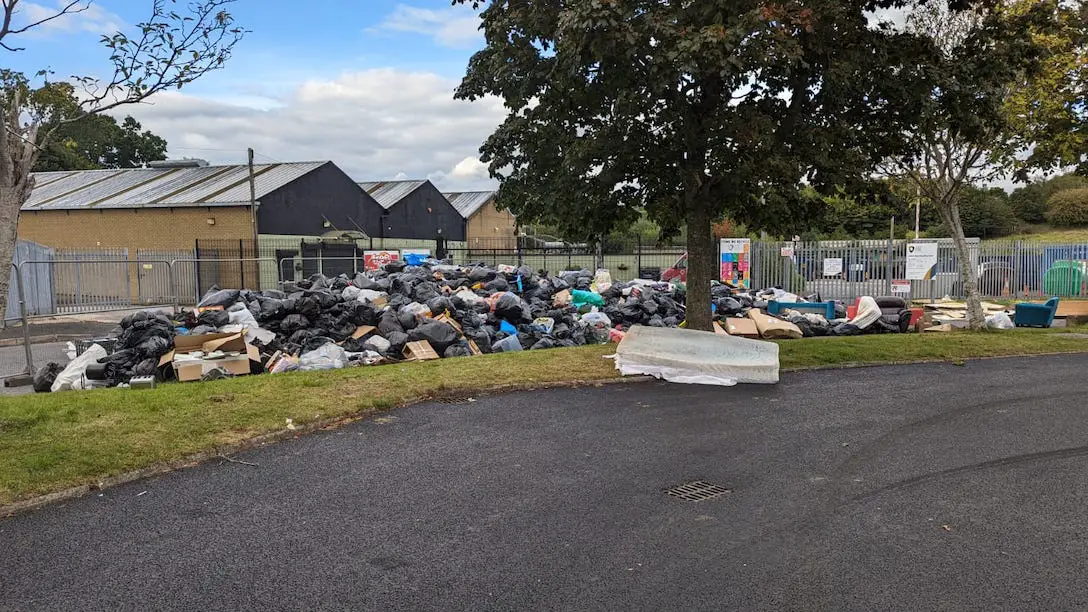 An Armagh mother has hit out at the shameful mountain of rubbish piling up just yards from her daughter's playgroup.
The Firs playgroup is situated at the end of Station Road, next the the Council's amenity site, and for more than five weeks, a steady build up of rubbish has been accumulating.
And one mum says she is at her wits' end with the whole situation.
Megan Smyth says she is trying desperately to get something done about the mess outside as people dump their rubbish at the gates, some of which is piled 6-7-foot high now, as talks between ABC Council and the trade unions continue – so far without resolution.
"It's such a risk to the little children and the staff," said Megan, who described her attempts to contact the Northern Ireland Environment Agency as "fruitless".
"I'm wondering if any media coverage would help shame someone into doing something? I just feel everyone is letting this slide too easily.
"The fly-tipping outside the centre is a huge public health concern and why should three-year-olds and staff have to be subjected to this daily?
"The rubbish is spilling into the newly surfaced car park of the playgroup now too and the park attached to it is littered with dog mess as well. It's getting to the stage that I don't even know if it is safe to send her."
Megan said the playgroup is such a beautiful setting with a "a lovely outside area for growing fruit and veg which is used daily by the children" but noted that this joy has been ruined by the build up of the foul smelling rubbish.
She added: "I witnessed staff trying to drive through it to get in one morning. The railings went up the next day but it has just made the pile grow higher. It must be a good 7ft high.
"There was even a man drove up at pick up time and just emptied his car of rubbish, in front of all the families."
Sign Up To Our Newsletter