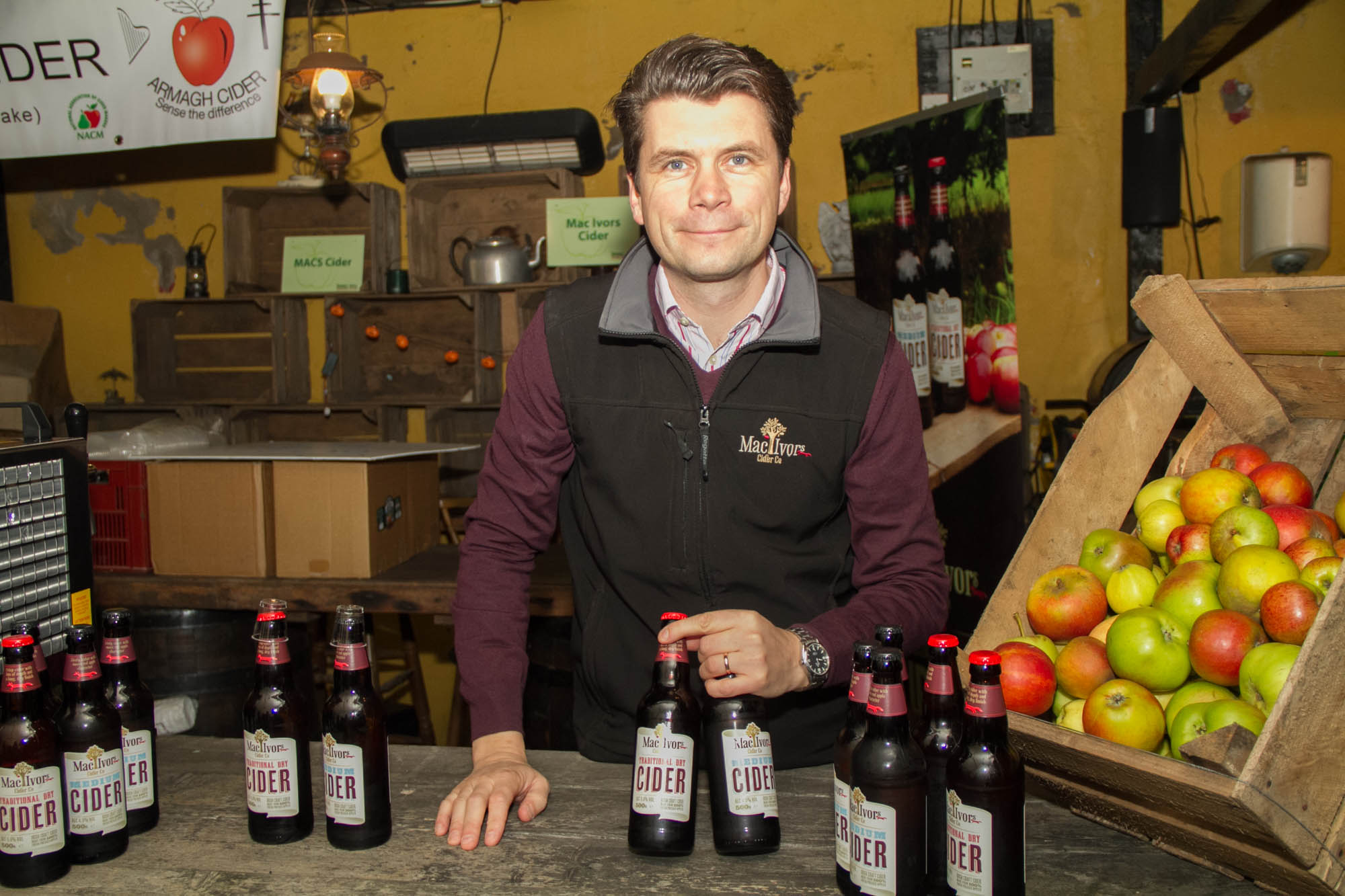 The chairman of Tourism NI has described Armagh as one of nine key designated visitor destinations in Northern Ireland and said he was proud to stand side by side with the people of the Orchard County.
Terence Brannigan was speaking as this year's special guest at the second Richhill Apple Harvest Fayre where over 30 food and drink producers gathered to sell their produce as a celebration of the end of this year's harvest.
Mr Brannigan described Armagh city's Georgian architecture and Christian heritage as key to tourism with its hinterland rich in cultural experiences, scenic landscapes and outdoor adventure as major attractions for local, national and international travellers.
Over 2,000 people gathered again this year in Richhill to sample the tastes and flavours of the local landscape.
Mr Brannigan said: "I am here at the Richhill Apple Harvest Fayre as a big fan of the Armagh Bramley Apple but also because of the great significance this region has for tourism in Northern Ireland and no more so than at this harvest time of year.
"This area is one of nine key visitor destinations designated across the whole of Northern Ireland so, as Tourism NI Chairman, I welcome this opportunity to stand side-by-side with the people of Richhill in celebration of the Bramley Apple, the tastes and flavours of the local landscape and the warmth of the Richhill community.
"The interest in this event across Northern Ireland, and further afield, has been very strong and I believe that this is because Richhill Apple Harvest Fayre has put its finger firmly on the pulse of our key tourism themes of the moment.
"In the run up to Northern Ireland's Year of Food and Drink initiative in 2016, I congratulate the organisers in choosing a very opportune time to showcase our local food heritage and to unlock experiences of the produce, culture and traditions."
The event, which was funded by The Heritage Lottery Fund, Armagh City, Banbridge and Craigavon Borough Council and sponsored by Food NI , Wilson's Country, Irwin's Bakery and MKB Contracts, was described as 'important' to Northern Ireland's tourism sector.
Mr Brannigan added: "I cannot emphasise enough how important an event like Richhill Apple Harvest Fayre is to tourism. I am delighted that Richhill Women's Institute has played a very special role in the Great British Menu this year, with local chef Chris Magowan championing our Armagh Bramley on national TV. This kind of exposure demonstrates the ways in which fine flavours and local stories can be very powerful in promoting to large scale audiences our food and our tourism industry.
"This event allows local producers, businesses, communities, visitors and the people of Northern Ireland, to connect with our natural and abundant landscape in fun, fresh and exciting ways, thereby celebrating what the land produces, while helping deliver prosperity.
"It's telling the world that we are proud of who we are and proud of what we produce. This can only strengthen our message that Armagh in particular and Northern Ireland in general are strong foodie destinations that are worth exploring."
Barry Gracey, chairman of the Richhill Apple Harvest Fayre, said: "The community of Richhill have very successfully run two fayres now. We are overwhelmed by the public support for this event. It demonstrates the power of local people, local stories and local contributions on a much bigger scale.
"We were delighted to play host to international and national food and drink writers who came to our village to savour the flavour of what we had to produce. This, and the Great British Menu, are excellent platforms to showcase to the rest of the world what the people of Richhill can achieve."
Sign Up To Our Newsletter