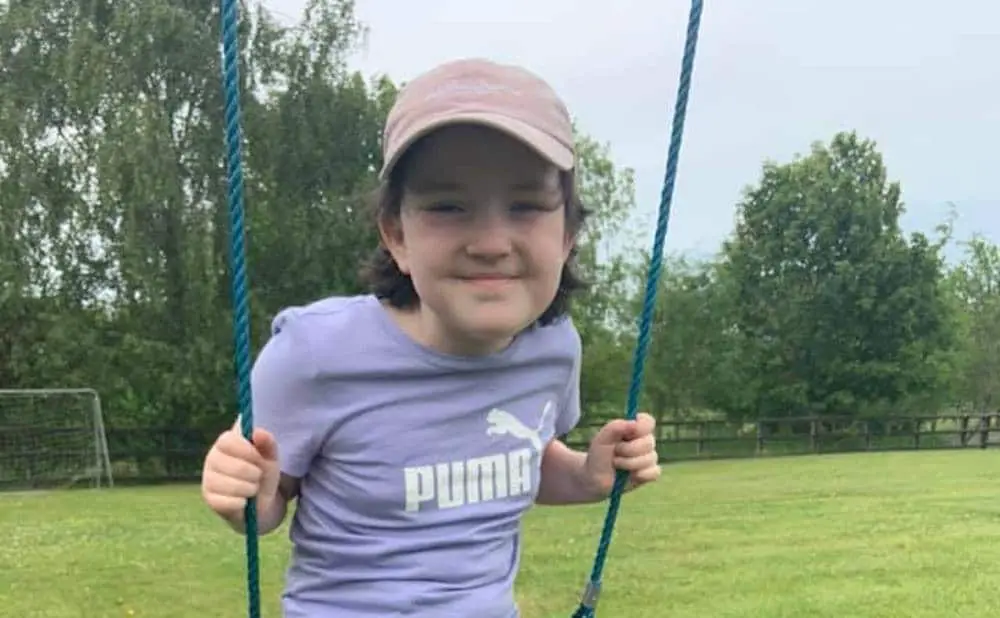 An Armagh schoolgirl who has battled a rare form of cancer for over two years has finally completed all her treatments at Belfast's Children's Hospital.
And family of Katie Rose McKeown – a pupil of St Patrick's Primary School in Armagh – say they are delighted as the day they and many others have prayed for finally arrived. Now, the consultants are hoping no further treatments will be required.
The nine-year-old, the youngest of three children for Kevin and Una, was diagnosed with Stage 4 High-Risk Neuroblastoma in March 2018.
The young Armagh girl began to feel unwell in December 2017 and developed a temperature and a rash.
The family would later learn the devastating news.
It led them to start a fundraising drive for Solving Kids Cancer, which would allow them to look to further treatment in the United States if and when required and when all options available under the NHS had been exhausted.
Tens of thousands of pounds were raised for this fantastic cause and the community really took Katie Rose and her family to their hearts.
Even Lord Mayor Mealla Campbell, who handed over the reins on Monday night, had chosen Katie Rose's Journey as one of her good causes to support during her year in office.
Now the family have confirmed that 26 months after her initial diagnosis, Katie Rose had her central line removed in theatre on Friday.
They shared the news on social media.
The family revealed: "Her consultant was pleased that her latest scans showed she did not need any further treatment.
"She didn't get to 'ring the bell' today to acknowledge her 'end of treatment' as she was feeling groggy after her anaesthetic but hopefully in the coming weeks ahead she will. What an entire journey it has been."
During her treatment, Katie Rose has had to undergo 10 chemotherapy sessions with seven different drugs, stem cell harvest, an eight hour surgery to remove her abdominal tumour, 16 infusions of high dose chemo, stem cell transplant, 24 high dose radiotherapy with 24 anaesthetics, and several months of immunotherapy, only to find out she had relapsed nearing the end of her frontline treatment.
Katie Rose was then put on a further six month clinical trial of oral chemo and antibody combined.
Said her family: "Thankfully she was able to be at home for most of this treatment. Katie Rose completed this treatment in January and has not been on any treatment since then.
"Alongside all of this were the many unplanned hospital admissions at all hours of the night with high temperatures following all her chemos. The countless antibiotics when chemo would make her neutropenic, leaving her susceptible to life threatening conditions on top of fighting her cancer. Anti-sickness medication to help alleviate the constant nausea and vomiting associated with her many treatments.
"Nasogastric feeding for 22 months to give her ongoing vital nutrition and to help maintain her weight and support her diabetes too, making administering her insulin more manageable. Also managing her diabetes/blood sugars as high blood sugars breeds infection was sometimes a challenge due to her treatments."
Katie Rose underwent further blood transfusions and platelet transfusions, and countless MRIs, MIBGs, pet scan, bone marrow biopsies, kidney, heart scans, ultrasounds, blood tests and procedures, as well as the ongoing regular monitoring following all her many treatments.
But this week brought a momentous day.
As the McKeowns said: "We as a family are absolutely delighted beyond words for Katie Rose, just to see this day come at last. Though we are also very mindful that this particular cancer is an aggressive one, so we will never get too complacent either.
"It is most unfortunate that this whole oncology journey has led us to think this way now. Nothing will ever change this, but we are also incredibly grateful to have Katie Rose as well as she is today.
"The constant fear will never ever leave us but we are determined to remain hopeful as we always have been throughout.
"This 'hope' is united alongside Katie Rose's constant bravery to fight her cancer battle being the unique heroic little person she is.
"So for now we plan to build on living the 'new norm' as we have learnt to do so and let our little 'Inspirational Superhero Katie Rose' enjoy some normality again with us as a family as a whole – even if it is in the midst of this current pandemic."
The family said they are now in the process of consulting with professionals in New York to see if Katie Rose is eligible for a vaccine trial.
For now, the family would like nothing more than to thank all those who have supported them.
And they ask too: "Please continue to keep Katie Rose in your prayers."
Sign Up To Our Newsletter