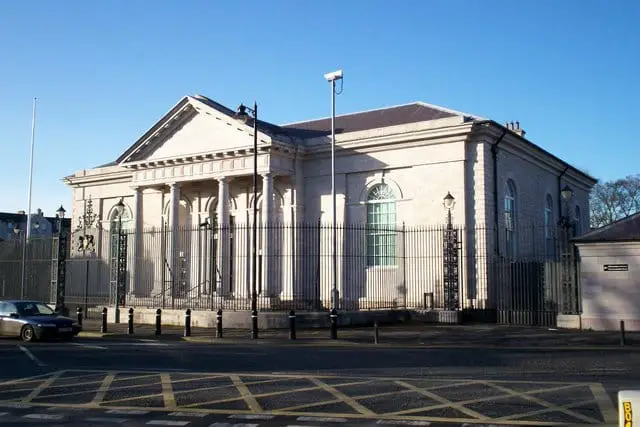 There will be urgent calls for a review levelled at Justice Minister David Ford this week when Armagh Courthouse is recommended for permanent closure.
Despite a hard-fought campaign to keep it open, Newry and Armagh Ulster Unionist MLA Danny Kennedy has expressed his fears the Department will drop the bombshell when a committee meeting sits at Stormont on Thursday.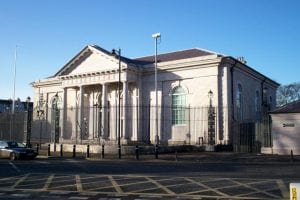 Mr Kennedy told Armagh I today (Tuesday): "I have recently received information which suggests that later this week the Department of Justice will announce the closure of Armagh Courthouse.
"There is no doubt in my mind that this would be a retrograde step, given the strategic importance of the building in Armagh City, the important service it provides to the region and the aesthetic value of the building itself.
"It is a landmark building in Armagh City centre and has been the subject of several terrorist attacks. Furthermore, it has also undergone major refurbishment and renovation in recent years at considerable cost."
Mr Kennedy said he would be demanding Mr Ford look again.
"I will be demanding that the Minister urgently reviews any closure decision given the significant widespread political and community support for the retention of this iconic building and the service it provides in Armagh," he added.
Armagh Councillor Sam Nicholson endorsed his party colleague's comments and said: "Armagh Courthouse is indeed a landmark building within the City and district. In addition to its striking appearance, it also represents a significant physical symbol of law enforcement in the city and surrounding area.
"There is no doubt in my mind that in security, justice and legal terms, closing it would send out a very negative signal to the entire law abiding community.
"It would be a major blow to Armagh and the wider area if it were to be closed."
As Armagh I exclusively revealed last January, closing the listed building will save just £217,406 a year.
A public meeting in March heard from solicitors, politicians and others with a vested interest in retaining the Courthouse.
Armagh City, Banbridge and Craigavon Borough Council employed consultants to put together a document arguing for its retention.
As Armagh I previously reported, a decision was due to be taken in the autumn.
And it will be recommended to the Justice Committee at Stormont on Thursday that Armagh should close.
The iconic building would then be sold off, as we revealed.
Two options locally had been put on the table but both had included the loss of the Armagh Courthouse.
We reported that it was a "poor" public transport system that actually saved Downpatrick Courthouse from the chop, with the spotlight falling on Armagh instead.
Eight courthouses across the Province were earmarked for the axe, amid plans to reduce the number here from 20 to 12.
The number of divisions is also being reduced from seven to three.
Armagh, along with Newry and Mourne and Banbridge, currently form the County Court Division of Armagh and South Down.
Closures would leave three divisions only.
The South Eastern would cover the super-council areas of Armagh, Banbridge and Craigavon, and Newry, Mourne and Down.
The Northern Ireland Courts and Tribunal Service had sought views on two possibilities for future services in the expanded area.
The two options on the table were firstly, under the first Specialist Court Centres proposal, Craigavon would become the main Civil, Family, Youth and Tribunals Centre for the Division and Newry will be the main Criminal Court Centre.
The second option would simply see all Armagh court business transferred to Newry.
It has been revealed that consideration had been given to closing Downpatrick Courthouse, which also would fall in the new South Eastern Division.
But what has been described as the "poor public transport links" essentially saved it, as it was felt this would cause court users "real difficulty in traveling to either of the alternative venues".
The closure of eight of our courts would save the Justice Department a total of £1,054,728 a year.
Armagh, Ballymena, Enniskillen, Limavady, Lisburn, Magherafelt, Newtownards and Strabane were all in the firing line.
Closing Armagh Courthouse would save a total of £217,406 a year, it has been estimated.
Justice Minister David Ford – speaking when the recommendations came out last January – said: "Court closures will undoubtedly have a significant impact on court and tribunal users. But we are committed to working with the Judiciary to minimise the impact and to ensure efficient and effective service delivery."
"The actual savings achieved will depend on the final decisions made following the consultation process.
According to the NICTS, the savings in excess of £1 million does not include the additional consequential savings expected through a "reorganisation and streamlining of administrative business processes at the remaining venues".
Read more news:
County Armagh man dies in Australian road crash
Two passengers cut free from vehicle and taken to hospital
Bid to vary planning consent conditions to allow huge housing project proceed
Serious RTC on Moy Road, Armagh last night
Kindness of strangers helps terminally ill David wed love of his life Katy
Man airlifted to hospital after county Armagh crash
Newsletter
Sign up for our weekly newsletter here.