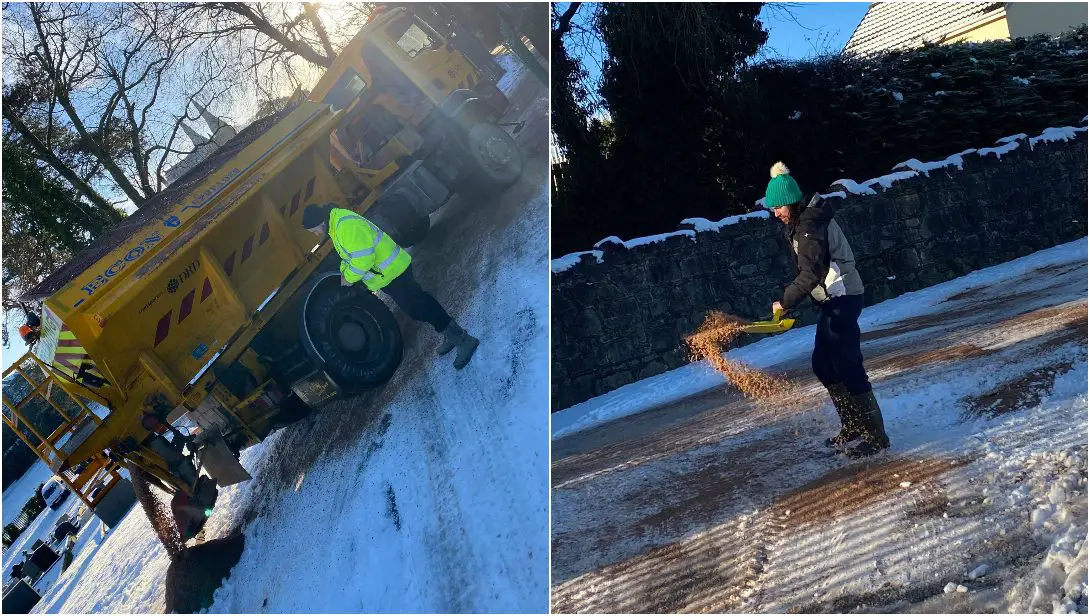 It's in times of need the Armagh community really stands up and is counted – today was another one of those occasions.
Three grieving families laid their loves ones to rest in St Patrick's Cemetery earlier on Monday.
However, conditions leading up to, and around the graveyard, were "extremely hazardous, dangerous and non-negotiable for people and vehicles", said Armagh resident John Fields, who was full of praise for the prompt action taken by two local councillors in getting a grit lorry out to remedy the treacherous walkways ahead of the funerals.
He added: "Great thanks to Councillors Garath Keating and Bróna Haughey, who with a few phone calls undertook very expeditious work, which resulted in the subsequent arrival of a grit lorry.
"[The lorry] with some professional, delicate manoeuvring dumped the grit as near to where it was needed as possible.
"Garath even arrived to help grit the internal paths thus ensuring a safe a passage as possible for the funeral cortèges later. Great work from both of you that needed done in a hurry."
Councillor Keating, speaking to Armagh I, said he just did what anyone would have done in the circumstances and "grabbed my shovel".
The Sinn Fein councillor, who answered the call just before 9am, praised the efforts of Mr Fields – who himself put in a shift to help solve the problem – and Roads Service.
"I was contacted just before 9am to advise that the hill leading up to the graveyard, and the hill inside the graveyard were severely frozen with compacted ice making it impassable for three funerals expected through the day," Councillor Keating explained.
"The parish staff had been working hard to try and treat the surfaces but the intensity of the problem was desperate and in need of a heavy duty solution."
That heavy duty response was provided by the Roads team at the Armagh depot.
"Councillor Haughey got on the phone to DFI Roads Service whilst I headed over to the local depot to get salting grit.
"Thankfully they were able to divert one of the gritter vehicles to call over and myself, along with a few others were able to help spread it out along the roadway and steep paths to make it passable for the funeral cortèges.
"It's hugely sad and difficult time for families burying loved ones at the best of times so I certainly didn't want the treacherous conditions to be adding any further stress to an already difficulty situation."
"I'm just glad that I could offer some assistance and very proud to belong to such a great community here in Armagh where people look out so much for each other, and today was just another one of those days."
Sign Up To Our Newsletter