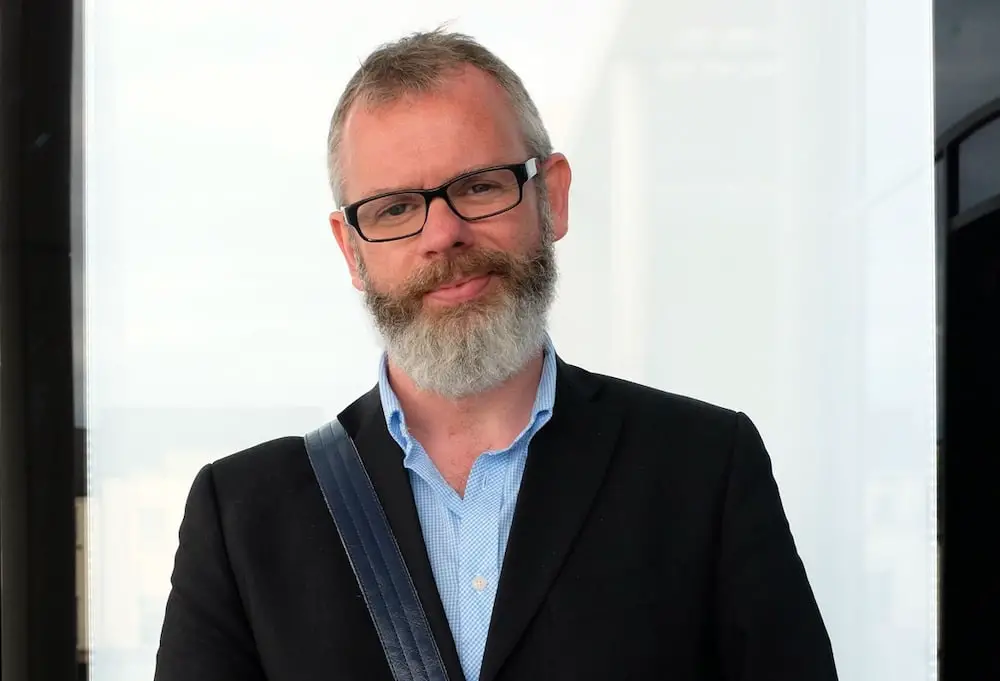 An Armagh-born playwright says he is "absolutely thrilled" to have been nominated for a top gong at this year's Irish Film and Television Awards.
Daragh Carville – who wrote the critically-acclaimed ITV show The Bay – is in the running for 'Best Script Drama' for the six-part series.
Screened in March last year, The Bay starred Morven Christie as Lisa Armstrong, a family liaison officer searching for two teenagers who have gone missing in the coastal English resort of Morecambe.
The show was an instant crowd-pleaser and a second series – completed in the nick of time ahead of lockdown – will be a huge treat for fans.
Daragh, who is originally from Armagh city and now lives in England, has had no word yet on when that second outing will air but admits he will be "singing it from the rooftops" when he does.
Armagh I passed on our congratulations this week to the Armachian, whose past plays include Language Roulette, Observatory and This Other City, all of which have been widely produced throughout Europe and the United States.
His movie credits include Middletown, starring Daniel Mays and Ripper Street actor Matthew Macfadyen, the award-winning Cherrybomb, with James Nesbitt and Harry Potter star Rupert Grint, as well as numerous TV series, including Being Human, 6 Degrees and The Smoke, a major drama series for Sky One.
Now to learn he is in the running for the Irish industry's biggest awards is a huge back-pat for this boy from the County Armagh.
He told Armagh I : "I'm absolutely thrilled to be nominated for an IFTA. The Bay is very much rooted in the North of England – where I'm currently based – and written in the voices of that place so it's especially pleasing for me to be nominated for an award from back home in Ireland."
Daragh admits it was a nervous time waiting to hear how the first series would be received; obviously audiences and critics make or break a show.
And in this case it was a huge thumbs up!
"The broadcast of The Bay was quite nerve-racking," Daragh said. "Obviously we've been working on the show for quite a while, but you never know how an audience is going to react, so when the response was so positive it was both a relief and a thrill.
"We got an average audience of around eight million viewers per episode, which was way beyond anything I expected.
"And audiences did seem to take to the character of Lisa, not least because of the brilliant performance by Morven Christie."
The Irish Film and Television Academy is currently finalising plans for a bespoke virtual 2020 Awards Ceremony scheduled for September, with full details to be revealed shortly. It has also confirmed that due to Covid-19 restrictions there will be no physical IFTA Awards until April 2021, in keeping with best international practice across awards ceremonies worldwide.
For Daragh, he is up against some other class acts in the Best Script Drama category, which gives a superb showing for Irish talent working at home and abroad, with the others nominated namely Ronan Bennett for Top Boy, Mark O'Connor for Darklands and Mark O'Rowe for Temple.
He really is in good company in his category and is a fan of their work.
"I'm a huge admirer of all the other nominees," he confides, before he cheekily jokes: "Though of course I don't want them to win!"
Looking across the whole list it is really striking how much Irish talent there is to be found within the TV and film industries.
Daragh – who is "busy with other scripts" at this present time – said they were favoured with good fortune in getting a second series of The Bay completed before Covid-19 struck.
He added: "We were quite lucky with the lockdown – compared to a lot of other shows – because we'd more or less finished production of series two.
"There were just a few post-production things to finish up, which we managed to get done remotely.
"We don't know yet when series two is going to be broadcast but as soon as we know anything I'll be singing it from the rooftops!"
Across the entire awards listings, names including Liam Neeson, Adrian Dunbar, Brendan Gleeson, Cillian Murphy, Saoirse Ronan, Jessie Buckley and Roddy Doyle, are among those which jump off the page in various categories, and shows like Dublin Murders, Viking, Killing Eve and Game of Thrones are just some of many contenders too.
Daragh says it is clear that the future is bright for the industry although it may take some time to bounce back.
He added: "I think this is a really exciting time for Irish film and TV. Dramas like Normal People and The Virtues, comedies like Derry Girls, movies like Ordinary Love testify to the talent in Ireland and the brilliant stories there are to tell here.
"But obviously the industry – like everyone else here – is facing massive challenges at the moment and we're going to need help and support.
"But if ever we needed our artists, our actors and our storytellers it's now."
Sign Up To Our Newsletter