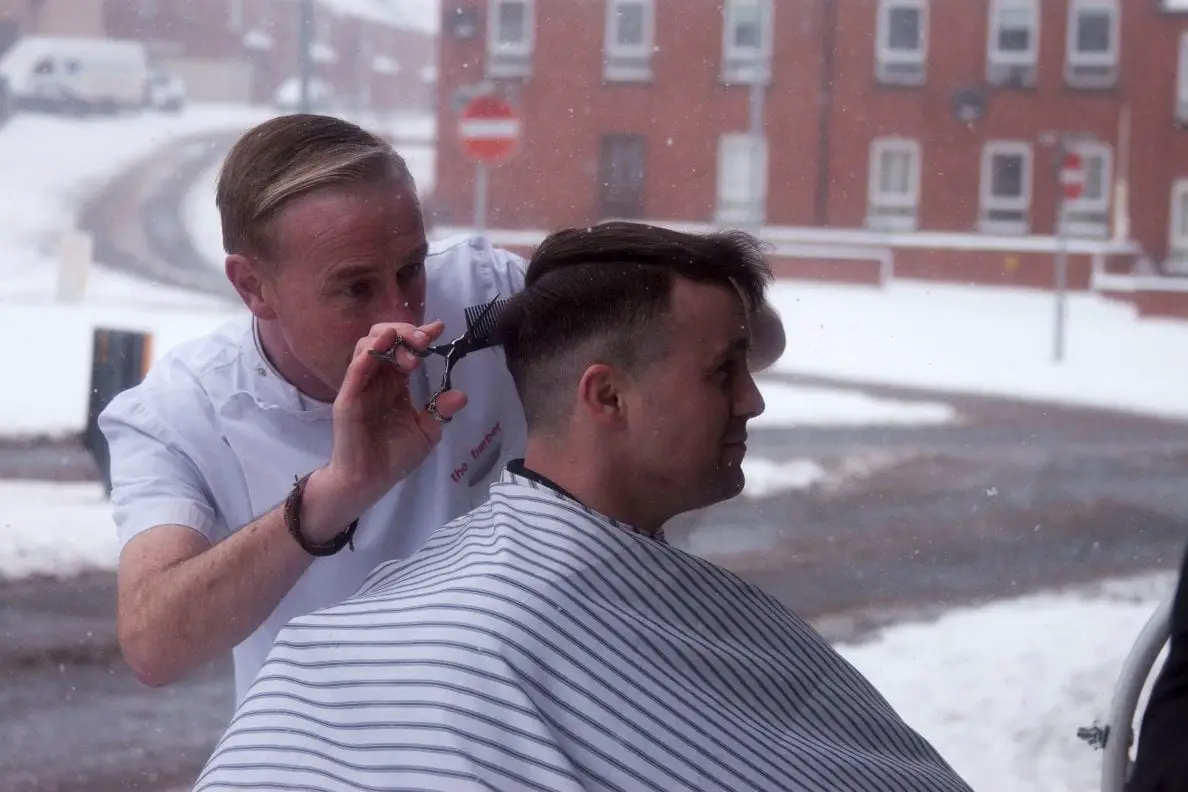 An Armagh barber has said he is "overwhelmed" to have been nominated for three top industry awards in Northern Ireland.
Mark McSherry – who runs The Barber at Lower English Street – has been featured in the top 10 of the Northern Ireland Hair and Beauty Awards 2018.
He is the only Co Armagh entrant in the running for Men's Stylist of the Year.
Mark is absolutely thrilled.
He told Armagh I : "I'm overwhelmed, not only to be in the top ten three years running going into the finals, but to named in three categories – and be the only barber again anywhere outside of the like of the big cities like Belfast, L/Derry – is humbling!"
Mark is also in the running for the overall Co Armagh Award, as well as the Barbers of the Year.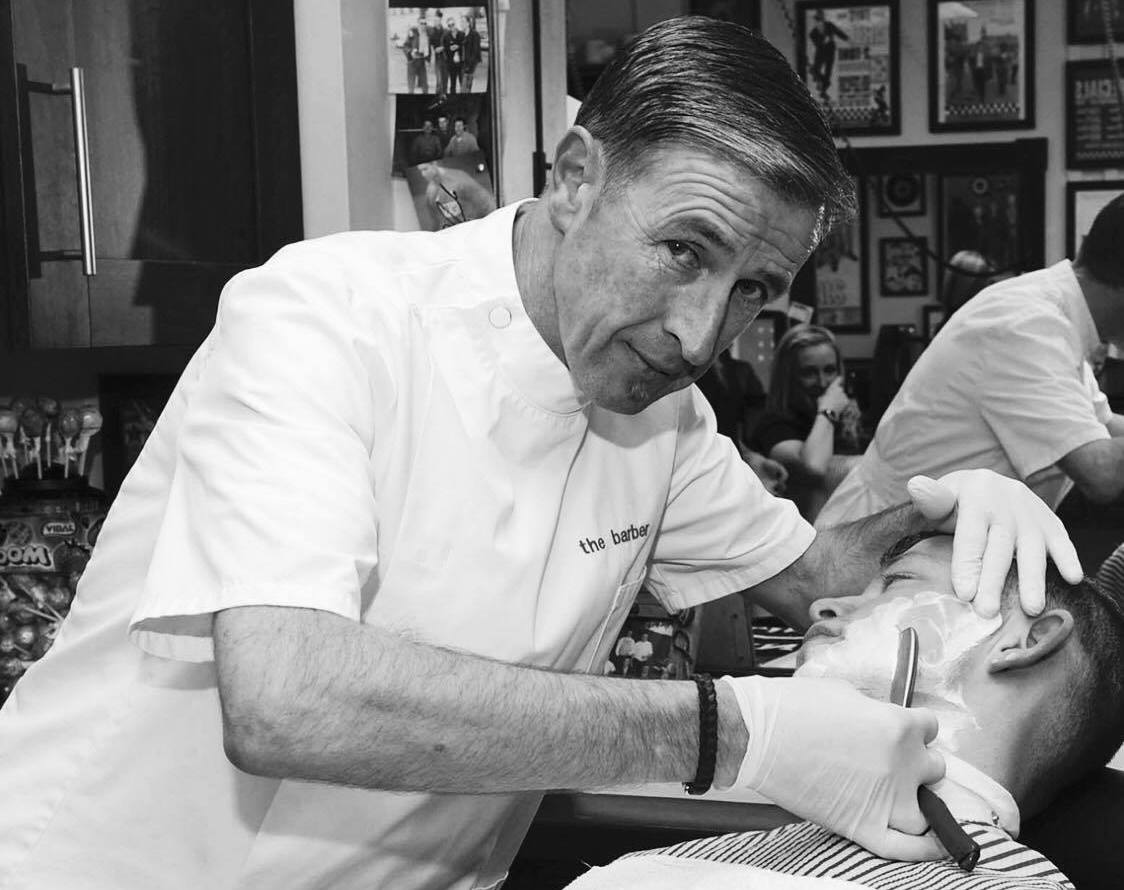 Organisers say there was a tremendous response from the public with thousand of nominations received, after which the list of finalists was compiled.
The awards seek to provide a platform to acknowledge and honour the impeccable and tireless work of the best professionals and businesses in the Northern Irish hair and beauty industry.
The elegant ceremony – which will take place at the Crowne Plaza Hotel in Belfast, on Sunday, July 8 – promises to be the most memorable event in the hair and beauty industry calendar this year, with many accolades to be awarded in categories such as Hair Salon of the Year, Nail Salon of the Year, Hair Stylist of the Year, Beauty Salon of the Year and many more.
The awards seek to acknowledge and honour the many tireless professionals and salons whose sole aim is to always provide their customers with impeccable services, making them look and feel fantastic.
Creative Oceanic launched the official Hair and Beauty Awards in Northern Ireland four years ago.
The English, Scottish, Welsh, Irish and London Hair & Beauty Awards have all been successfully established over the years as well, and this year the inaugural Toronto Hair and Beauty Awards were launched, increasing the brand's international appeal and recognition.
Mark is delighted therefore to be competing against the very best and wants to thank his loyal customers.
He added: "The public who vote as well never cease to amaze me with there continued support.
"It's enough for me to be named and mentioned knowing that so many lovely people think highly enough to bother!
"It makes me a winner in my book anyway every day I get out of bed!"
The finalists for the Northern Ireland Hair and Beauty Awards are as follows:
Beauty Salon of the Year
County Fermanagh
Base Hair & Beauty (Enniskillen)
The Door to Perfection (Belleek)
Blossom Hair & Beauty (Enniskillen)
Purple Haze Beauty Salon (Irvinestown)
County Tyrone
Beauty Secrets (Dungannon)
Beauty Bliss (Aughnacloy)
Beauty S J (Dungannon)
Beyond Beauty (Omagh)
Aura Beauty & Wellbeing (Strabane)
Bliss Beauty Boutique (Trillick)
Cara's Beauty Boutique (Coalisland)
Roisins Nails and beauty (Omagh)
County Derry/Londonderry
Chloe's Beauty Bar (Maghera)
Coco & Rose Beauty & Body Clinic (Magherafelt)
Capital Beauty (Portstewart)
Envy Emporium (Magherafelt)
The Special Touch (Castledawson)
Lmd Salon (Magherafelt)
Beauty Express (Coleraine)
Secret studio (Coleraine)
County Antrim
About Face Beauty Ltd (Carrickfergus)
Anita's Health and Beauty Clinic (Antrim)
Baytree Health and Beauty (Randalstown)
Beauty Boulevard (Lisburn)
The Velvet Rose (Ballymena)
Beauty Secrets Salon Group (Ballymena)
Bronze Tanning & Beauty (Ballymena)
Simply Hair and Beauty (Carrickfergus)
County Down
The Beauty Spot (Newtownards)
Tranquil Beauty (Castlewellan)
Beauty Boutique (Lisburn)
Beauty Loft (Annalong)
Glam Nail and Beauty (Lisburn)
Charmed Nails & Beauty (Comber)
TheeOne Hair, Tanning, Beauty & Spa (Newry)
The Beauty Box (Downpatrick)
County Armagh
Beautywithin (Portadown)
Beautifi Beauty (Markethill)
Bronze Tanning & Beauty (Armagh)
Fab Beauty at Armagh City Hotel (Armagh)
Retro Beauty Camlough (Camlough)
Dolled Up Beauty Lounge (Hamiltonsbawn)
Pure Beauty (Portadown)
Oasis Beauty Clinic (Portadown)
Fee Nails (Armagh)
Belfast
Lipstick & Lashes
The Parlour Hair & Beauty
#onfleek
The Beauty Box
BeautyHutt Training Academy
Gemini Beauty Studio
Wigs and Wags
Urban Beauty&Skincare Centre
Zest Beauty Clinic
Serenity Nails and Beauty
Hair Salon of the Year
County Fermanagh
Becky McClaughry Hairdressing (Irvinestown)
GR Hair Studio (Enniskillen)
Salon Twenty 2 (Eniskillen)
Siobhan at GR Hair Salon (Eniskillen)
MMD Hair (Irvinestown)
County Tyrone
Oh So Boho Hair Design (Donaghmore)
Del Loughran Hairdressing & Makeup (Sixmilecross)
The Hair Lounge (Dromore)
Amy's Hair Studio (Coalisland)
Coco Hair & Beauty (Strabane)
Ryan Hickinson Hairdressing (Newtownstewart)
The Dolls House (Dungannon)
Vicky's Hair Studio (Dungannon)
Zero Hair&Beauty (Omagh)
The Salon (Cookstown)
County Londonderry
Runway Hair and Beauty (Maghera)
Creative Jemz (Londonderry)
Headz and Co (Londonderry)
Gibson Hair and Make Up (Maghera)
NMF Salon (Maghera)
Sky Salon (Derry)
Valerie Kelly Hairdressing (Eglinton)
Vanity Hair and Make up Salon (Limavady)
Rachael & Nicole Makeup & Hair Salon (Magherafelt)
Oh Hairdressing (Portstewart)
County Antrim
The Electric Chair (Ballymena)
Mcgills Hairdressers (Ballycastle)
Chocolate Hair Company (Lisburn)
The Boathouse Hair Salon (Ballycastle)
Cutting Edge Hair Salon (Lisburn)
Hair by Toni (Carrickfergus)
Studio 101 (Ballymoney)
The Hair Room (Ballymoney)
Urban Hair Boutique (Lisburn)
Úrsula Madden Hair Studio (Portglenone)
County Down
Benjamin Close Hairdressing (Bangor)
Lalapanzi Hair Studio (Banbridge)
Bridgeen King Hairdressing (Castlewellan)
Escapades (Moira)
Ego Hair and Beauty Salon (Newry)
LM Hair & Beauty (Newry)
Cut Both Ways (Rathfriland)
Jacqui Bothwell Hair (Bangor)
Style by Kori (Bangor)
Sheer Perfection (Newry)
County Armagh
Tir Na Nog Hair & Beauty (Crossmaglen)
191 Hair & Beauty (Lurgan)
Petra's House of Colour (Armagh)
Tara Cummings Hair & Makeup (Tandragee)
Fabulous Hair (Hamiltonsbawn)
Hair Today For Tomorrow (Portadown)
Hairplay (Portadown)
House of Hair (Lurgan)
One Lounge Hair and Beauty (Lurgan)
Belfast
Wigs and Wags
Caitlíns Hairdressers
The Hair Lounge
Mezmerize Hair+Beauty
Hair Ritz Shankill
Hair Boutique by Fionnuala & Nadine
Hairbysam&co
Bliss Hair Salon
Root Cube
Refresh Hair Salon
Most Wanted Salon of the Year
County Fermanagh
NBL Beauty (Enniskillen)
The Door to Perfection (Belleek)
Blossom Hair & Beauty (Enniskillen)
Becky McClaughry Hairdressing (Irvinestown)
Make up and Nails by Ray Ray (Enniskillen)
County Tyrone
Perfection Hair and Beauty (Coalisland)
The Beauty Lounge (Donaghmore)
Sunshapers (Strabane)
Hi-tec Hair Salon (Omagh)
Roisin Doherty Salons (Coalisland)
Laura Mc Ginley Hairdresser (Strabane)
Rouge Beauty Clinic (Moy)
Luxe Beauty Rooms (Dromore)
Rococo Hair and Beauty (Cookstown)
County Londonderry
Sky Salon (Derry)
Coco & Rose Beauty & Body Clinic (Magherafelt)
Angles Hair Design (Garvagh)
Madame Margo (Portstewart)
Headz and Co (Londonderry)
Runway Hair and Beauty (Maghera)
Beauty Express (Coleraine)
Bareknuckle Babershop (Derry)
County Antrim
Rachel's Salon Crumlin (Crumlin)
Secret Beauty by Louise McGuigan (Lisburn)
Sheer Madness (Antrim)
Janette Aiken Make up and Beauty (Ballymena)
Inner Beauty (Carrickfergus)
Trudy's Hair Salon (Ballymoney)
Victoria King Hairdressing (Portrush)
Mac Hair and Beauty (Newtownabbey)
County Down
Benjamin Close Hairdressing (Bangor)
Jolene Ritchie Hair Studio (Newcastle)
Ego Hair and Beauty Salon (Newry)
Blondie's Hair Salon (Hilltown)
Jane Diava (Banbridge)
Hair Emporium (Donaghadee)
The Hair Boutique (Bangor)
County Armagh
Petra's House of Colour (Armagh)
191 Hair & Beauty (Lurgan)
Hairplay (Portadown)
Marian's Unisex Salon (Craigavon)
MS Studio (Portadown)
One Lounge Hair and Beauty (Lurgan)
Fee Nails (Armagh)
The Barber (Armagh)
Belfast
Jannette Martin Hairdressing
The Little Beauty Lounge
Sincity Tanning, Beauty & Hair
TD Hair & Beauty
Demi's Hair Salon
Mount Eagles Hair and Beauty (Belfast)
Duo Hair and Beauty
Twisted Scissor and Soul
Outstanding Beauty Salon of the Year
Body and Soul Beauty Clinique (Donaghadee)
Central Hair & Beauty (Newcastle)
Chic Beauty Clinic (Carryduff)
Cristal Day Spa (Ballymoney)
Diamond Beauty (Portglenone)
Maysoon Beauty Clinic (Newtownabbey)
La Maison – House Of Beauty & Wellbeing (Lisburn)
Outstanding Hair Salon of the Year
Mount Eagles Hair and Beauty (Belfast)
Elm Hair (Belfast)
Dye Hard Hair Studio (Lisburn)
Hairbysam&co (Belfast)
Nicola Murray Hair (Ballymoney)
Hair Retreat (Aughnacloy)
Lil Miss Colour (Banbridge)
Beautician of the Year
Emma Creelman (Beauty by Emma, Ballymoney)
JulieAnn McCurdy (Bespoke Beauty & Skincare Clinic, Bushmills)
Charlene Magee (Brow and Beauty Couture, Belfast)
Gianinna Loughran (The Brow Artisian, Belfast)
Sharon Campbell (Pure Beaut by Sharon Campbell, Belfast)
Cara (Cara's Beauty Boutique, Coalisland)
Claire Mc Williams (The Velvet Rose, Ballymena)
Trez (Treatments by Trez, Portrush)
Erin Walls (Erin Walls Makeup & beauty, Maghera)
Jenna Watson (Jenna Watson Brow Specialist, Dundonald)
Cheryl Downey (Bespoke Beauty, Magherafelt)
Nail Salon of the Year
Roisins Nails and Beauty (Omagh)
Oh My Nails, Tanning and Beauty (Coleraine)
Glam Nail and Beauty (Lisburn)
Fee Nails (Armagh)
Sugar Coating Nails (Newry)
The Nail Boutique (Newtownabbey)
Chloe's Nail & Brow bar (Dungannon)
Cofiki Nail Salon (Carrickfergus)
Gelish NI (Belfast)
Lux Beauty Bar (Downpatrick)
Nail Technician of the Year
Lorena Cassidy (NBL Beauty, Enniskillen)
Stephanie Dee (Nails by Stephanie Dee, Newtownards)
Ashleigh Matthews (The Beauty Cabin, Antrim)
Karolina (Beauty by Karolina, Coleraine)
Megan Smyth (House of Smyth, Antrim)
Zoe Harris (KNW Nail Design, Annacloy)
Vicki Bell (Vicki Bell – Nail Artist, Belfast)
Natasha Gallagher (Natasha's Nails and Beauty, Bellaghy)
Ciara Higgins (T.L.C Beauty by Ciara, Limavady)
Nicole O'Connor (Beautylicious Tanning Studio, Crumlin)
Creative Nail Stylist of the Year
Jenny Armstrong (The Vanity Box, Bangor)
Stacie Richardson (Stacie Richardson Nail Artist & Educator, Newtownards)
Tanya McKelvey (NailworX, Larne)
Tina Chen (Make up and nails by Tina Chen, Coleraine)
Mandy Reid (MWM, Lisburn)
Chloe (Ten20, Belfast)
Dierde (D.C. Make Up & Beauty, Newry)
Margaret Caldwell (Margaret Caldwell, Belfast)
Louise Murray (Nailed by Lou – Louise Murray, Lisburn)
Denise Strand (Denise Strand Nail Artist, Belfast)
Stylist of the Year
Aine Morgan (Beyoutiful Hair, Rathfriland)
Ciara O Neill (Hair by Ciara O Neill, Galgorm
Siobhan Cassidy (Siobhan at GR Hair, Enniskillen)
Courtney-Maree McCann (Bonny Blu Hair & Beauty, Carrickfergus)
Tara Weir (Hair by Tara, Bessbrook)
Jude Mitchell (High Maintenance, Omagh)
Lisa Mc Crory (Lisa Mc Crory Hairdressing And Makeup, Carrickmore)
Michaela Carland (Creative Lochs Hair Salon, Loughmacrory)
Sam (Sam Surgenor Hair, Galgorm)
Tara Cummings (Tara Cummings Hair & Stylist, Tandragee)
Colour Technician of the Year
Benny OKane (Mcgills Hairdressers, Ballycastle)
Tanith Speers (Hair by Tanith, Portstewart)
Carol (Cutting Edge Hair Salon, Lisburn)
Aga Glenn (Dye Hard Hair Studio, Lisburn)
Kori Murdoch (Style by Kori, Bangor)
Rachelle (Rachelle Glass Hair, Belfast)
Keith McDowell (Sheer Perfection, Newry)
Natalie Haslett (High Maintenance, Omagh)
Louise (Halo Hair and Beauty Haven, Carrickfergus)
The Boathouse Hair Salon, Ballycastle
Junior Stylist of the Year
Seana McGarry (Marian's Unisex Salon, Craigavon)
Glen Parker (Empire Salon, Lisburn)
Courtney Monaghan (Hair Emporium, Donaghadee)
Reece Morton (Kids Shack, Belfast)
Customer Service of the Year
JAX Hair and Beauty (Donaghadee)
About Face (Carrickfergus)
BT4 Beauty (Belfast)
Kids Shack (Belfast)
The Sanctuary Skin Clinic (Derry)
Beauty by Jamie (Ballymoney)
J's hair lounge (Ballymoney)
Louise Donnelly Beauty and Make Up Studio (Ballycastle)
Luna Hair and Beauty (Portrush)
Colleen's Hair Salon (Hilltown)
Salon Ambience of the Year
Beauty Boulevard (Lisburn)
Karma Hair Design (Ballyclare)
JAX Hair and Beauty (Donaghadee)
Mcgills Hairdressers (Ballycastle)
Del Loughran Hairdressing & Makeup (Sixmilecross)
Enhance Ballyhackamore (Belfast)
Hair Ritz Shankill (Belfast)
The Beauty Box (Belfast)
Bliss Hair Salon (Belfast)
Cofiki Nail Salon (Carrickfergus)
Team of the Year
Beauty Express (Coleraine)
Glam Squad Studios (Lurgan)
Hair & Co (Newtownards)
Oh Hairdressing (Portstewart)
The Velvet Rose (Ballymena)
Roisin Doherty Salons (Coalisland)
The Salon Argyle Business Centre (Belfast)
Scizzor Sisters (Millisle)
High Maintenance (Omagh)
Halo Hair and Beauty Haven (Carrickfergus)
Best of Belfast
The Brow Artisian
BT4 Beauty
Gelish NI
Blush Beauty Boutique Day Spa
Enhance Ballyhackamore
Little Beauty Box
Rachelle Glass Hair
Opulence Beauty Spa
Spa of the Year
Spa at Adelphi Portrush (Portrush)
The Club Spa (Lisburn)
The White Orchid Beauty & Spa (Armagh)
Zen Day Spa (Newry)
Bellisle Spa (Coleraine)
Corick House Hotel and Spa (Clogher)
Ohana Spa Therapies (Belfast)
Opulence Beauty Spa (Belfast)
Blush Beauty Boutique Day Spa (Belfast)
Radiance Day Spa (Belfast)
Barbers of the Year
Gentleman Jack's Barbers (Bangor)
The Barber's Chair (Belfast)
Barber & Co (Belfast)
The Barber's Den (Lisburn)
Bareknuckle Babershop (Derry)
Handsome Barber Shop (Comber)
The Man Shack (Lisburn)
Harry's Barber Shop (Carrickfergus)
The Barber (Armagh)
Ted's Barbers (Belfast)
Men's Grooming Salon of the Year
Headline Barber Parlour (Limavady)
Cliffs Male Grooming (Belfast)
Laird Law Male Grooming (Ballymena)
Michael Ward Male Grooming (Banbridge)
Quarter West Barber Shop (Belfast)
RockaFellas Barber Shop (Belfast)
Stairway barbers (Derry)
Zakks Barber shop (Lisburn)
Men's Stylist of the Year
Sean Lawlor (Cambridge Barbershop, Belfast)
Jordan O'Reilly (The Man Shack, Lisburn)
Greg McNeil (Bareknuckle Babershop, Derry)
Cathal Harte (Empire Salon, Lisburn)
Laird Law Male Grooming, Ballymena
Cian Caz (Richard Kell Barbershop, Belfast)
Mike Townsley (The Urban Barbers, Belfast)
Michael Ward (Michael Ward Male Grooming, Banbridge)
Mark Mc Sherry (The Barber, Armagh)
Sean McGraham (The Man Shack, Lisburn)
Best Barbershop's Customer Service
Cult One (Belfast)
Deluxe Turkish Barbers (Banbridge)
Headline Barber Parlour (Limavady)
Jk Turkish Barbers (Cookstown)
KevinPearse Men's Hair (Belfast)
Tanya's Gents Hairdressing (Kircubbin)
Richard Kell Barbershop (Belfast)
RockaFellas Barber Shop (Belfast)
Gentleman Jack's Barbers (Bangor)
Handsome Barber Shop (Comber)
Tanning Salon of the Year
Sunshapers (Strabane)
Bronze Tanning & Beauty (Belfast)
After Glow Tanning & Beauty (Ballymoney)
Glamour Lounge (Banbridge)
House of Tan (Belfast)
Xoxo tanning club (Belfast)
Tropical Heat Finaghy (Belfast)
South Beach Tanning & Beauty (Belfast)
Energy Tanning & Beauty (Belfast)
Solar Salon (Carricfergus)
Cosmetic Clinic of the Year
Fitzwilliam Clinic (Belfast)
River Medical Clinic (Belfast)
The Skin Clinic Belfast (Belfast)
Beyond Skin Clinic Ltd (Belfast)
Elite Aesthetic Clinic (Derry)
Face Therapy NI (Belfast)
Julietta studio – Impera Aesthetics (Ballycarry)
Younique Aesthetics (Newry)
YM Enhancements (Belfast)
Derma Pro Aesthetics Cosmetic Skin & Microblading Clinic (Newtownards)
Freelance Makeup Specialist of the Year
Joanna McMullan (Joanna McMullan Make Up at Sitting Pretty, Ballymena)
Heather Allen (Heather Allen Make Up, Portavogie)
Alana Manderson (Alana Manderson Make up artist, Lurgan)
Caoimhe Marie (Caoimhe Marie Make up Artist, Belfast)
Caroline Hawthorne (Caroline Jayne Makeup Artist, Carrickfergus)
Carrie Marley (Carrie Marley Professional Makeup Artist, Belfast)
Debble Mc Kernon (Makeup by Debbie, Newtownabbey)
Julie Smith (Make up by Julie, Limavady)
Eve Finnegan (Makeup By Eve, Newry)
Stacey Latimer (Stacey Latimer Pro Make Up Artist, Bangor)
Creative Make Up Stylist of the Year
Ashley McKeary (FACE Pro Makeup, Coleraine)
Caolánn McCauley (Caolánn McCauley Makeup Artist, Newry)
Suzy O'Neill (SUZIO Pro Makeup – Suzy O'Neill Makeup, Ballymena)
Rachael Monaghan (Rachael Monaghan Makeup Artist, Belfast)
Patti Louise Grogan (Patti Louise Makeup, Belfast)
Aine Knocker (Aine K Pro Make up Artist, Belfast)
Alana Manderson (Alana Manderson Make up artist, Lurgan)
Caoimhe Marie (Caoimhe Marie Make up Artist, Belfast)
Erin Toman (Erin Tee Makeup, Lurgan)
Emma (Dilemma Makeup & Beauty, Cushendall)
Make Up Salon of the Year
Dilemma Makeup & Beauty (Cushendall)
Emma McConville Hair and Make-up Artist (Newtownabbey)
Olivia Muldoon Hair and Makeup (Dungannon)
Zalt studios (Belfast)
SK Makeup Studio (Ballymena)
Flawless Glam Makeup Studio (Belfast)
Pretty Please Make Up Studio (Downpatrick)
MatildaBelle Makeup (Ballymacnab)
Tori O'Connor Beauty (Omagh)
Koko Blush (Belfast)
Masseuse of the Year   
Samantha (A Luxiourous Experience, Belfast)
Nicky O'Kane (Blossom Beauty Salon, Pomeroy)
Laura Curley McAreavy (Body Basics, Belfast)
Debbie White (Debbie White Make up & Beauty at Trends, Coleraine)
Helen Nelson (Body Mind & Soul, Ballyclare)
Kirsty Fleck (InnerBeauty, Carrickfergus)
Janine Wilson (Willow Massage Centre, Belfast)
Serena O'Reilly (Serenity Beauty & Therapies, Cloughmills)
Tina Moore (Natural Roots Wellness, Belfast)
The Room Massage Therapy, Belfast
Hair Extension Specialist of the Year
Inked Dolls Hair Extensions (Derry)
Joyce Wells Hair & Beauty (Belfast)
Hair Extensions LH (Derry)
Mane & Waves Hair Extensions (Derry)
Nikita Doherty Hair Extensions Specialist (Derry)
Maureen Magee @ Urban Hair and Beauty (Limavady)
Perfection Hair & Beauty (Dungannon)
The Dolls House Hair & Beauty (Dungannon)
Petras House of Colour (Armagh)
La Bella Vita (Belfast)
Training Academy of the Year
Gelish NI (Belfast)
The Beauty School (Warrenpoint)
Amber Rowlands Training Academy (Belfast)
Younique College of Beauty and Holistics (Newry)
Colleen Loughran Clinical Hair and Beauty (Dungannon)
STS Hair & Beauty Academy (Strabane)
Urban Escape @ Belfast Met (Belfast)
Soul Therapies (Belfast)
Kuku.Nails (Portadown)
Lash Extension Specialist of the Year
Beauty Angel (Dungannon)
Haus of Lashes (Ballyclare)
Lash and Brow Bar (Belfast)
Lashed By Jessica (Bangor)
Lush Lash (Dungannon)
The Lash Studio (Belfast)
Fix Beauty eyelash extensions Belfast (Belfast)
Fabulash eyelash extentions specialist (Derry)
Pernamemt Make Up Specialist of the Year
Beauty ink by R.D (Belfast)
Bespoke Aesthetics Semi Permanent Make Up (Lisburn)
Semi Permanent Make Up Academy by Geraldine Flynn (Belfast)
Semi Permanent Brows by Hannah Dermott (Portadown)
Carrie Taylor Ink (Ballymoney)
S.K. Institute of permanent makeup (Belfast)
Tara Clarke Semi-Permanent Brows (Belfast)
Semi Permanent Make Up by JT (Lurgan)
Julietta Studio-Impera Aesthetics (Ballycarry)
Bridal Hair Specialist of the Year
Kirsty McDonnell (Kirsty McDonnell Solo, Glenariffe)
Laurel (Laurel Hair and Beauty, Parkgate)
Clare Afshar (Vintage Rocks, Belfast)
Tracy Hughes (Boutique Hair, Tassagh)
Danni (DaniBelle WeddingHair, Belfast)
Emma McConville (Emma McConville Hair and Make-up Artist, Glengormley)
Jemma (Creative Jemz, Derry)
Olivia Muldoon (Olivia Muldoon Hair and Makeup, Dungannon)
Kay Burns (Kay Burns Hair Styling, Newry)
Coccolare, Banbridge
Sign Up To Our Newsletter