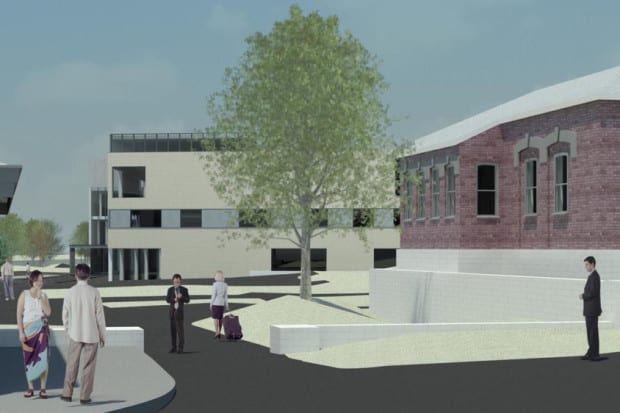 A formal application has been made to demolish the Southern Regional College building in Armagh to make way for a new and long-awaited state-of-the-art campus, Armagh I can reveal.
Plans for the educational centre of excellence have now been submitted to Armagh City, Banbridge and Craigavon Borough Council for consideration.
They are due to be publicly advertised next week.
The development – if approved – will be completed in one phase and is expected to cost anything up to £30 million.
It is one of three new campuses in the borough planned for the SRC, with new-builds also in Banbridge and in Craigavon.
During the building process, other facilities may be used to accommodate classes including, possibly, the former St Brigid's High School.
Contractors to deliver the new Southern Regional College campus in Armagh will be sought later this year, with a notice to apply due to be published before the end of October.
It is expected that – if all goes according to plan – work could get underway in 2017, with completion of all three new developments expected by 2020.
A pre-planning statement was issued back in April.
And now a formal application to demolish and build a new college campus at Lonsdale Road has gone forward.
It will consist of a 16,250 sq metre campus.
In addition, car parking, as well as cycle parking area, are included.
Landscaping and boundary treatments and other associated site works – as well as smoking shelters – would feature.
It would be hoped to 'go green', with over 290 photovoltaic solar panels to be installed to provide a source of energy.
Public consultation events have already been held earlier in the summer.
Antrim-based consultancy firm WYG Management Services Limited was appointed last August to oversee the project for all three colleges.
It has submitted a concept statement along with the formal application to the ABC Council, in which it points to the age of the current buildings – the majority of which were constructed in the 1960s and formed two separate schools.
While there are concerns over the proximity to historic buildings, such as the Armagh Courthouse, and parks, such as the Mall, officials considering the proposals have been informed in no uncertain terms that there would be no material risk to any of these.
Rather, there is a need for the accommodation – updated and fit for purpose – in the city centre.
The concept statement insists: "The age of the buildings suggest that in the near future extensive refurbishment will be required to order to allow the facility to remain serviceable and to ensure that accessibility is available to all areas for students of all abilities.
"When assessed on the basis of the potential for the existing facility to provide a platform for delivering the SRC's core values for the future, the existing buildings fall short of the standards required.
"The facility is unlikely to support an excellent learning environment, provide a barrier free educational experience or inspire innovation in either learners or teaching staff; thus requiring the current development proposals for a new SRC campus at this location."
A special information day – to give market insiders more information – is due to take place at the Southern College's campus in Portadown tomorrow, Wednesday, September 14, at 2pm.
Picture: An impression of how the new Armagh SRC would look.
Sign Up To Our Newsletter